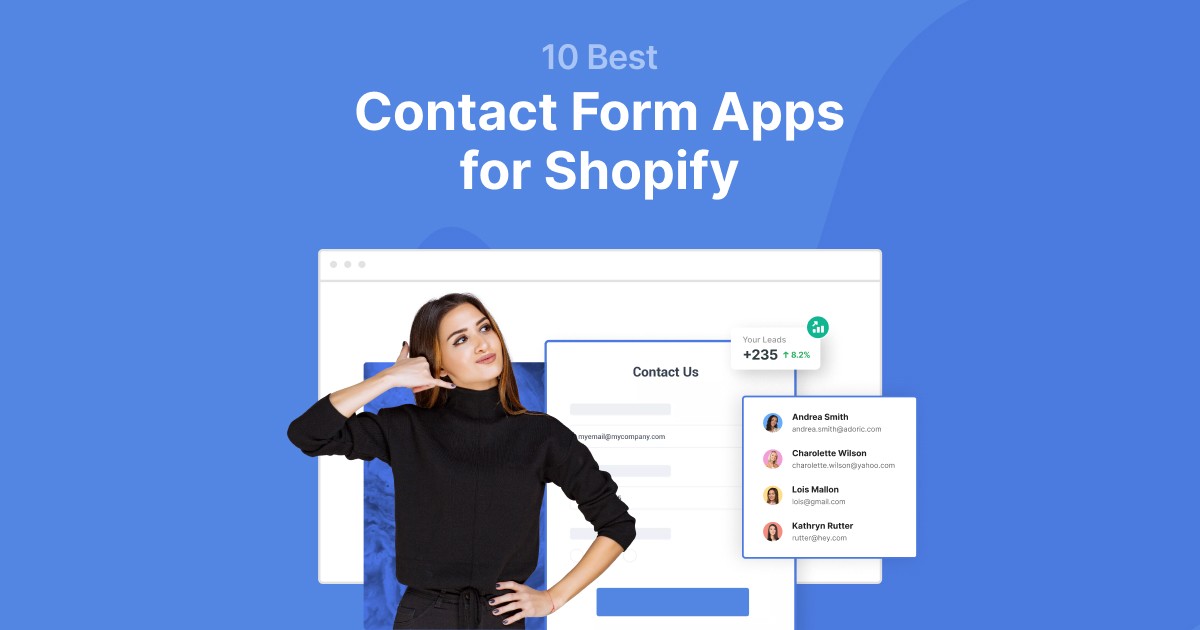 No website is complete with a contact page, form, or any means for your customers to communicate with you. 
If you have none of these on your websites, customers will be quick to leave your site if there because they have no means to communicate with you and resolve issues. 
For this reason, a contact form is essential for every website. Having one makes it easy for your customers to reach out to you, hence improving their shopping experience. 
Although most Shopify themes allow you to add a contact form to your website, these forms have severe limitations. As such, you are better off using an app instead. 
To help you find the right app for your store, we did intensive research to figure out the best contact form apps for Shopify that you can count on. We based our research on ratings, reviews, etc. 
Without further ado, here are the best 10 contact form apps for Shopify. 
1. Contact Form|Easy Contact Us 

Contact Form by POWR.io is a great form builder that allows store owners to create contact forms that help them connect with their customers and grow their store online. This app allows you to create a professional, easy-to-use contact form with a multi-field option that can be placed anywhere on a webpage. To begin with, it supports a file upload system where customers can upload documents and also let you add a ReCaptcha into the form for spam prevention.  
In addition, this app allows your customers to pay using their preferred means, including cash on delivery. 
Besides that, the app has the ability to store contacts, as it collects and stores contacts in a centralized My Contact list and can be accessed directly from your account's dashboard.
Moreover, you can export the contact list as a CSV file with a single click. Additionally, you can connect to other marketing providers like Mailchimp to manage contacts.  Furthermore, you can automate the entire lead generation process with ease. 
2. Form Builder – Contact Form

Developed by Globo, this app makes it easy to be very responsive to your customers and answer their queries in the fastest possible time. 
What makes Form Builder so special? 
Firstly, you don't need coding or technical knowledge to work with the form. It is very easy and simple to download and install. Besides, there are no limitations to what the form can do, and with a shortcode, you can easily place the form anywhere on your pages. Plus, it is user-friendly and compatible with devices of any type.
In addition, it is easy to set up email automation that sends notifications to owners based on form data and also to customers when they fill a form. This help strengthens the buyer and seller relationship.
What's more, this app is highly customizable, allowing you to change the colors and fonts of your forms at the snap of the finger. Furthermore, you can apply conditional logic to your form, where some fields remain hidden based on the customer's previous answers. Also, it allows you to apply Google reCAPTCHA for spam and integrate form data with other marketing apps like Mailchimp and Zapier.
3. Contact Us Form with Captcha

Third on our list of best contact forms for Shopify is Contact Us. 
Developed by HulkApps, this app has one distinguishing feature, which is UTM tracking. This feature allows the form to track where your customers are coming from and send notifications based on their responses. 
Not just that, this is one of the best contact form apps for Shopify because of its versatile nature. There are various types of forms to select from, with unlimited opportunities for file uploads and image attachments.
In addition, Contact Us enables you to integrate your forms with online payment providers like Stripe. Plus, it makes connecting to marketing tools like Mailchimp easy peasy lemon squeezy. 
Did we forget to mention that it comes with many customizable contact form templates?
Lastly, the app allows you to add multiple email notifications, enable reCaptcha for spam, and export form submission to CSV. 
4. Easy Contact Form Builder

This Easy contact form builder is an app developed by Qikify with features that allow store owners easily create contact forms and manage the same efficiently. However, this app allows customers to have easy access to contact forms through pop up or in form of bubbles. Nonetheless, this form can be embedded on contact pages or any other pages the owner wants to display on the site.
On the other hand, this form can be set to display when certain buttons are clicked on the page, such as "ask for quotation" buttons, etc. For instance, when you click on the "ask for feedback" button, it triggers the contact form, making it pop up on your page.
In addition, this app allows you to add multiple recipient emails, receive an email notification when customer contacts you, and export contacts as CSV, all of these help store owners manage customer data efficiently.
5. Contact Form – Contact Us Form

Contact Form by Storeify is another great contact form app that we can vouch for. It has powerful features that make creating professional, functional contact forms on your Shopify website easy. 
With this in mind, this app allows you to create unlimited single or multi-step forms that are easy to duplicate and can be embedded anywhere on a page or displayed in the form of popups. Furthermore, it has an analytic feature that allows you to track forms submitted by your customers daily, weekly, or monthly. 
Additionally, this app has the best form field options that allow adding custom fields with custom validations, etc., to your contact forms. All these can be achieved with its drag & drop builder without requiring prior technical experience.
6. Form Builder – Contact Us Form

Sixth on this list of best contact form apps for Shopify is Form Builder by pifyapp. Using this app can save you a lot of time creating contact forms. 
You do not have to be a technical guru to use this app. It is very concise and easy to use. With the features of this app, you can create unlimited forms with an unlimited number of form fields and process unlimited submissions from your visitors.
One great feature about this app is that it automatically sends an email notification to you whenever a visitor submits a form. 
Other features include a discount code form where customers get a discount when they submit a form. 
There is allows a custom SMTP feature.
Best of all, this app makes it easy to embed forms anywhere you want on your website, and you can install it for free. 
7. Custom Constant Form Builder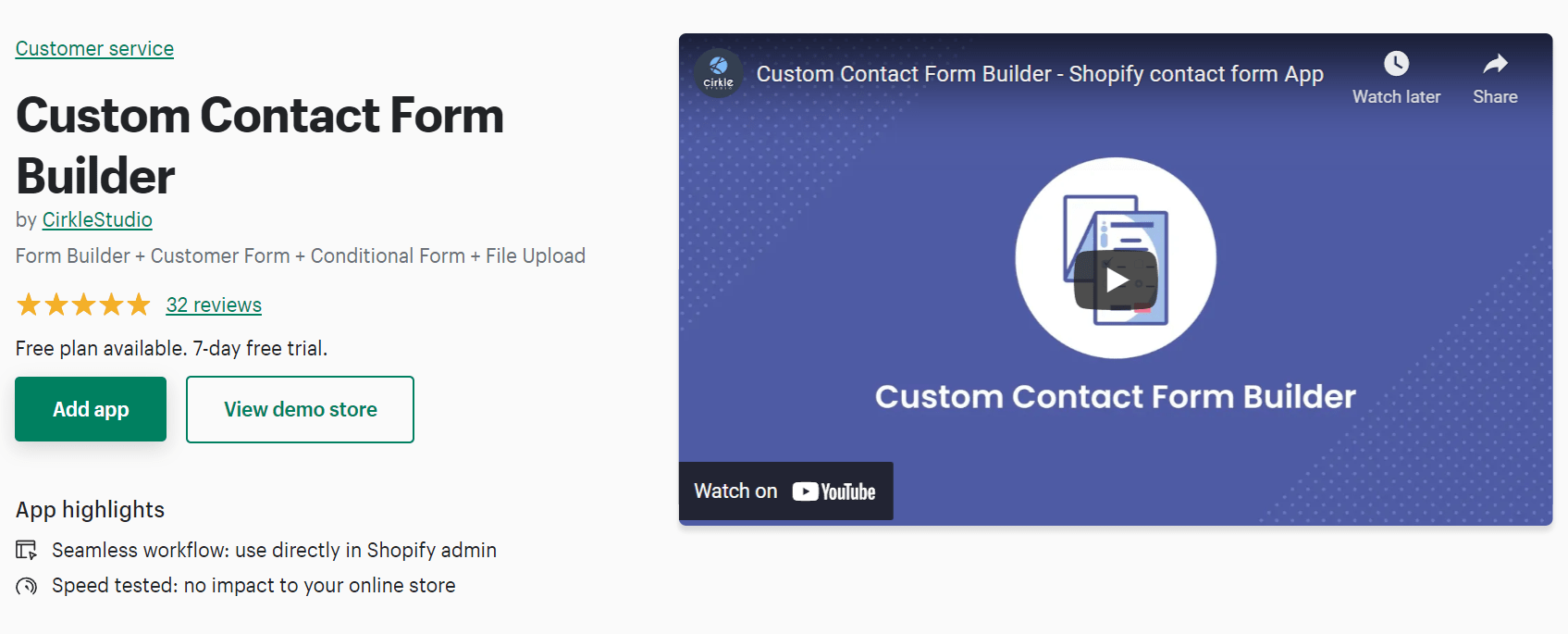 Custom Constant Form is another vetted contact form app you can bank on. 
With this app, you can create different kinds of forms to show customers at every point of their shopping experience. They include contact forms, survey forms, sales forms, etc.
Custom Contact has an inbuilt drag-and-drop builder you can use to create elegant contact forms in a breeze.
Another great feature of this app is that it prevents duplicate entries and uses Google ReCaptcha to avoid spam. However, you need your Google API to be able to use ReCaptcha.
Additionally, the app uses the Webhook URL to send data to the third-party system for lead generation, all you need to do is add the URL on Webhook URL, and it will send the JSON data on that URL. 
However, the app does not support conditional, popup, and testimonial forms. To use these features, you would have to contact their development support to help you.
8. Sticky WhatsApp Contact Form

Sticky WhatsApp Contact Form is one of the best contact forms to use as a small online business because it provides the easiest possible way for your customers to contact you. 
If you want to boost sales and grow your leads, this app is a great addition to your website because it connects customers and online business owners directly through Whatsapp and Facebook Messenger, which is the easiest possible way to communicate effectively.
However, with your own selected fields, you can float the contact form anywhere on the page and customize the form to include chat & social buttons such as WhatsApp, Facebook & Instagram, etc. Consequently,  you can track the URL from which the form was submitted and use custom CSS to build the contact form.
On the other hand, you can schedule the form to show only on workdays and hours. Moreover, you can use the sticky contact us tab to show potential buyers more information about your product.
9. Improved Contact Form

Improved Contact Form is the next best on our list of best contact form apps for Shopify. The free version of this app is filled with powerful features that make communicating with your visitors and customers easier.
Once you install this app, a contact us page and a popup form are automatically set up on your website. The contact us sits as a button on the corner of the page, showing an in-page contact form when the button is clicked. 
The cool part is that you can choose to hide the button depending on what you want. On top of that, the form can tell you the user's location, IP Address, and where they last visited.  This is very important to understand what your customers like. The form also has a built-in anti-spam bot to keep spammers at bay.
Finally, you can customize your form field to suit your taste.
10. Contact Us Form – Contact Form

And we wrap things up with Contact Us Form by PxApps. 
This app is so light that it doesn't slow down your website. It is easy to use and requires no coding or technical experience to set up. You can add custom fields and segments to your forms. 
In addition, it supports file upload and allows you to automatically respond to submissions.
Best of all, you can preview the contact form before publishing and can create customized responses.
There is so much to do with this friendly app; you won't regret using it.
Lastly, the app has both free and paid plans, with the paid plan costing $5.95/month.
Conclusion
Contact forms are a must-have if you are serious about growing your Shopify business and boosting your sales. 
Luckily, you don't have to go so far to find the best contact forms apps to create these forms; you can pick any of the apps we have shared here. 
Are you still struggling to make sales for your store? Adoric can help. 
Adoric has many features designed to convert your visitors into subscribers and customers. Install Adoric on your Shopify site immediately and watch your sales shoot up.