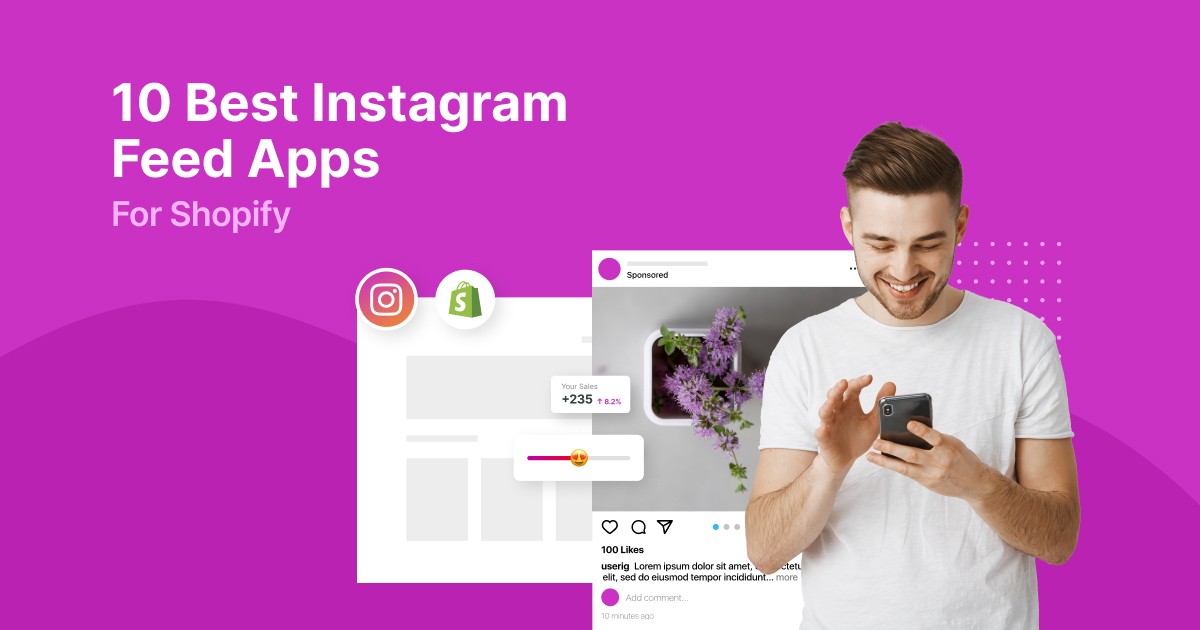 Are you looking for the best Instagram feed apps that can allow you to integrate Instagram with your Shopify site? Read one because, in this article, we have outlined the best Instagram Feed Apps you can use.
According to research carried out in the fourth quarter of 2021, Instagram was top of the list as the most downloaded social media platform.This shows that it has the potential to be seen by a wider audience and improve brand awareness.
The most common way to connect Instagram to your website is to add the Instagram Feed(also known as InstaFeed) to your gallery. This is crucial for every retailer who wants to drive traffic, grow their audience and boost sales.
Within minutes and a few clicks, you can set up your Instagram Feed in your store. Doing so will allow your visitors can see some of the products not featured in your store and see videos about a product and how to use the product.
Another beautiful thing is that visitors can buy products directly from your Instagram Feed and proceed to checkout from the Feed without exiting the page. This makes the customer experience amazing, strengthens visitors' trust in your brand, and improves sales.
With all that said, here are some of the best Instagram Feed apps you can use. 
10 Best Shopify Instagram Feed Apps
1. Instafeed – Instagram Feed

Instafeed – Instagram Feed, developed by Mintt studio, is one app you can count on to boost awareness, expand your reach on Instagram, and get more likes and followers.
You can use this app helps to create social proof  for your store, hence encouraging customers to trust your brand. 
Interestingly, this app allows you to display your feed in whatever layout you want; grid or slider. Also, it allows you to embed your Instagram feed into your pages, making it easy for customers to preview products without navigating to your Instagram page. 
This app has a free plan with amazing features, but there are limits to what you can do on this plan. To use advanced features such as a shoppable Instagram feed, display reels and comments, you need to be on a paid plan.
Pricing:
Free Plan: Forever free, video support, auto-optimized layout, open pop-up or link to Instagram, available on all devices. 
Pro Plan($5.99/month): IGTV and Reels, show profile pictures, product tagging, advanced layout configurations, show likes and up to 3 different feeds including all free plan features.
Plus Plan($19.99/month): Unlimited feeds, filter posts by hashtags including all free and pro plan features.
2. Instagram Feed, Story & TikTok

Do you want to win more customers and grow your Shopify sales by via Instagram? Instagram Feed, Story and TikTok, is your best bet. This app has the solution to almost all your Instagram feed and widget issues. 
This app supports all media types, such as photos or videos, carousel or reels, and with a few clicks of the button you can upload them to your website with ease. No coding experience is required.
In addition, you can add multiple Instagram accounts on this app, and customize your gallery how you want. Also, you can pin favorite posts, and hide or show specific contents.
Moreover, you can make your Instagram feed shoppable, tag products directly to your images, videos or carousel and add "hot" badges to highlight your best-selling products.
This app is multilingual with dedicated support teams always available to help you with any issue. 
Pricing:
Starter Free Plan: Auto sync: Daily, 1 feed, 1 feed layout, 1 gallery, 1 media container, Analytics.
Standard Plan($9.90/month): TikTok, show likes and comments, hot selling badges, no watermarks, 2 feeds, 2 galleries, 2 media containers, 2 product tags/items.
3. Instagram Feed Pro – Instafeed

Next on our list of great Instagram feed apps for Shopify is Instagram Feed Pro. 
Once installed, you can add your Instagram feeds to your Homepage, product pages or your landing pages to keep your website busy, customers engaged. 
Instagram Feed Pro comes with several  templates to choose from to show your Instagram feed. They come in grid and slider layouts. You can choose from the templates the one that best suits your brand theme.
The best part about using Instagram Feed Pro is that your site that your feed on your website will automatically update once you add a new post to your Instagram profile. 
In addition, this app offers live chat support, ensuring you always get help whenever you need one.
Pricing:
No Free Plan but have a 5-day trial period. 
Pro Plan($5.99/month): Auto sync, unlimited images, customization, no branding, email/chat support.
4. Instafeed Instagram Feed/Story

This app makes it easy for you to use Instagram stories and highlights to tell your brand's story which can be a video, image or animation. You can highlight your products, reviews or offers on Instagram and this app showcases them on your website.
With this app, you can create campaigns that encourage your visitors to share a story or tag your account for a discount. This will go a long way in boosting user engagement. 
To use this app, your Instagram account must be public without age restrictions. 
Amazingly, this app offers round-the-clock support, ensuring you get help with customization and placements whenever you are in need of one. 
Pricing:
Free to install: Features are free until you pass 1000/page visits, only then will you pay a fee of $4.95/month.
5. Instagram Feed/Slider Raptor

Instagram Feed/Slider Raptor is a great app that allows you to show beautiful and detailed pictures of some of your featured products on your Instagram profile on your website. 
This app shows your Instagram feed post on your website in the form of a slider or grid and always refreshes to reveal the latest updated Instagram content on your website. This helps your store visitor to see your newest products or content and engage more with your brand. 
It allows you to show videos, images or carousels from your Instagram account in your store. Also, it shows the likes and comments which boosts customers' confidence in your brand when they see your page likes and comments.
Recently, it added a feature that allows you to go directly to your Instagram with a direct link from a post. It also added an image hover option that allows you to transfer your Instagram theme to the website without losing your current layout.
Pricing:
Standard Plan($5.99/month): With a 3-day trial period. 
6. Instagram Feed/UGC & TikTok

This app, a product of Growave, allows your customers to shop products from your Instagram feed and directly add them to their cart. These Feeds can be placed on any existing page or you can create a separate one for your Instagram. Besides, you can opt to show your Instagram stories above the feed or on any other place on your web page. 
Through user-generated content(UGC) you can earn visitors' trust when you post your customers' profiles. 
To use this app, you first need to install it to your Shopify store. After that, you will have to connect your Facebook account to get the photos for your first feed. When you've done that, the next thing you will want to do is to create your first gallery and populate them with images from your Instagram feed. 
Pricing:
Pro Plan($4.95/month): With a 14-day trial period.
7. Covet.pics – Instagram Feed

Covet.pics Instagram feed helps you design your Instagram feed in an enticing and engaging way. It makes it easy for your customers to shop directly from your product gallery
Also, it shows your content in real-time such that when you tag a product, it updates in the specific product gallery on your Shopify website. 
However, you can manually update photos on your Instagram feed individually or in bulk. Plus, it allows you to customize your product gallery however you want. 
Going on, this app helps you to organize campaigns and contests for a discount where you ask visitors to upload their photos and get a discount when it is approved. This approach helps to boost engagement and grow your sales. 
What's more, this app comes with an analytic tool and offers customer support. 
Pricing: 
Free Plan: With a 14-day trial period.
Basic Plan($14.99/month)
Pro Plan($29.99/month)
Business Plan($5.99/month) 
8. Instagram Feed | Instafeed

Make it easy for your customers to connect with your social platform from your website, and increase your product visibility with Instagram Feed, developed by POWR.io.
You can use this app to create stunning galleries that automatically update on your website when you add a new post on your Instagram page. 
To connect Instagram to this app, your account needs to be a business account that is connected to a Facebook page.
With the app, you can display only images or both images and videos in one gallery, add an image hover effect on your feed and also a social sharing button where customers can share your contents from your site.
Furthermore, you can create a live feed of your images, make your feed shoppable and add a buy now button that takes customers directly to a checkout page when they click to buy.
Pricing: 
Free Plan
Starter Plan – ($5.49/month) or $4.94 billed at $59.29 once a year 
Pro Plan – ($13.49/month) or $12.14 billed at $145.69 once a year 
Business Plan – ($91.99/month) or $80.99 billed at $971.88 once a year 
9. Shoppable Instagram Feed – Cameo

Cameo's Instagram feed increases customer engagement and reduces the bounce rate when you add the shoppable Instagram feed to your gallery on your website. It gives your visitors to your site which can also boost sales. 
You are in charge of this app because you can customize the layout however you want it, display all images or be based on specific product images. You can also set the feed so that customers can search first by hashtag or tagged products.
Besides, you can place the feed anywhere on the site and is also mobile responsive.
Pricing: 
Basic Plan – ($9.99/month)
Professional Plan – ($19.99/month) 
Unlimited Plan – ($29.99/month) 
Plus Plan – ($79.99/month) 
10. InstaFeed Shoppable Instagram

Last on our list of best Instagram feed apps for Shopify is InstaFeed Shoppable.
This app supports images and videos contents and enables you to showcase your Instagram feed live on your store.  
Also, you can tag products and display an Instagram gallery based on the selected products. However, you can give your visitors the option of adding products directly to their carts directly from the popup Instafeed Shoppable displays on your website. 
You can choose from the pre-designed gallery templates to set your grids and slider layout.
Pricing: 
Free Plan 
Premium Plan – ($9.99/month)
Conclusion
Selling directly from Instagram on Shopify just got a whole lot easier, thanks to Instagram Feed apps. Engage your customers and keep them engrossed in your store by using any of the best Instagram Feed apps for Shopify that we have shared in this post. 
Are you still struggling to generate sales for your business? Adoric can help. 
Adoric comes with a ton of tools and features that enable you to convert your visitors into subscribers and customers. Sign up for an account to put Adoric to the test.