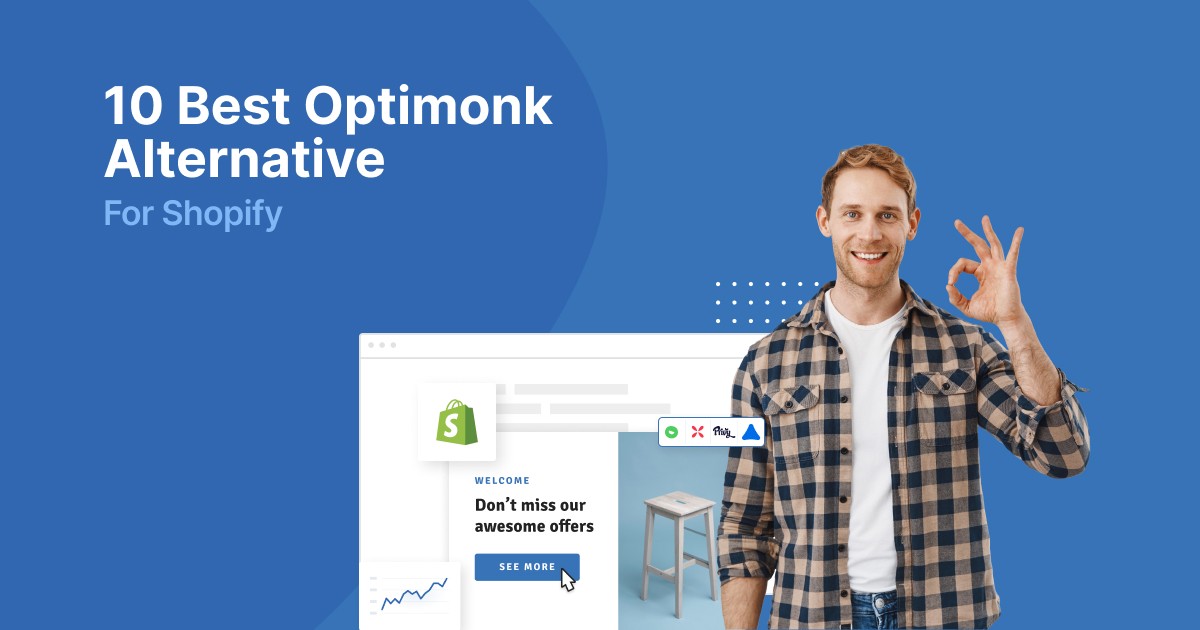 Are you looking for the best Optimonk alternative app for your Shopify store? This post is for you!
Optimonk is no doubt a versatile popup and retargeting app that help businesses convert visitors to subscribers.
Though Optimonk is versatile, it might not be ideal for your business, given that some of its features are difficult to use.
Also, Optimonk is somewhat expensive, leaving you with no choice but to find an alternative.
With that being said, here are the best 10 Optimonk alternatives you should try.
1. Adoric

Adoric is undoubtedly one of the best Optinmonk alternatives on the market.
It comes with lots of tools and features that make it easy to convert your website visitors into subscribers and paying customers.
For example, Adoric has an intuitive drag-and-drop popup builder that allows you to create stunning, attention-grabbing popups in minutes. This popup lets you capture your visitors' contact information such as email or phone numbers.
On top of that, Adoric makes it easy to boost engagement on your website by creating and adding spin-to-win/wheel of fortune popups on your website. These popups give your customers a chance to win coupons by spinning the wheel of luck.
Other interesting features of Adoric are as follows:
Audience segmentation
Campaign scheduling
Smart trigger
Exit-intent popup
And lots more.
Best of all is that you can start for free and upgrade to our paid plans as your business grows.
Sign up for an account right away.
2. Privy

Another Optimonk alternative app is Privy. Privy allows you to create beautiful popups, spin-to-win wheel, and banner that attracts visitors to subscribe to your email list. This app is packed with features that let you get the job done easier.
Privy allows you to use advanced targeting to get your messages in front of customers at the right time and trigger campaigns to improve conversion rate.
In addition, Privy allows you to use cross-sell campaigns and free shipping to increase your average order value and send automated messages to turn signups into sales.
With Privy email, you can automate email marketing to send professional newsletters, purchase follow-ups, and win-back emails, use Privy text to send triggered messages including welcome messages.
Additionally, there are over 100 high-converting templates for popups, banners, flyers, and embedded forms in Privy and can be integrated with just a click.
3. Poptin

Third, on our list of best Optinmonk alternative Shopify apps is Poptin.
Poptin comes packed with lots of advanced features that allow you to convert your visitors into leads and subscribers, upsell and cross-sell your customers, win back abandoned carts, etc.
What makes Poptin special is how it makes creating exit-intent popups easy.
On top of that, Poptin makes it easy to add a background image, HTML codes, and even a video to your popup.
Additionally, with Poptin, you can create floating contact forms, a Whatapp chat widget, a slide-in popup, etc.
As for pricing, you can start with Poptin for free. However, you are limited to only 1,000 page views per month on the free plan. To get more pageviews, you'd have to upgrade to the Basic Plan, which starts at $25/month.
4. Wisepops

This is another good Optimonk alternative Shopify app to try.
You can collect emails, announce products, reduce abandoned carts and increase sales. In fact, with Wispops you can easily meet all your marketing goals from one app.
Interestingly, Wisepop API allows you to create exclusive offers to customers that meet a certain target and also send personalized messages to whoever you want to see them. You can do all these with a few clicks of the button.
To make creating stunning popups easier, there are more than 70 popup templates to choose from to create sleek designs in minutes and a drag & drop builder that allows you to build from the scratch in minutes.
In addition, when you install Wisepops, you have access to unlimited types of popup. As a user, you can track popup clicks and displays to know if they generate revenue and conversions.
Furthermore, Wisepops integrates with other email marketing providers to sync contacts and subscribers to provide full marketing solutions.
And they have the best support teams available to answer all marketing or technical-related questions.
Unfortunately, Wisepops has no free plan and pricing starts at $49/Month for a 100-page view and unlimited access to popup displays.
5. Wheelio

Fifth on our list of Optimonk alternative is Wheelio.
Wheelio is exceptional in the sense that it does not offer the random coupon code in the exit-intent popup in exchange for email instead it uses a concept called Gamification which they use to project themselves as gamified popup family.
Gamification allows you to boost engagement using spin-to-win popups, Rollie slot machine and scratchy scratch cards. This gives the visitor a genuine chance to win something big in return for his email. This has been a backbone of growth for Wheelio.
In other words, Wheelio uses dynamic coupons to convert first-time visitors and an email or messenger opt-in for exit intent visitors.
Additionally, Wheelio has the most advanced trigger feature in the market and can be placed anywhere on the site. No matter the number of features applied, all can be accessed through the admin dashboard.
There are 4 levels tp pricing plan with the least at $14.92/Month at 30000 impressions up to 250000 impressions priced at $109.92/Month.
It comes with a 7-day trial period which requires you to upgrade to a paid plan after the 7th day.
6. WooHoo

WooHoo is a great popup builder with a focus on the exit-intent popup to grow subscriber's list.
It is also one of the best Optimonk alternative Shopify apps as it creates a popup in exchange for an email address.
With WooHoo, you can validate emails, automatically trigger your email campaigns, create a countdown timer, etc.
One unique difference with Woohoo is its automated unique coupon which provides each visitor with a single code that can only be used once.
Additionally, WooHoo offer popup unique games that provide solutions to convert email marketing, upsell and cross-sell, email list, etc.
Furthermore, with Woohoo you can create powerful upsell popups for exit intent only. Want to know your growth level? WooHoo, use real-time analytics to show how visitors interact with your spin wheel.
If you are on a budget, then WooHoo is a great app to choose from as it features a free plan and other budget-friendly plans that start at $7.99/Month to $29.99/Month for 30,000 popup visitors.
7. Justuno

Justuno is a great app filled with powerful features that allow you to convert your visitors into customers. This makes it a great Optinmonk alternative. Justuno is recommended as our 7th best Optimonk alternative Shopify app.
With Justuno conversion tools, you can send the right message to the right customer at the right time, tools such as email and SMS lead captures for optimal growth.
Ultimately, you can narrow down popup targeting to include traffic source, geo-targeting and exit intent. It also features more than 80 advanced targeting rules to increase conversion.
What's more, Justuno allows you to collect additional information such as IP address and UTM info that can be used to create opt-ins that are personal to visitors.
Finally, Justuno support store upfront for brands with headless websites that need to create a unique front-end experience.
The pricing plan starts at $29/Month and is highest at $99/Month for 50,000 visitors. There is also a free plan available.
8. ONE

ONE is a great popup builder for Shopify merchants looking for an alternative to Optinmonk. This helps simplify the customer journey and personalize the experience.
Why ONE? ONE has up to 3000 pre-built themes which include seasons like summer, Independence, and Christmas to save time and money.
Going forward, it features the best popups like the exit intent, opt-in, Gamified, and announcement bar to engage customers.
In addition, ONE renders various services that work together to convert visitors to email lists and subscribers and boost sales. Services include email & SMS Marketing, rewards and loyalty programs, Sales popups, and Gamification. Etc.
With a 5-star rating from over 1400 reviews, ONE is a great Optimonk alternative Shopify app to try.
9. Rivo

Rivo has a user-friendly editor that allows you to design your popup to match the brand. This email popup helps you to bring the right product and announcement to the customer at the right time which helps to increase sales
However, their aesthetical email opt-in encourages customers to subscribe to your email list. Once you have set up Opt-ins and someone indicates interest, opt-ins will be automatically added to your Shopify customer list.
Scan code with a phone camera to add Rivo marketing to your mobile phones.
In addition, this platform is beneficial to any kind of Shopify store.
10. Mailmunch

Last on our list of Optimonk alternative Shopify apps is Mailmunch. We actually saved the best for last!
Mailmunch is a popup app that solution to all popup and email marketing problems. You can connect Mailmunch with major marketing providers like Mailchimp and Aweber to build a robust marketing platform that is authentic.
What can you achieve with Mailmunch? With Mailmunch features, you can create and customize a powerful email popup using the Drag and drop builder to capture and convert your sies visitors.
Effectively, you can offer customers discount coupons with their giveaway campaigns which alternatively can be displayed based on exit, device type, and the number of visits.
On top of that, you can send autoresponder with MailChimp to customers. Send newsletters to customers announcing the introduction of new products.
Mailmunch pricing is fair for all businesses as it comprises of Essential plan at $14.99/Month and a Pro plan at $24.99/Month. The best interesting thing is that it features a Free plan.
Conclusion
There you have it; 10 best Optimonk alternatives for Shopify. These apps are easy to use and have amazing features designed to help you boost your conversion rate.
Are you ready to try out Adoric to see how it can help you boost your sales and win you more customers? Sign up for an account right away.