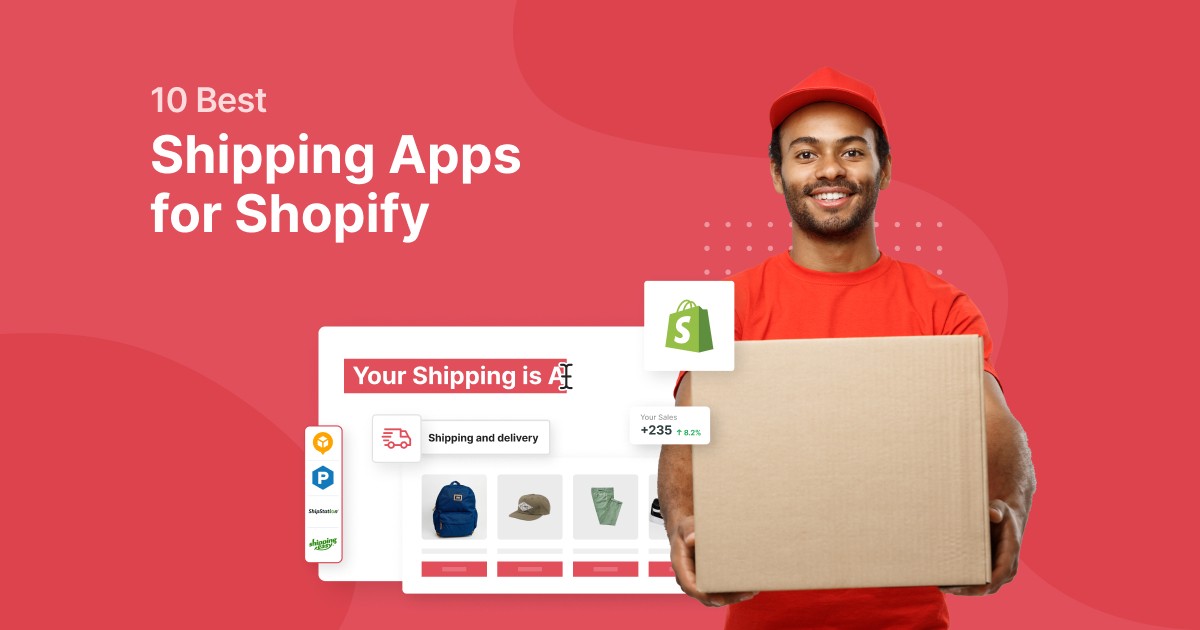 When starting an e-commerce business, one of the things you should give serious thought to is your shipping method. The right shipping approach can make all the difference. The cost of shipping, how long delivery takes, response to customers while the order is in transit, and more are all a part of the customer experience.
When first-time customers are satisfied with their shipping experience, they become returning customers. A study has shown that the cost of shipping is one major factor that determines your conversion rate. 63% of online buyers do not proceed to checkout if the cost of delivery is high. 
You can add multiple shipping options to your Shopify store to prevent store visitors from abandoning the cart. This way they have the freedom to choose a convenient delivery cost. Ensure that you include free shipping as a part of the options. 
What to Consider Before Choosing a Shipping App
There are a few things you should consider before settling for one or more Shopify shipping apps
Key Features of the App
As a business owner, you know the nature of the products you sell. Your choice of a shipping app should align with your product. Make a list of the feature you want and search for apps with such features. These features may include shipping time, tracking order, Logo design, and more. 
Access Charge
Not many apps offer a free plan. And for those that do, you only get access to basic features. So before choosing an app, find out how much it would cost to access the features you need.
Working with apps that offer free shipping and are compatible with multiple shipping companies would be perfect. 
Customer Support
The shipping stage of physical products is arguably the most important. Imagine you took out your time to attend to every order before shipping. But somehow the order gets damaged, or worse, it doesn't arrive. What do you do? 
For this purpose, you should only choose Shopify Shipping apps with an efficient support team. In addition, the shipping app and courier company should have an insurance policy. This way, you could either refund or send out a new product to your customer. 
Below are the 10 best shipping apps for Shopify
1. AfterShip Order Tracking & SMS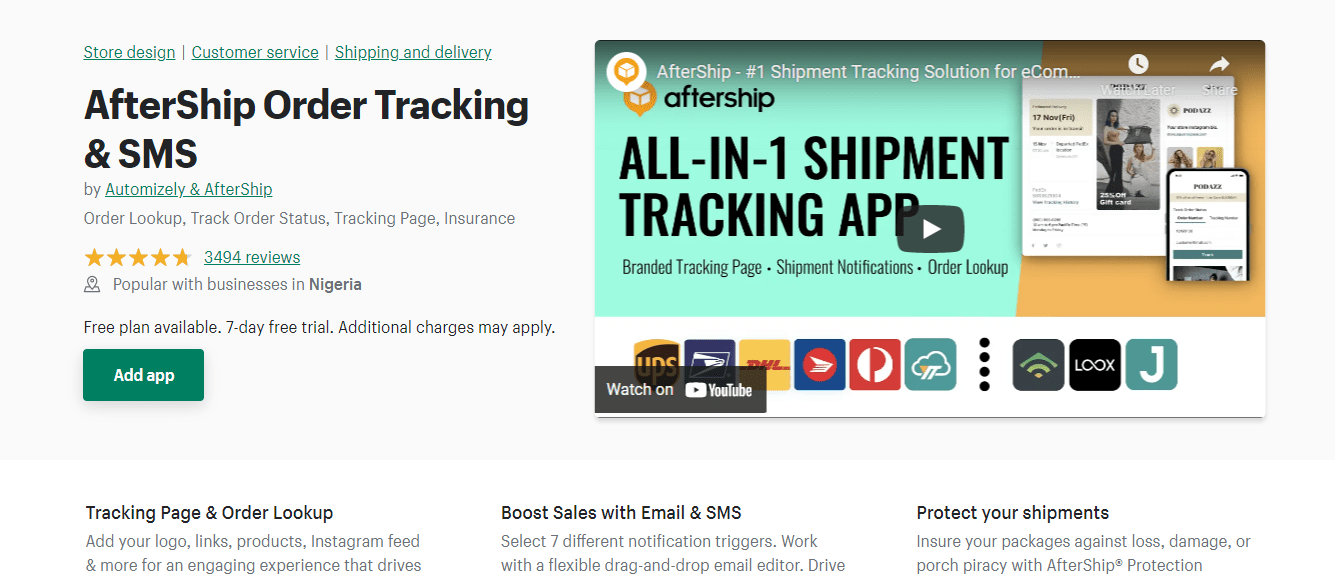 This app is one of the best Shopify shipping apps, with over 3,000 positive reviews to prove its efficiency. AfterShip makes it easy to track your customer's order automatically after shipping. It keeps you and your customers constantly updated on the shipment stage. 
features;
Track Your Shipments At Once
AfterShip helps you keep track of your shipment once you send them out. It is compatible with 900+ courier companies actress the globe. It automatically generates a tracking code, files orders accordingly, monitors progress and keeps customers informed on the shipment stage. 
Personalized Branding Page
AfterShip allows you to create a personal branding page. Add your logo, website link, social media account, and more. 
Secure Your Shipment
This feature is critical. AfterShip secures your shipment with an insurance company called InsureShield. The insurance policy is flexible, favorable, and executed fast when needed. 
Pricing 
AfterShip offers a free plan that is okay for small businesses. A 7-day free trial for paid plans. The paid plan begins at $9 per month, is billed annually, and goes up to $99 per month. 
2. Packlink PRO Shipping Platform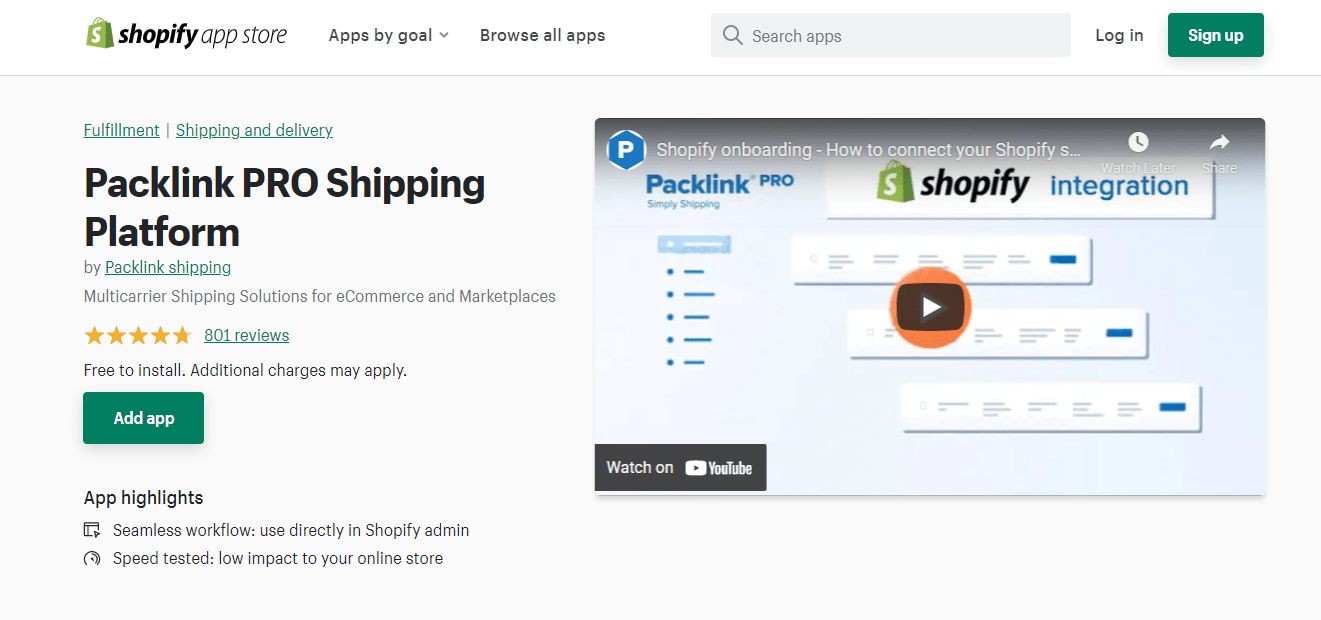 Packlink Pro offers access to up to 350 carrier services. It is fast, easy to use, and installation is free. Packlink is ideal for small and large businesses alike. More than 20,000 e-commerce businesses trust this app. The app automates some processes to make your workflow easy. 
Features 
Multiple Shipping Options
Why limit your business to a few shipping options? Multiple shipping options and carrier services can help your business scale better. Packing Pro gives you access to several courier services. And you can create several delivery options such as;
Drop off or pick up
Economy or express
Free or paid
Same day delivery 
Branding Page
Create, print, and label your shipment with Packlink. The processes involved in branding and shipping are done as fast as possible and are hassle-free. Packlink allows you to prink your labels in bulk.
Fast Shipping
Shipments are attended to right away. Tracking codes are generated immediately, and orders are labeled and sent out. 
Pricing 
Installation is free. Packlink charges you for each shipping label you purchase. 
3. ShipStation 

Third on our list of best Shopify Shipping apps is Shipstation. ShipStation is a shipping app that uses automation to fulfill orders. It is fast, easy to use, and helps you save money. It gives you access to over 50 courier services across the globe. You can process all your orders from different locations on ShipStation. 
Features 
Instant Shipping Discount
ShipStation gives you an instant shipping discount when your process your order with FedEx, USPS & UPS. You can either open a new account with them or link your existing account. 
Automated Order Fulfillment
ShipStation automates your order fulfillment processes so you can focus on other vital things. From taking order details to labeling, packaging, and shipping. 
Branding Page
Create personalized branded tracking and return pages with ShipStation. Monitor your shipment stage and keep your customers informed. Also, make provisions for customers who wish to return their product for any reason. 
Pricing 
Enjoy a 30-day free trial. The paid plans start from $9.99 per month to as high as $159.99 per month. 
4. ShippingEasy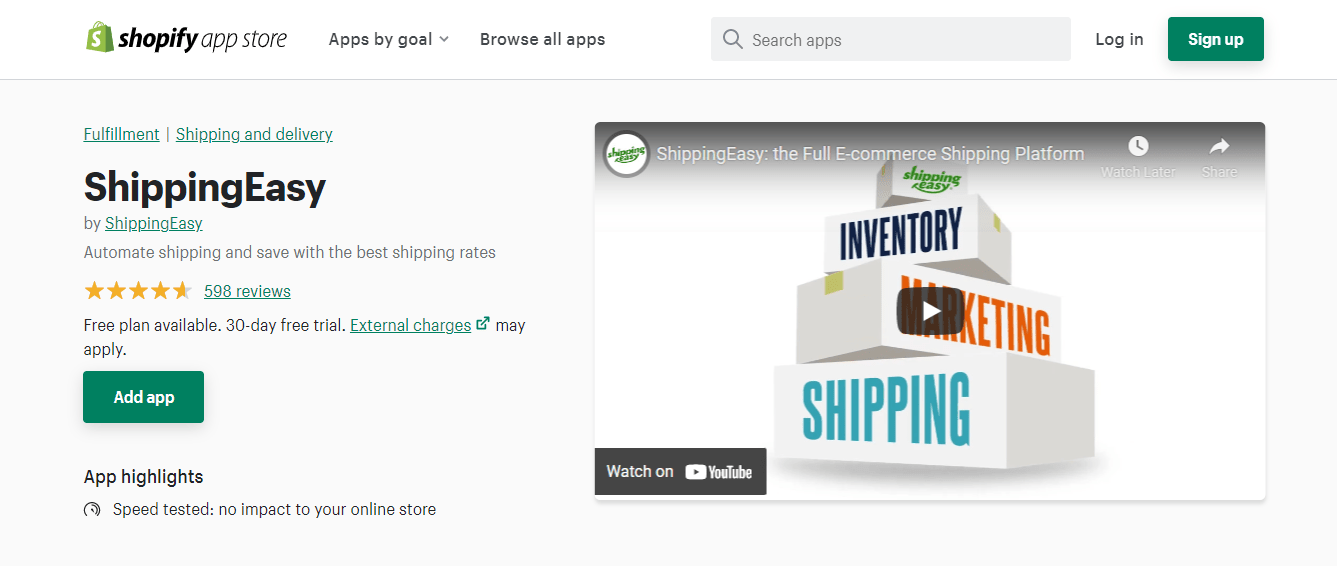 ShippingEasy is an automated shipping app it makes shipping processes a walk in the park.  It also offers a massive shipping discount to users. 
The app allows you to compare prices and services between courier companies before settling for one. Email marketing is also a part of ShippingEsy. 
Features 
Discounted Shipping Rates
You can enjoy up to a 70% discount on shipping if you have a FedEx or UPS account. To further reduce the cost of shipping, ShippingEasy also offers flat rate options. 
Swift Order Fulfillment 
ShippingEasy is quick to attend to your shipment. The processes involved are automated. Thus, the order is fulfilled as quickly as possible. The app allows you to process orders from multiple marketplaces at a centralized location. 
Email Marketing
As we mentioned earlier, ShippingEasy has incorporated email marketing as one of its key features. So when a customer places an order, ShippingEasy takes care of the notification and email campaign involved. 
Pricing 
ShippingEasy offers a free plan for up to 25 shipments per month. The paid plan begins at $29 per month and goes up to $159 per month. You can enjoy a 30-day free trial to the paid plans. 
5. Shippo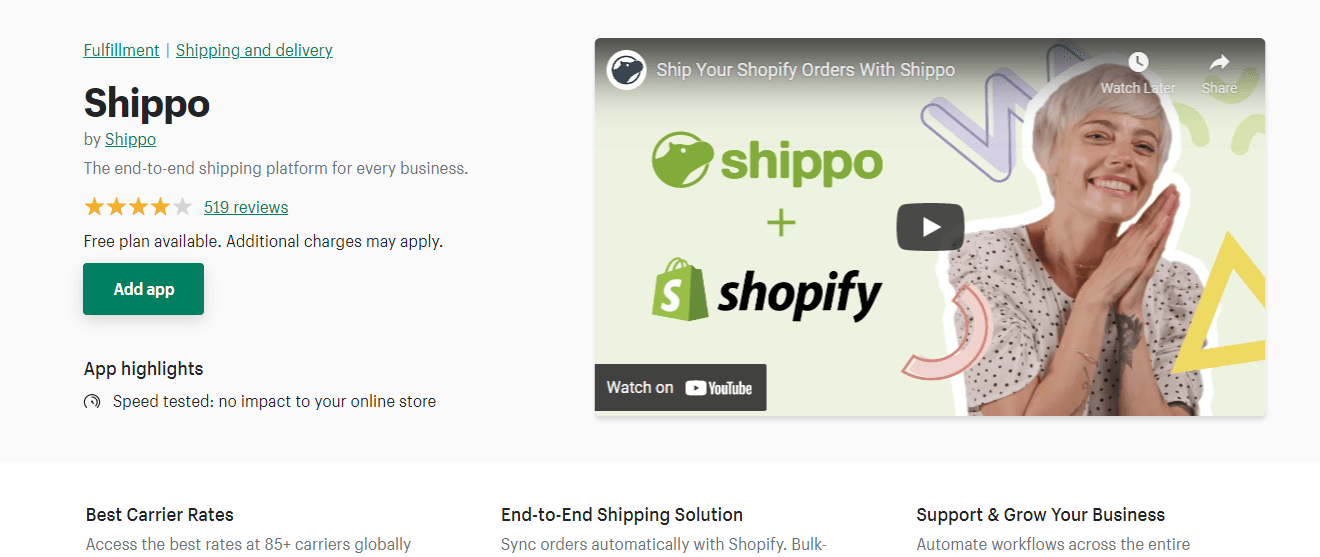 Shippo is an end-to-end shipping app that caters to the needs of small, medium-sized, and big businesses. It gives you access to over 85 carriers at great rates. Shippo integrates seamlessly with Shopify. 
Features 
Visible Tracking 
Shippo sees to it that your shipment arrives at its destination. It saves your shipment details on Shopify automatically.  So, you and your customers are up to date on the delivery stage. 
Massive Discount on Carrier Services 
With Shippo, you can enjoy great discounts on multiple carriers. Get as high as a 90% discount when you use USPS. Other carriers also offer flexible rates when you use Shippo. 
End-to-End Automation 
Some processes can slow down your order fulfillment speed. Shippo has automated most of these processes. Printing labels, synching order detail to Shopify, generating customers' forms, and more.
Customer service
Shippo has an efficient team that can handle any challenge that comes up. They are available Monday through Friday to take all your complaints. 
Pricing 
Shippo is free to install. The paid plan starts from $10 per month and goes higher with your label volume. You can enjoy 30-day free access.
6. Easyship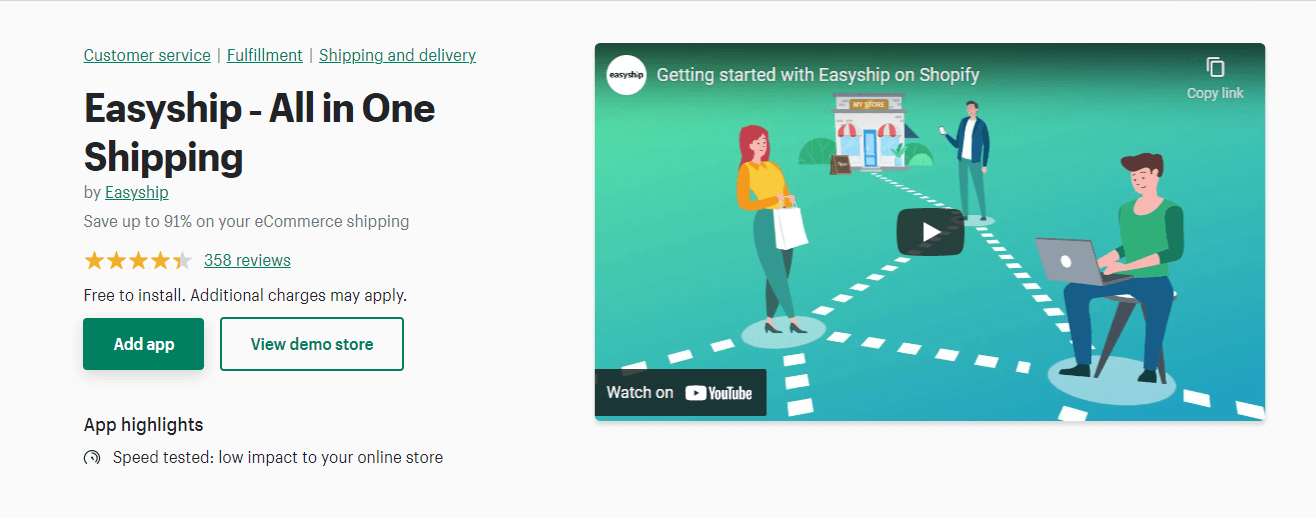 Easyship is an all-in-one cloud-based shipping app that takes care of all your shipping needs. It includes generating labels, packaging, and more. It offers high discount rates with no hidden charges when you make use of the selected carrier. 
Features 
Multiple Carriers and Discounts 
Easyship connects you to more than 250 carrier services across the globe, Some of which offer massive discounts to their customers. Your discount rate depends on the services you select. Easyship also offers different payment options. 
Shipment Management 
Managing your shipment with Easyship is as easy as it can be. Easyship automatically fulfills and updates your order status. Easyship handles other processes involved in shipping. 
Pricing 
Easyship is free to install. However, external charges may apply. 
7. AfterShip Return Centre

What happens when your customers decide to return an order? How do you handle return packages? As the name implies, AfterShip Return Centre helps you process return packages, refunds, and exchange policies. It is rated 4.5 on Shopify with over 1,700 positive reviews. 
Features 
Flexible Return Methods.
The return method is a vital part of the return process. This app offers multiple return methods for customers to select. 
Return to the store
Half or fully paid refund without return – green return 
Replace order
Customer chooses the courier service provider and more.
Automated Return Policy
Without an efficient return policy, your business may suffer losses. AfterShip Return Center automates your return policy and keeps buyers up to date with their eligibility status. 
Pricing 
Return Centre is affordable. With its lowest cost at $11 per month. It also offers a free trial
8. Tracktor Order Tracking

Track your order in real-time with Tracktor. This app gives you an accurate update of your shipment location. Tracktor supports over 1,000 carriers worldwide. Your customers' minds can be at peace knowing where their order is. 
Tracktor eliminates the common challenges of shipping. When your customers know the exact location of their order, it reduces the frequent questioning of order location. 
The app integrates with your Shopify store to fit into your brand tone. It offers the automation feature making the tracking process easy.
Customer Support
Tracktor has a support team available Monday to Friday, 9 am to 5 pm. It also offers toll-free calls within working hours. 
Pricing 
A 14-day free trial and 4 paid plans starting from $9.99 per month. 
9. Parcel Panel Order Tracking

Create a tracking page and track your order on any carrier service. Parcel Panel integrates more than 1,000 courier companies across the globe for tracking your orders. You can also use this app if you run a dropshipping business. There are other Shopify dropshipping apps. 
Using Parcel Panel to track your shipment can improve the quality of your business. More than 400 satisfied users would agree with me on this. Parcel Panel does the heavy lifting for you. So you don't have to deal with constant questioning from your customers. 
This app offers eight standard shipment statuses and can predict the date of arrival. It integrates with Shopify pro and Shopify Plus. 
Customer Support 
Parcel Panel has a support team available 24/7. Customers can also access experts for free. 
Pricing 
Enjoy a 7-day free trial for the paid plans or use the free plan. The paid plans begin at $9 per month to as high as $399 per month. 
10. Shipping Rates Calculator Plus

Shipping Rates Calculator Plus is rated 4.9 on Shopify with 357 reviews. 
For many online shoppers, the excitement of shopping wears out if the shipping rates are high. More often than not, this would result in cart abandonment. Displaying shipping rates on the go can reduce cart abandonment by a substantial margin. 
Shipping Rates Calculator Plus automatically estimates shipping costs based on the customer's location. This app is easy to use and compatible with other shipping apps. 
Pricing 
It offers a free plan and a paid plan of $7.99 per month. Enjoy a 30-day free trial. 
Conclusion 
An efficient shipping app is a must-have to succeed as a Shopify merchant. Lucky for you, the 10 shipping apps we've shared here are all great.
Are you still struggling to make sales for your Shopify. Why not add Adoric to your website and watch your sales grow tremendously?