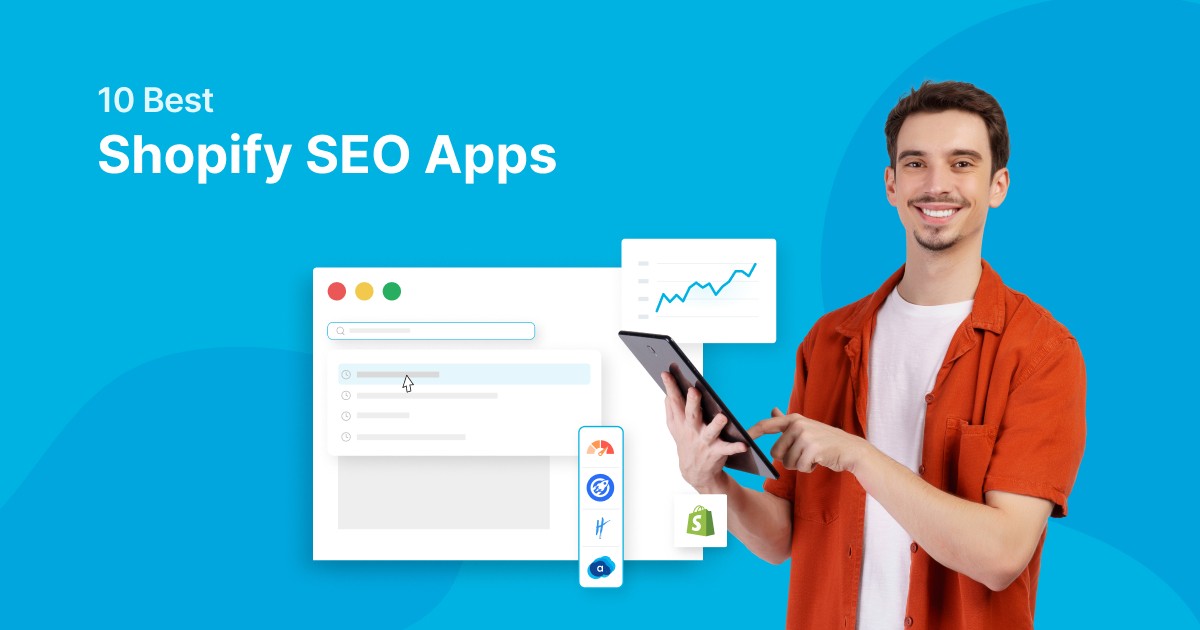 Do you want to boost your Shopify's site on Google? You need the right set of Shopify SEO apps for that to happen.
Businesses that invest in SEO grow exponentially more than their counterparts that do not. As such, you have to do the same if you want to grow traffic to their site. It is a good initiative to improve store SEO and interestingly, it does not cost much for a business no matter the size.
To be successful with SEO, especially for Shopify, you need the right app. Lucky for you, we will be sharing the best 10 Shopify SEO apps in this post.
So, stick around!
10 Best SEO Apps for Shopify
1. Booster SEO & Image Optimizer

Booster SEO & Image Optimizer by Booster Apps is a reliable app used by stores to improve their SEO ranking and increase traffic. Over the years, many companies have relied on this SEO app because of its strict regulations for best practices to produce astonishing SEO results.
Why Choose Booster SEO & Image Optimizer?
Actually, this app focuses on core components of SEO; on-page and off-page optimizations. It ensures Shopify store owners meet Google's SEO standards because it monitors and optimizes your website's traffic.
This app makes it easy for you to optimize your site URLs for better ranking.
Lastly, it allows you to index pages and ensure that pages are crawled by Google.
Pricing: Free plan, Pro($34/Month), Premium($64/Month)
2. Plug In SEO

Plug In SEO is one of the best Shopify Apps for SEO. Built with an easy-to-use interface, this app can be compared to Yoast SEO in WordPress.
It allows you to edit meta titles and descriptions with its unique templating technology and detect and fix broken links. Plus, it makes it easy to add relevant image Atl tags and headings to blogs and filenames to boost SEO.
The paid version of the app has a comprehensive JSON-LD structured Data/Schema Markup for rich snippets that supports product schema, rating and reviews, product availability and so on. Also, it supports Multilingual/non-English SEO and integrates with the Google search console to directly search for high-ranking topics and keywords that drive traffic to your store. And finally, comes with premium support and educational training that guide you on your way to creating Google's highest-ranking store in Shopify.
Pricing: Free Plan, Plus plan($29.99/Month), Pro Plan($39.99/Month)
3. Search Me – Speed & SEO Booster

Build it and they will come hardly ever works these days; you need to make your website highly visible on Google to make it possible for potential customers to find you. And that's what Search Me is all about.
Search Me – Speed & SEO Booster saves you time and effort with multiple one-click options that manage the Alt Image, Sitemaps, broken links and Auto SEO tags. It updates store owners daily on your SEO status, analyse issues and provides solutions. Subsequently, use this app's speed services to analyse and boost page speed both on mobile and desktop to keep visitors on your page and request for refund if the service does not convert.
Real-time support is 24/7 available to help you resolve SEO issues and take full control of your SEO. Besides, this app is easy to use and the basic to advanced features are continually updated to be in touch with the latest changes.
Pricing: Free plan, Pro Plan($39/Month or $31.17/Month billed at $347 once per year), Unlimited Plan($79/Month or $63.17/Month billed at $758 once per year)
4. Bulk Image Edit – Image SEO

Image is a significant part of every Shopify store and should be fully optimized to prevent longer load time and help your store rank higher. To this end, Bulk Image Edit is the app to use if you want to optimize your product images for better visibility on Google.
What can Bulk Image Edit help you do?
You can edit and update the alt text and filenames of your images in bulk. Plus, it allows you to reduce product image sizes without loss of quality and resize them however you want.
The cool part is that this app allows you to add a watermark to your product image to prevent your competitors from using your image.
Pricing: Starter plan(Free) & Basic plan($9.99/Month)
5. SEO Manager
Optimizing your store for search engine ranking can be a nightmare, especially for people who have no prior technical background. For this reason, SEO Manager was developed to help store owners optimise their presence on search engines.
With this app, you can log 404 errors, export/import errors, repair 404 and manage them. Also, it takes care of all edits and descriptions as well as image alt text templating.
Furthermore, it supports JSON-LD data and local business structures. It also integrates with Google Trends and Google Search Console. It is trusted by many small businesses and can be your roadmap to success.
Pricing: Fee of $20/Month with a 7 -day free trial
6. SEO: Image Optimizer Page Speed

Avada is one of the leading marketing partners for Shopify and has created multiple apps to help Shopify store owners grow their brands. One of these apps is the Image Optimizer Page Speed app for Shopify, developed to help you grow traffic to your website.
The key features focus on four important aspects of eCommerce SEO: images, meta-tags, titles and descriptions, and page speed. The page speed features increase the speed performance score and take your store to the first page on the Google search page.
This app allows you to compress, resize and optimize images for faster page loading. More importantly, it keeps the image quality the same without distortion.
Other features include the site verification app to verify website address, 404 redirects, URL optimization, detailed reporting, etc.
7. Smart SEO

Search Engine Optimization is a time-consuming task. Use Smart SEO to automate tasks, improve page ranking and boost sales.
Do you have lots of broken links on your website? No problem. Smart SEO has features to fix broken links, manage sitemaps and optimize image sizes on your website. Next, it automatically generates meta-tags with related keywords with high ranking scores to increase the store's visibility.
In addition, it removes microdata and provides structured data in form of JSON-LD to Google to improve store owners' SEO. Also, Smart SEO supports sitemap a feature that helps search engine to navigate a website.
Because of its versatility, this app supports multiple languages and can be used on multiple Shopify stores to create meta-tags and JSON-LD structure data.
Pricing: Free plan, Pro($9.99/Month), Business plan($19.99/Month), Premium plan($29.99/Month) with a 7-day free trial period.
8. SEO King

SEO King, developed by Engage Apps, is 8th on our list of best Shopify SEO apps. This app has all the recommended Google SEO tools for stores to rank higher in search engines.
What do you get when you install the app?
In the free plan, you can bulk edit image alt-text, resize, edit and compress multiple images at once and also add watermarks to prevent product theft. Also, with the app, you can export your edited and optimized pictures to a dropbox account and lots more.
Additionally, with this app, you can scan pages for broken links, and add alt texts and tags to your images. Moreover, SEO King makes it easy to display your store's rating directly on Google search results.
Pricing: Free plans, Small Shops plan($7.99/Month), Medium shops plans($12.99/Month), Large shop plans($18.99/Month)
9. TinyIMG SEO & Image Optimizer

Imagine after your struggle to be on the front page and a visitor clicks on your page link, only to see it continuously load without opening? You might lose the visitor and might never see them again.
To prevent this, you have to work with reliable apps that ensure your page is functional at every interval. TinyIMG SEO and Image Optimizer is the app you need for this.
This app improves your page loading time by compressing and optimizing images including product images on your site.
The cool part is that you don't have to update your product images manually, as this app does so automatically for you.
Pricing: Pay as you go(Free), Monthly($9.99/Month), 24 Months($1.99/Month), special offer ($19.99/Month)
10. SEO & Image Optimizer & Page Speed

Final on our list of SEO apps for Shopify is SEO & Image Optimization & Page Speed by Giraffly.
After installation, the app runs a health checkup on your site to find solutions to improve your website's ranking and drive more traffic to your website.
This app contains more than 10 powerful and functional features that encompass every aspect of SEO. They include On-page SEO scan, bulk edit alt text and meta descriptions, broken link management, structured data and JSON-LD set-up, detailed SEO reports, SEO meta templating and many more.
Lastly, all of these can be accessed from one admin dashboard and when you uninstall the app, the previous optimization will remain intact.
Pricing: Free plan, Pro plan($29.99/Month)
Conclusion
Optimizing your Shopify store for visibility on Google search results can help boost your sales greatly. Luckily, you don't have to do the whole work yourself; the apps we've shared here can help make your work less stressful.
Are you still struggling to make sales for your Shopify store? Adoric can help!
Adoric comes with many tools and features designed to help you convert your visitors into subscribers and customers. Sign up for an account to see Adoric live in action.