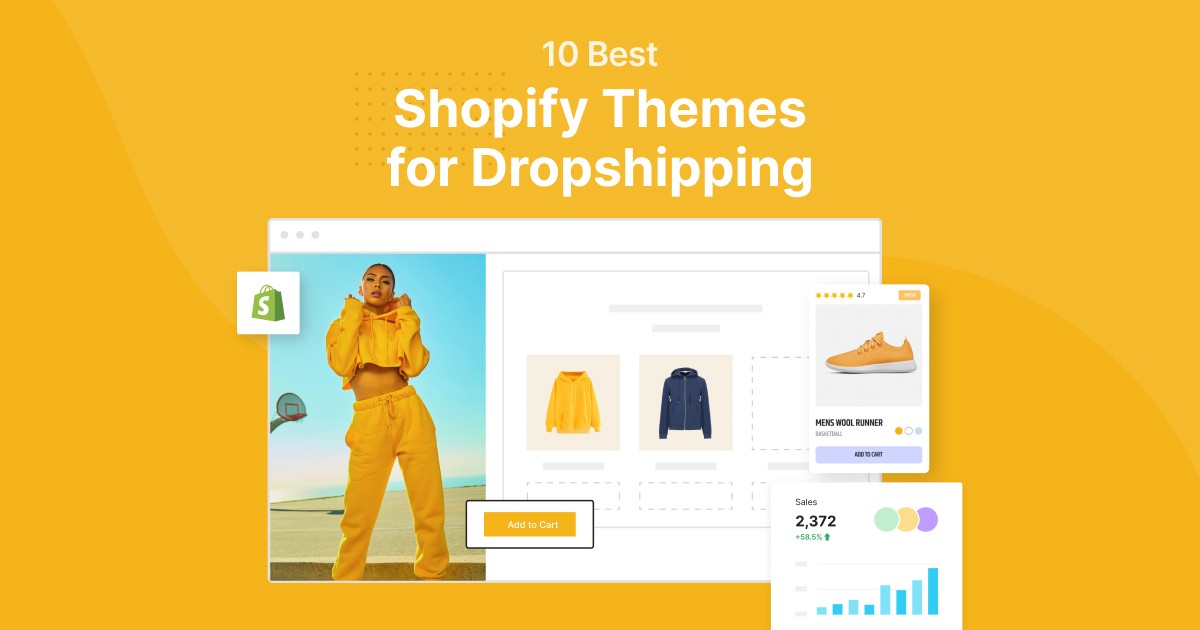 Are you looking for the best Shopify dropshipping themes? You have come to the right place. Dropshipping is a terrific way to earn money online. But first, you should create a stunning website that can engage your audience by using the right theme. 
Using the right theme makes it easy to create attractive, converting websites quickly. They give your visitors an idea of your business from the get-go. 
There are a ton of Shopify dropshipping themes, but choosing the best for your online business can be a challenge. But don't worry, we've got your back. 
What To Consider Before You Choose A Theme
Picking the right theme from a sea of options can be overwhelming sometimes. Therefore, we have decided to make the process much easier for you. So, before you pick any theme, here are some things to consider. 
1. Niche 
Your business niche determines every other factor involved. You can't just wake up and select a theme at random. Some themes are better for specific industries than others. You need to determine what industry your business fits into, the kind of products you intend to sell, etc. 
Once you have chosen a niche, find out what your competitors are doing and what themes they use. It will guide in making an informed decision. 
2. Budget 
If you have a limited budget, You can choose free Shopify themes or cheaper ones. You don't have to break the bank to get a good Shopify theme. As a newbie, starting with a free theme may be a better option. It gives you the room to learn and figure out the kind of themes that suits your brand. 
If you are concerned about how to switch themes, then you have no worries. Shopify makes switching themes a breeze. Also, your product listing remains the same when you make a switch. 
3. Features 
Regardless of the similarities, every theme has distinguishing features. These features should influence you into choosing them or not. As we mentioned niche earlier, your niche should determine the features to look out for in a theme. Here are some features to look out for;
FAQ page
Home page setting
Navigation size
The best way to find themes that match your brand is to browse through the Shopify theme section and search for your business category
4. Mobile-friendliness 
Before you settle for a Shopify theme, ensure that it is mobile-friendly. Over the past few years (2015 – 2021), statistics have shown that mobile devices dominate the internet traffic rate. 
Using a mobile-friendly theme will help your business reach a wider audience. Your customers are the most valuable part of your business. Therefore, your business website should be easily accessible to them. 
5. Customization
At some point in your business, you may need to change your Shopify store website. It is best to choose a theme that is easy to customize for free or at a cost.
How can you tell if a theme is easy to customize? Read reviews, and research the theme and its developers. Choosing a non-flexible theme may give you a hard time in the future. 
Okay, that's it about knowing what to consider before choosing a theme. Let's now get into the real gist of the day: 10 best Shopify themes for dropshipping. 
10 Best Shopify Themes for Dropshipping
1. Canopy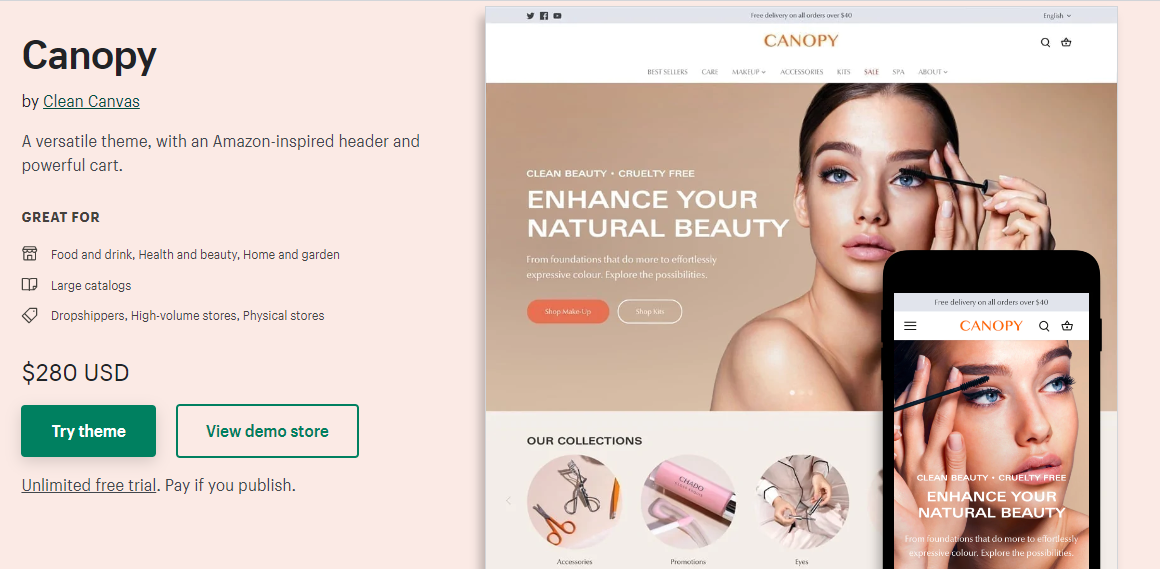 Canopy is a Shopify dropshipping theme owned by Clean Canvas. This theme has been around long enough to become a household name. For the past 10+ years, Clean Canva has devoted its resources to making unbeatable themes. 
If you want to design an online store to sell home and garden tools, health and beauty gadgets, food, and drinks, Canopy is perfect for you. 
The theme supports large catalogues of products. It can help you build a website to display several products and their details at once. 
Canopy provides all the tools you need to succeed as a dropshipper. It is fast, easy to use, customizable, offers predictive search, has SEO tools, and more. 
Pricing
Canopy offers an unlimited free trial. However, to use this theme on your website, you are required to pay $300. 
2. Warehouse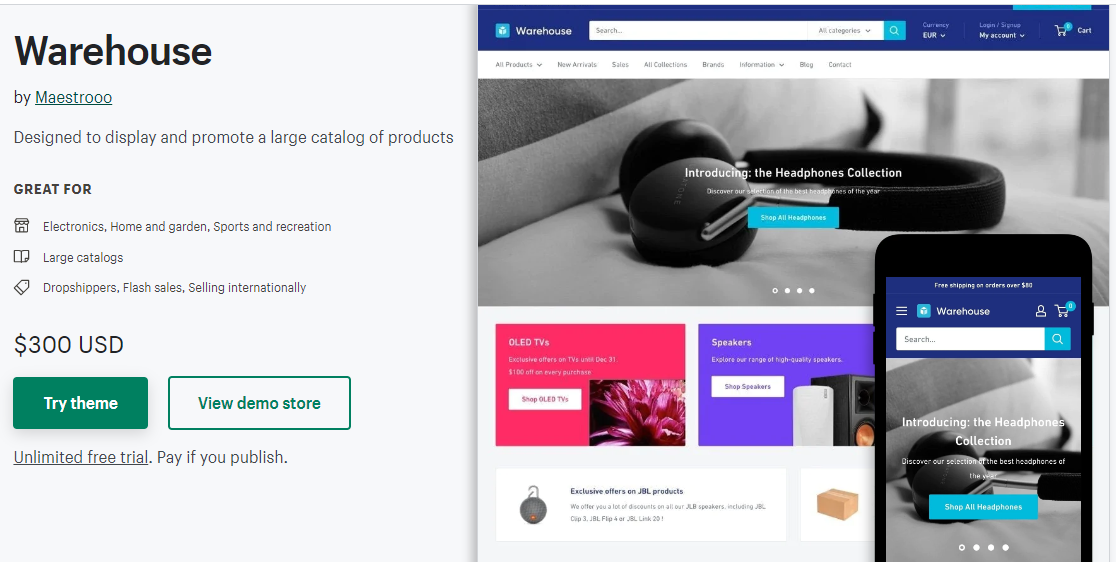 Warehouse is a theme created by Maestrooo. It is the perfect theme for Shopify dropshipper that sells home and garden tools, sports and recreation equipment, and electronics.
You can display as many categories of products as you wish on Warehouse. It supports a large catalog of more than 1,000 products. 
This theme is versatile. It allows you to customize and display your products however you want.
Warehouse runs on the latest technology making its response rate super fast. 
Pricing 
Warehouse charges you a one-time payment of $300 when you publish the theme on your website. Your license does not expire. But, it only allows you to use the theme on a single website. However, you can enjoy unlimited free trials for as long as possible. Updates are also free.
3. Refresh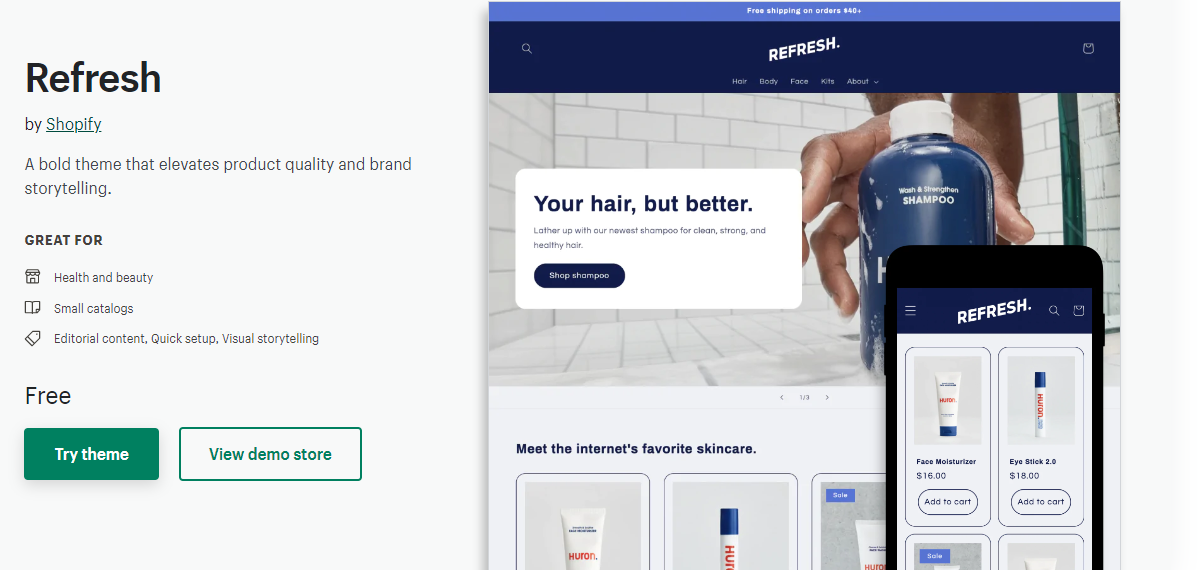 Refresh is a free theme by Shopify that enables you to set up a stunning storefront and make your Shopify dropshipping store stand out. 
Tell stories with products and layout patterns without saying too much. Refresh theme adds elegance to your store website and draws attention to your products. 
Refresh is great for Shopify dropshipping stores that deal in health and beauty products with small catalogs. It has beautiful designs for posting videos, quotes, products, images, and more.
It is also customizable with a few easy steps. You can customize the theme to match your brand tone using the drag-and-drop editor. 
The theme enables you to share full details of your products with your audience. Improve your conversion rate by displaying the product price, customer reviews, and more. 
4. Empire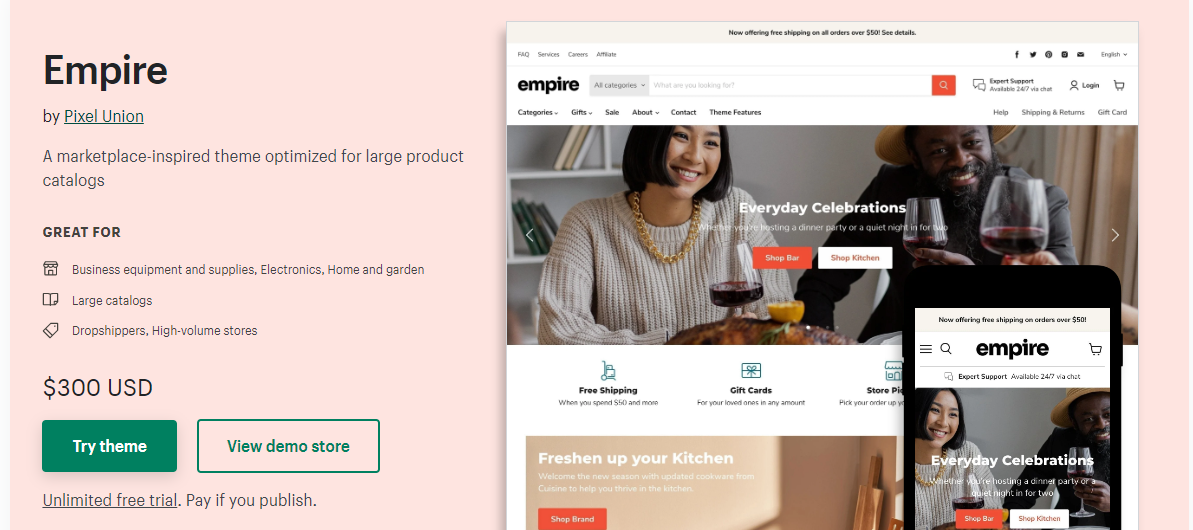 Empire is a Shopify dropshipping app by Pixel Union. It is the ideal theme for Shopify stores that sells varieties of products. It works well for a large product catalog. You can display many designs of your product photo all at once.
If your business deals in home and garden tools, business equipment and supplies, and electronics, Empire is for you. 
Increase your conversion rate using Empire theme. The unique design makes your website user-friendly. Your customers can have a fulfilling experience while shopping on your dropshipping store. 
Customize your theme to tell stories that align with your business voice. 
Pricing
Empire costs $300. It is a one-time payment that you pay when you publish the theme on your website. You get unlimited free trials, and theme update is free. 
5. Dawn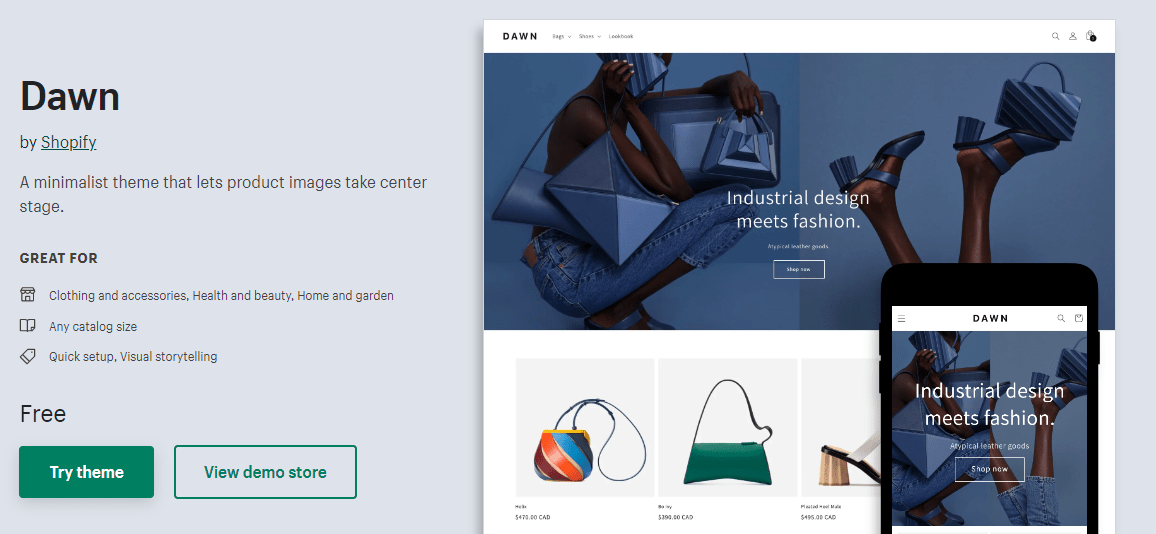 Dawn is the best theme for designing a minimalist Shopify dropshipping store. It is a free theme for dropshippers.
This theme allows you to add stunning product images to your website's homepage. It also supports any catalog size. 
Dawn is easy to customize, thanks to Shopify's inbuilt drag-and-drop design editor. You can change the colors, font, layouts, etc., to blend with your brand. With this theme, your store policy does not have to be tucked away somewhere on your website where it is barely noticeable. You can display it boldly for your customers to see. 
6. District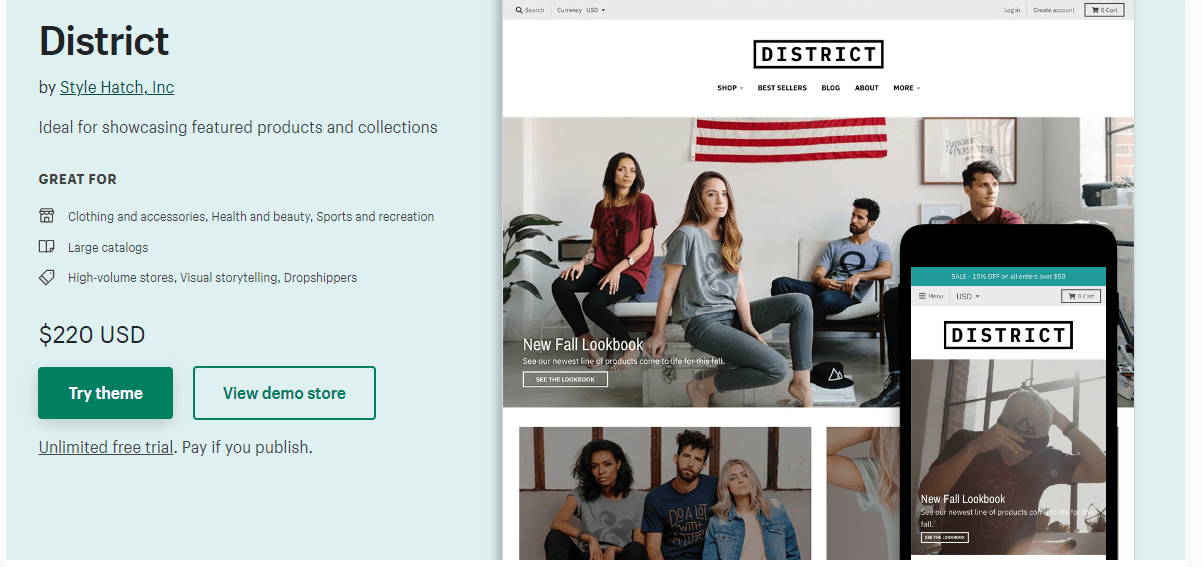 District is yet another Shopify theme for dropshipping stores developed by Style Hatch, Inc. It is perfect for displaying featured products and collections. This theme also supports large catalogs. 
The district is for you if you sell clothing and accessories, sports and recreation equipment, and health and beauty products. 
District gives your dropshipping store an astonishing appearance. You can tell stories with your product images by placing them in the right block and layout. 
You don't need coding skills to customize District themes. Use the drag and drop editor to customize your theme to your taste. 
Pricing
The demo version is free for as long as you wish. Publishing the District theme on your website will cost you $220. The license to publish the theme is valid for a single website. 
7. Startup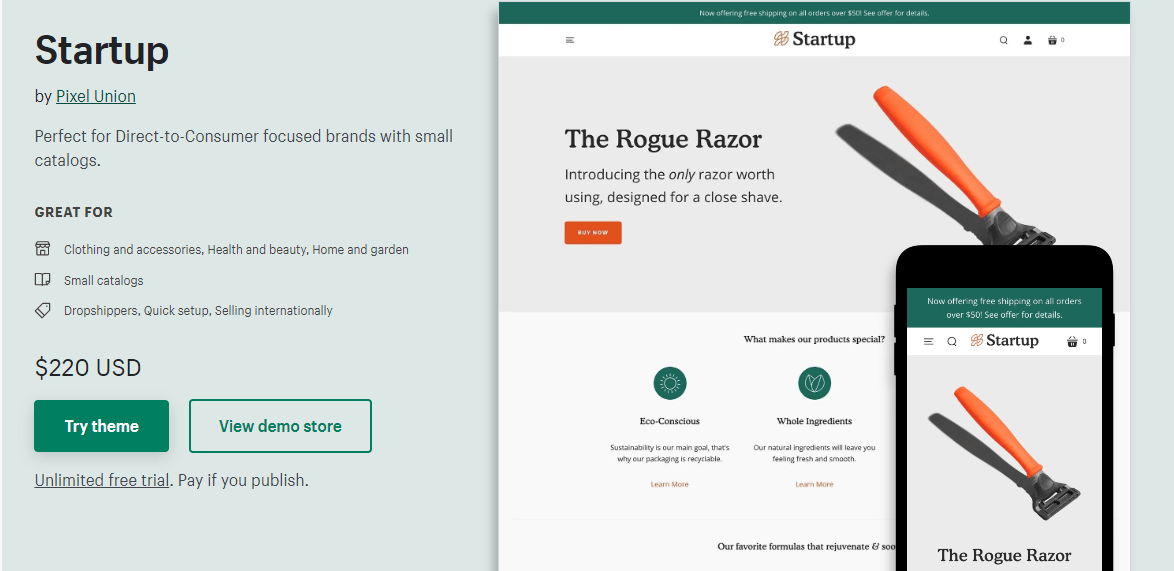 If you want to set up a Shopify dropshipping store to sell directly to your product consumers, Startup is the ideal theme for you. This theme is a product of Pixel Union.
Startup is perfect for businesses with small catalogs. With its well-designed layout, your product image(s) will always be the center of attraction. Startup improves the overall shopping experience on your dropshipping store. 
Sell your products anywhere across the globe, and there are no limitations to what you can sell with this theme. 
Setting up the theme for your online store is fast and easy. You can customize it however you want. In addition, Startup's design allows you to include customers' reviews around a product. Positive reviews are a proven way to increase sales. 
Pricing 
Startup costs $220 when you publish it on your store website. The charge is a one-time payment that gives the license to use the theme on a single online store. 
8. Expression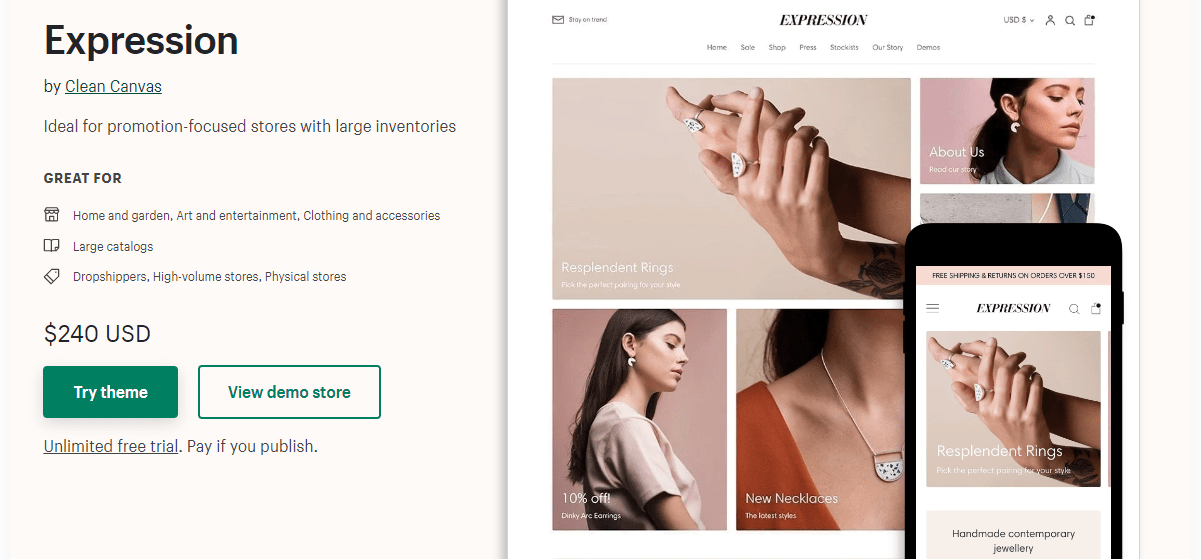 Expression is a product of Clean Canvas. It works best for stores with large catalogs.  Expression is for you if your business focuses on clothing and accessories, home and garden tools, and art and entertainment.
Whether you own a physical store or a Shopify dropshipping store, this theme will improve your store's outlook. It is versatile and has a unique layout design that allows you to display your product images as mini collection cards, sidebars, and more. 
With Expression on your side, you can go up against big retailers in the same category as your business. 
Pricing
Publish Expression on your store and pay once. Enjoy an unlimited free trial. 
9. Expanse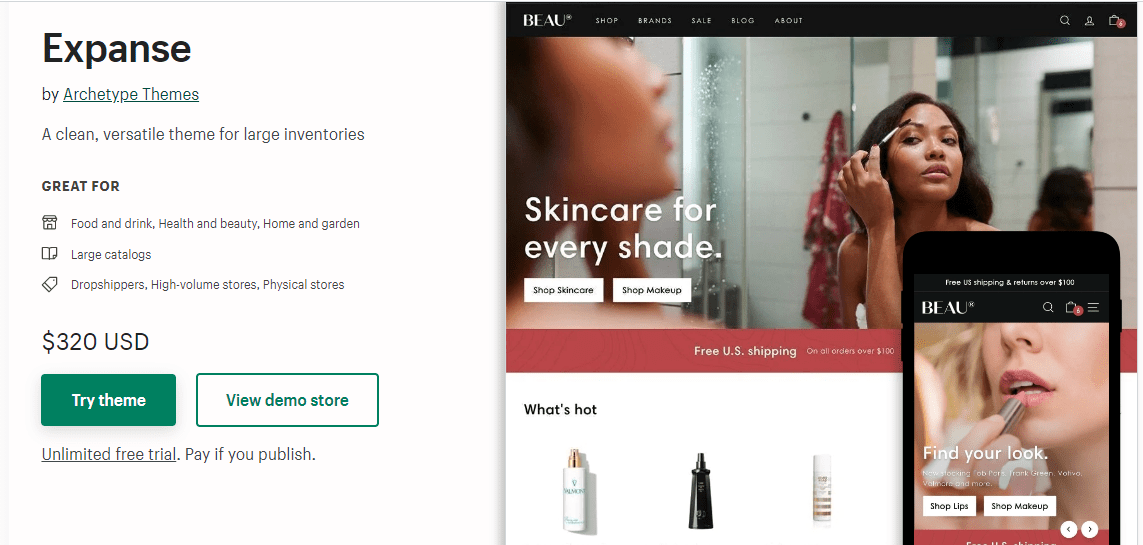 Expanse is a dropshipping theme made by Archetype Themes. It is ideal for businesses that process large inventories. Expanse is the perfect fit for stores that sell skincare products. 
Both dropshippers and physical store owners can design their store websites using Expanse. Expanse has a variety of options and tools you can pick. They include collection templates, meta fields, multiple landing page templates, and more. The theme comes with every tool and feature you need to create a memorable browsing experience for your visitors.
Upsell your products by recommending products similar to what your customers are searching for in your store. 
Expanse offers templates that enable you to promote your products with ease. This theme is highly customizable. 
Pricing 
Expanse costs $320 for each online store you publish it on. You can enjoy an unlimited free trial. 
10. Masonry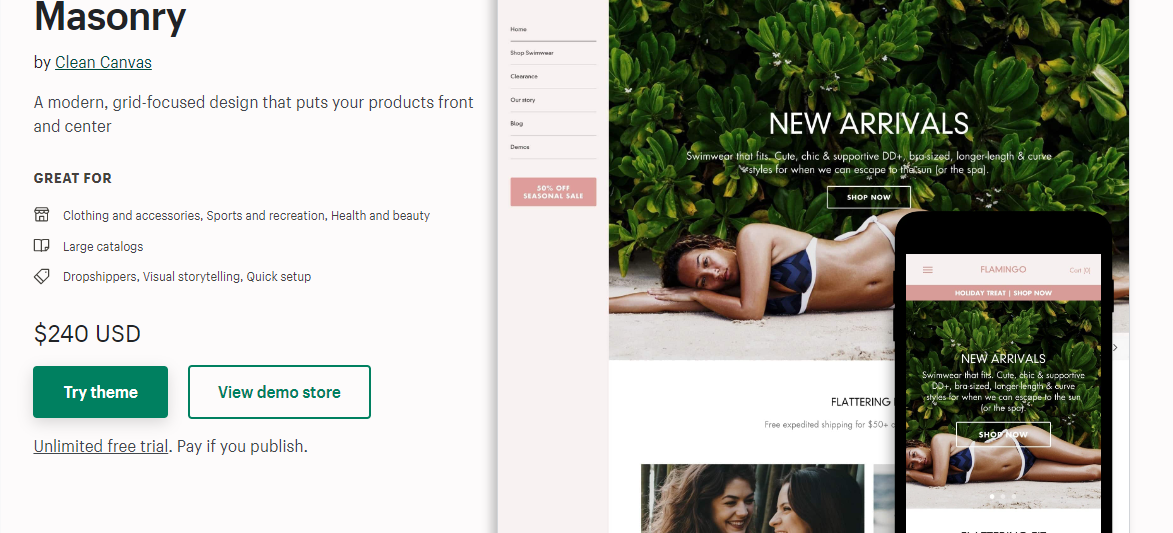 Masonry is another dropshipping theme by Clean Canvas. Its grid design allows you to center your products on your product pages.
Who can use it? Businesses that deal in health and beauty products, sports and recreation, clothing, and accessories. 
Masonry is well-designed with a load of experience behind the production. The theme provides the tools your business needs to succeed: SEO tools, advanced product filters, flexible sections, and more. 
Customization takes a few easy steps with no coding skills required. Impress your audience by creating an appealing visual representation of your products. 
Pricing 
Masonry costs $240 when you publish it on your online store. You can enjoy an unlimited free trial. 
Conclusion 
Using the right theme on your Shopify dropshipping store is a game-changer. With the right theme, you can create an elegant storefront, boost your store's SEO, improve user experience, and grow your sales.  
Are you still finding it hard to generate sales for your Shopify store? Adoric can help. 
Adoric has many tools and features to help you convert your visitors into subscribers and customers. Sign up for an account to see Adoric live in action.