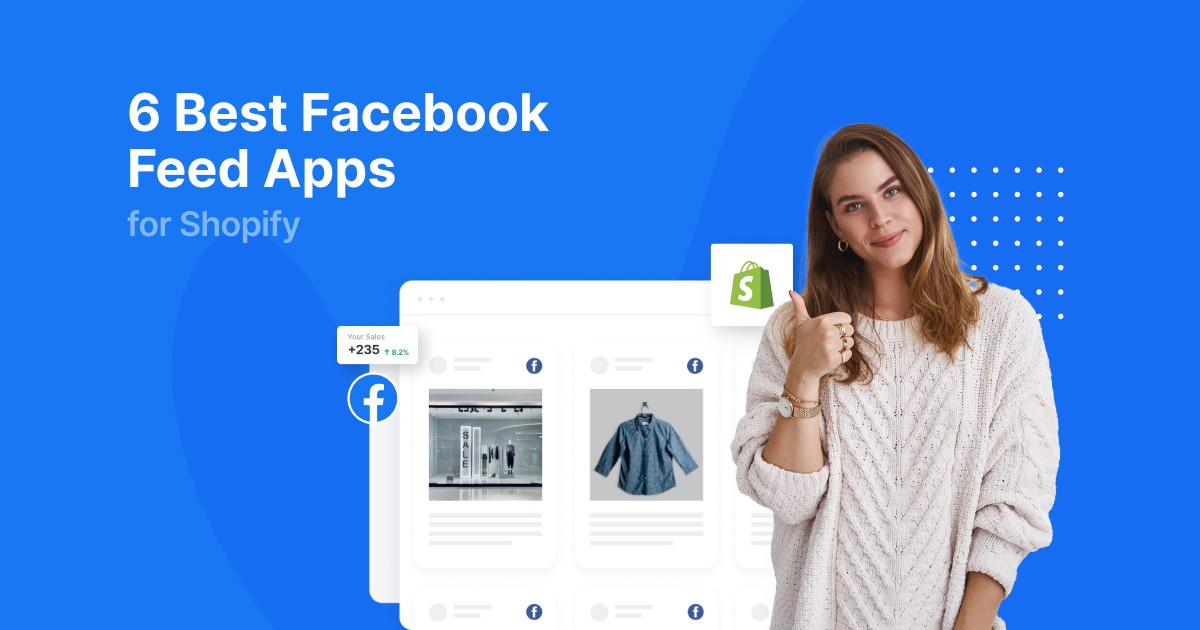 Running a successful business on Shopify requires a handful of apps for efficiency. Using Facebook feed apps is one sure way to take your business a step further. These apps help you sync your Shopify store to your Facebook for promotional purposes. 
We have handpicked the best six Facebook feed apps for you. We chose these apps based on ratings, features, the costs of the plan, and more. 
Below are the six best Facebook feed apps for Shopify. 
1. Flexify: Facebook Product Feed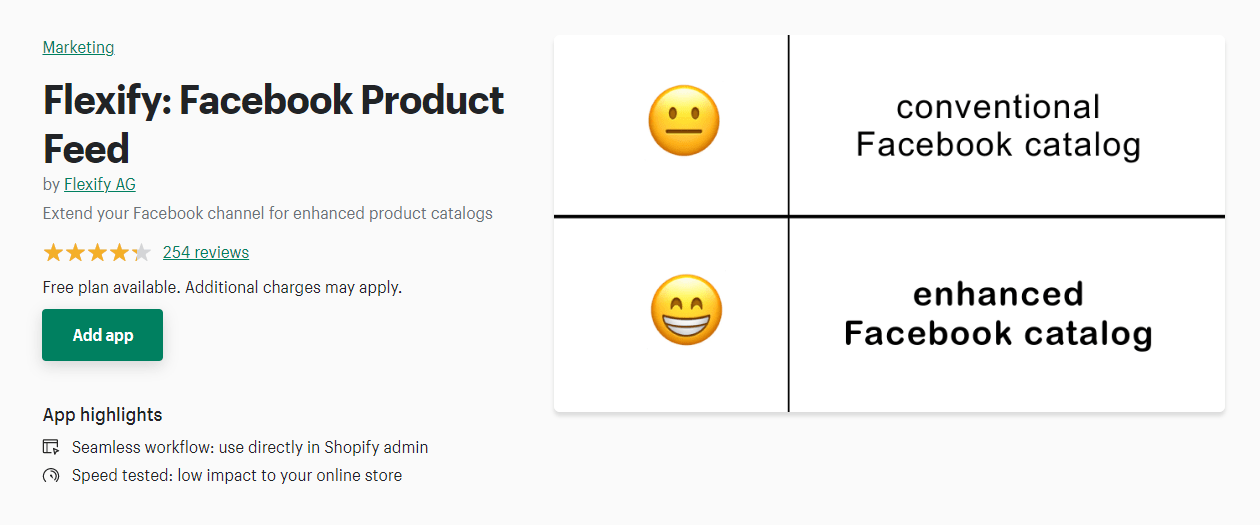 Flexify is one of the best Facebook feed apps for Shopify and also one of the easiest to use. Setting up Flexify is easy, fast, and at no cost. 
Flexify creates a product feed for your Shopify store after installing and setting it up. Use your Flexify account to connect your Shopify store to your Facebook shop and start. 
Flexify offers many significant benefits. The app saves you from handling some tasks by yourself. For example, you don't need to worry about creating a unique marketing campaign for individual products; Flexify has that covered. Just set up one campaign and forget about the rest. 
When people discover your business on one device, Flexify can reach them on any other device they use. This cross-device feature helps retain your customers no matter where they are. 
Flexify offers other benefits, including creating impressive images, auto-updating your product catalogue, freedom to choose products you want to sync with your store, and only advertising relevant products to individual customers. 
The platform integrates with Facebook ads, Pixel, Instagram product ads, channels, dynamic product ads, and Google product feed. 
Pricing
A free plan that gives you up to 1,000 product catalogue
The premium – small plan costs $29 per month for up to 2,000 products. 
The premium – medium plan costs $49 monthly for up to 5,000 products. 
The premium – large plan costs $79 per month for up to 9,000 products. 
2. Data Feed Watch Shopping Feed

Data feed watch shopping feed is a product of Data feed watch for Facebook ads, Google shopping, Bing, Pinterest shopping, Amazon, eBay, Instagram shopping, and more. The app is rated 4.3 stars on the Shopify store with 233 reviews.
Data feed watch is easy to use with flexible options for you. You can either optimize your feed or sync it with any channel. 
The platform is available in over 60 countries and has provided up to 2,000 marketplaces and channels. It offers an analytic feature that allows you to track your campaign progress to know how effective it is. 
You can also use multiple accounts for one profile. All you need to do is copy your feed from one channel and paste it onto another one. 
Pricing 
Data feed watch offers a 15-day free trial for all its paid plans. 
The Shop plan costs $59 or $49 per month at a yearly cost of $588. 
The Merchant plan costs $79 per month or $66 billed at $792 yearly. 
The Agency plan costs $199 per month or a yearly charge of $1,992, estimated to be $166 per month. 
The Enterprise plan costs $329 per month or $274.17, billed at $3290 per year. 
3. Facebook Feed: Feed For Google Shopping

Feed for Google Shopping is an app created by Simprosys InfoMedia for Facebook, Instagram, Microsoft, and Google shopping feed. It is rated 5-stars on the Shopify app with 3982 reviews.
The app provides a load of features to help you customize your product description for better performance. It also has several sales channels and is connected to several marketplaces. You can also create a sub-category for your product catalogue on Facebook using this app. 
Feed for Google shopping is an automated app that helps you save time and money while managing your Shopify business. It fixes every error it detects and optimizes your product attribute automatically when you set it right. That way, you cut down on manual labor and increase your productivity. 
Furthermore, this app may require you to integrate other apps to accommodate multiple currencies, countries, and languages. The Shopify app store has a handful of apps for this purpose. Here are some currency switcher apps you can try. 
If you want to promote your products on Facebook individually or in bulk, Feed for Google shopping is all you need. 
Pricing
You can enjoy a 21-day free trial on all the paid plans. 
The first plan for access to up to 500 products costs $4.99 per month. Or $4.49 monthly billed at $53.89 yearly. 
The second plan for access to up to 1000 products costs $8.99 monthly or $8.09 billed at $97.09 yearly. 
The third plan for access to up to 5,000 products costs $13.99 per month or $12.59 billed at $151.09 per year. 
The fourth plan for access to 10,000 products costs $17.99 per month or $16.19 per month billed at $194.29 yearly. 
4. Facebook, Google Shopping Feed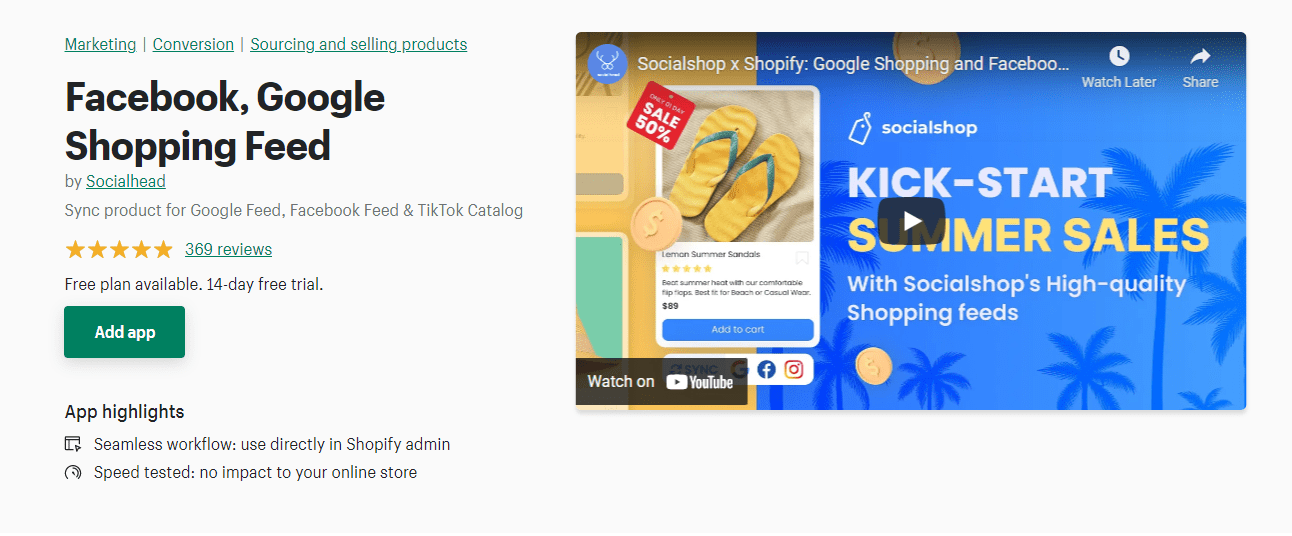 Facebook, Google shopping feed is another great Facebook feed app for Shopify. It is rated 4.9 on the Shopify store app with 369 reviews. Socialshop makes it easy to sync your Shopify products to your Facebook shop, Google Shopping, and TikTok catalog. The process is quick and safe. 
Socialshop uses an API to automatically sync all your products to your Facebook and Google shop. It keeps them regularly updated as well. The app helps you place your products in various categories, making them easy to find. 
Socialshop has a vast collection of customizable features, such as color, widget size, fonts, product title, layout design, and about 80 others. That means you can design your website the best way you want. How cool is that? 
What happens if you only want to display specific items on your Facebook Shop, Google Shopping, and TikTok catalogue? Just set the app to pick the products you want to display, and you are good to go. 
Because Socialshop values its users, it has put together a support team to help you what anything. You can reach them through the in-app live chat or via Email. 
Pricing
You can enjoy a 14-day free trial on the paid plan. 
The Starter plan is free for 50 variants.
The Standard plan costs $9.90 per month for 500 variants. 
5. Awesome Facebook Product Feed

Next on ourlist of best Facebook feed apps for Shopify is Awesome Facebook Product Feed. The app has garnered over 51 reviews so far, with an average rating of 4.5. It comes with a remarketing feature that allows you to boost your sales. Plus, it makes building your product feed is a hassle-free process. In fact, the app does this for you automatically.
Language or currency barrier is not a problem for Awesome Facebook feed. The platform supports multiple languages and currencies and can easily convert from one to another.
Using dynamic ads is an efficient way to increase your sales. When you set your Dynamic ads, potential customers on various devices can see your product ads and may patronize you. It also helps you to upsell your products. 
Awesome Facebook Feed supports categories for different product types, such as gender and age-specific products. The app integrates with Facebook ads and Google Shopping. 
Pricing
You can try awesome free for seven days. 
The Small plan costs $14 per month for 500 products. 
The Medium plan costs $24 per month for 2,000 products
The Large plan costs $34 per month for unlimited products. 
6. Facebook Feed

And so we wrap things up with Facebook Feed by Littledata. The app is light, thus ensuring your website loads fast.  
If you run a large shop on Shopify with several categories of products, Facebook Feed can help you manage your feed and automatically update it. It supports different sizes of products catalog to accommodate whatever you sell. Facebook Feed auto resizes product images if they are not in the proper size. 
When a potential customer indicates interest in your product, Facebook Feed takes it up and then promotes your products them, regardless of where they are. This feature is called dynamic ads and it is great for boosting sales. 
The purpose of running campaign ads on Facebook and other platforms is to drive more traffic to your store website leading to sales. But how can you rate the performance of your ads? Facebook Feed uses Conversion API to track engagement and the overall performance of your ads. 
The best part is that the app is easy to set up, and you can customize it however you want. This app integrates nicely with Shopify Google Shopping app and Facebook and Instagram ad manager.   
Pricing 
Facebook feed does not offer a free plan or free trial. However, using the app only costs a token. 
The Pro plan costs $19 per month and gives you access to unlimited products. 
Conclusion 
There you have it; the six best Facebook Feed apps for Shopify. Using any of these apps can help you grow your business via Facebook tremendously. So, feel free to pick your choice. 
Are you having a hard time generating sales for your business? Adoric can help. Adoric comes with lot of tools and features designed to help you convert your website traffic into sales, subscriptions, etc. 
Sign up for a free account right away to see Adoric live in action.