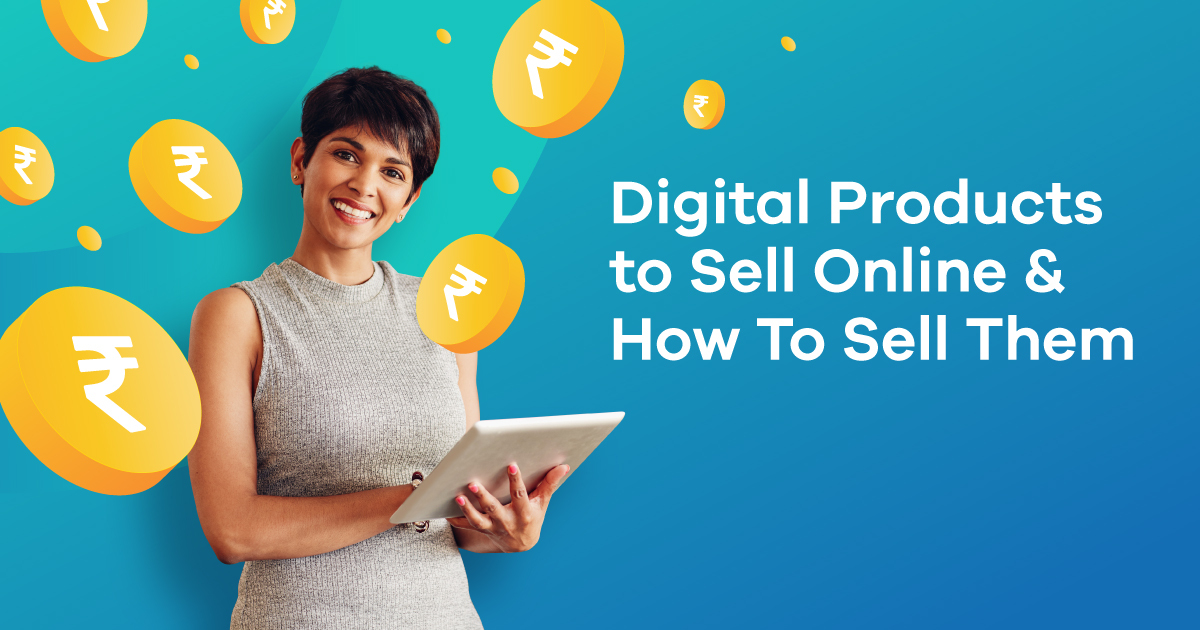 In this article, we will let you know what are digital products, and a list of the best digital products to sell online.
Ecommerce has opened up a world of opportunities for people looking to make some passive income. You can sell just about anything on the internet, provided you have a valid online store and know how to drive traffic to your store.
There is a range of online business ideas to get you started. However, this article is all about one type of business and that is digital products. Every day, thousands of people create and consume digital content.
So why don't we take advantage of this and make the most out of it by turning it into a business?
What are Digital Products?

Digital products are any product or service that is not tangible or measurable. They have no physical form when they are sold. We can convert them into a physical product after the purchase.
This may seem like a foreign concept that is hard to understand. However, the fact is, that we are all using digital products in one way or another.
We pay memberships on Spotify to listen to music created by artists of our choice. Here, the artist is selling and the digital product is his/her music.
Similarly, we pay and download apps from the app store. These apps do not have any physical form, but they are a product that we pay for. So, the app is a digital product that we bought from the app store.
That is all there is to a Digital Product.
Now that you have understood what digital products are, it may seem like a simple task to create and sell a digital product online.
There are already many people making the most out of this business by selling digital products that they created. So there is huge competition in this business, just like any other business online.
However, it is not just about the competition. Your product or service should be unique, eye-catching, and display the best of your talent. It should also add value to people if you want them to pay for it.
Further, in this article, we will tell you more about the advantages and disadvantages involved in selling digital products online.
Advantages of selling digital products
Selling digital products seems like the most enticing business opportunity for a lot of reasons. It is very simple to run the business of selling digital products compared to selling physical products.
It is easy and hassle-free for all these reasons:
Easy to start – All you need is a laptop/ computer, a working internet connection, and your talent/skill.
Save money – You do not need to hold inventory as digital products are intangible and there are no shipping & logistics-related costs.
Easy to scale – Once your digital product is uploaded on a platform, it can be downloaded many times.
Very flexible – You can keep updating your digital product to stay relevant to ever-changing market situations.
High opportunities – Digital products can be created for any niche and any audience of your choice.
High-profit margins – Since digital products are all about creating once and downloading many times, the profit margin is very high.
Compliment your business – If you are running a business, you can create digital products like ebooks & how-to guides that support your business.
Create a passive income – The digital products you created and uploaded on a platform will keep generating a steady stream of passive income for you.
Are you convinced enough to give the digital products business a go?
But wait.
Do not get started without knowing the problems and drawbacks involved in the digital products business.
We all know that there are equal parts of advantages and disadvantages to any business. As enticing as it may look, selling digital products has its own problems too, which we will discuss in this next part.
Disadvantages of selling digital products
These are some disadvantages of selling digital products that you should know before getting into the business.
Free content – Whatever digital product that you create, there is almost always a free version of the product available on the internet. People will gravitate towards the free version rather than pay for your product.
Piracy and content theft – Digital products are more prone to piracy and theft. When you upload a digital product and open it up for download, someone might simply buy it from you and sell it elsewhere.
High competition – Digital products give you the flexibility to target multiple niches. However, with that kind of flexibility also comes competition. You will have to compete with the creators that already dominate the market in your chosen niche.
No business strategy – If you are starting a business without a strong business strategy, then you are setting yourself up for failure! Strategize your product niche, target audience, online store, pricing and catalog, marketing, etc.
Do not worry, we will further discuss the business strategy for selling digital products online in detail.
Digital Products To Sell Online in 2022

There is a range of digital products that you can consider creating and selling online. However, you need to choose one that you can create easily and something that you are passionate about.
Technical Products
Software & Apps.
Website design/Logo design.
Plugins.
Hosting.
Code snippets.
Mobile Applications.
Wireframing.
Semi-Technical Products
Graphic design templates.
Social media templates.
Resume formats.
E-mail formats.
Digital planners.
MS Excel templates.
Website themes.
Social media plugins for WordPress.
Design Products
Animations.
Photoshop plugins.
Typography designing.
3D elements and icon designing.
Mock-up designs.
UI/ UX tool kit.
Lightroom presets.
Brushes.
Educational Products
Ebooks.
Courses.
How-Tos.
Coaching packages.
Educational games.
Paid newsletters.
Masterclass.
Business and Marketing Products
Research papers.
Journals and calendars.
Content creation tools.
Project management tools.
Analytical tools.
Order management system.
Self-assessment tools.
Creative Products
Music & songs.
Sound effects.
Stock photos and videos.
Printables.
Digital art.
Photography workshops.
Subscription Based Products
Podcasts.
Podcast editing.
Fitness training.
Nutrition coach.
Mental health coach.
Video content creation.
Video Editing.
Voice-overs.
Video streaming.
Cloud solutions.
Wellness trackers.
Meal plans.
Writing Products
Fiction and self-help ebooks.
Book covers.
Comics.
Audiobooks.
Blog posts.
Cookbooks.
Video script writing.
Digital marketing plan.
In this article, we will list 60+ digital product ideas and for easier understanding, we will categorize all the digital products under 8 categories.
Technical Products: Creating these kinds of digital products will need you to have some technical knowledge and IT-based skills. Simply put, if you are well versed in coding and you have experience in the IT field, then these product ideas are best suited for you.
1. Software & Apps
With the entire world going digital steadily, the need for supporting software and apps is never-ending.
Choose a target niche and research what problems they face. If it can be solved or made easier to handle with software or an app, then you can create one.
2. Website design or Logo design
This is more of a digital service rather than a product. Again, this is also a very profitable business if you have the skill.
Every business that wants to go online will need a professional-looking website and a logo to represent their brand. You can target small to medium businesses and offer your service.
3. Plugins
Website plugins make the lives of small businesses a lot easier. Creating a plugin that focuses on useful factors like order management, customer care, security, payment gateways, SEO, etc. will pick off quickly.
Anyone in need of such a service can download and install your plugins.
4. Hosting
In a nutshell, web hosting is a process where companies rent you a space to host your website on the World Wide Web. It helps web users to connect to a company's site from anywhere in the world.
You can start providing web hosting services by choosing a dedicated server partner. Once your systems are configured and tested, you can start spreading the word and finding clients.
5. Code snippets
Reusable code snippets reduce the time for the developer to deliver a software application. Creating code snippets can help companies increase productivity, decrease cycle times and accelerate time-to-market.
If you have excellent coding and programming skills, creating and selling code snippets on your website or community marketplaces is a lucrative business opportunity.
6. Mobile applications
With 3.8 billion smartphone users worldwide, selling user-friendly mobile applications is an excellent business opportunity.
Whether for gaming or shopping, you can create an application for Android or iOS users. You can also work with companies to develop custom mobile apps that attract and engage their customers.
If you have excellent coding and programming skills, creating and selling code snippets on your website or community marketplaces is a lucrative business opportunity.
7. Wireframing
Since user experience is a significant differentiating factor among companies, wireframing provides a solid foundation for companies to deliver the best digital products.
Wireframing services offer companies a visual representation of a web page's structure and layout. They will help you understand the meaning and structural alignment of the web components.
You can offer prototyping and wireframing services to companies to help them stand out and create the best digital experience for their customers.
Semi-Technical Products: Creating these products would need you to have a unique set of technical skills which has very little to nothing to do with IT or coding.
You need to have some creativity and some technical knowledge to create these digital products.
8. Graphic design templates
Graphic design is a huge part of our lives, whether we notice it. From graphic tees to food menus to book covers, graphic design dominates on so many levels.
Creating graphic design templates that are mildly customizable can prove to be a highly profitable digital product business.
9. Social media templates
Be it a small business or big brands, content creators, or influencers, everyone wants to maintain a cohesive social media account. But it takes a lot of time and effort to maintain a visually appealing social media account.
Customizable social media templates make it so much easier for brands to maintain a cohesive online presence. We can use these templates for social media posts, banners, creating social media ads, and more.
10. Resume format
Providing professional help with writing resumes is a skill that will never fail you. People who want to make their resumes look more put together can download and use templates created by you.
11. E-mail format
Creating email formats that target various needs can help out people save a lot of time as well as look very professional. Not everyone has a good command of the English language or knows how to create a well-written email.
Your email templates could make it easier for these people while reach out to a customer or a business alike.
12. Digital Planners
Planners have been around for a long time now. However, like everything else, planners are also getting digitized. Digital planner templates that are downloadable and printable can make the lives of a lot of people a lot easier.
13. MS Excel templates
For every business owner, data management has become a priority. MS Excel templates help professionals create interactive spreadsheets for various business functions to ensure that they focus on the most critical tasks at hand.
This digital product is easy-to-design, and you can add pre-defined formulas or calculators to calculate faster and more efficiently.
14. Website themes
Building a website that represents your brand is critical. But everyone has the time or skill to create one for their business. Thankfully, website themes are a cost-effective way to grab the audience's interest and increase online exposure.
You can create and sell personalized website themes to help companies offer a first-class user experience. These website themes must be responsive across multiple devices.
15. Social media plugins for WordPress
To showcase your brand's personality on your WordPress site, you must integrate the site with your social media feed. But this integration can slow down the site loading speed. Social media plugins for WordPress can help you resolve this issue by eliminating clutter and offering a better user experience.
These plugins come with multiple features and showcase social media feeds from Facebook, Instagram, and Twitter in a user-friendly manner. Small businesses can install these plugins and control how their feed looks on the site.
Design Products: Creating design products to sell is the best idea for creatives and artisans. Even those who are used to creating art and designs on paper can develop the skill of digital designing.
It is also a very profitable idea as a lot of organizations want to create a consistent branding where they use similar design elements across all platforms, like their website, application, product labels, product packaging, and so on.
16. Animations
Animation has become a powerful asset for companies to carry out creative marketing. Using animations in social media posts or promotional messages opens a creative way to present products or services in the modern digital space.
You can design creative animations for websites, video games, and advertisements to help companies make the desired impact. From 2D to 3D animation designs, you can expand your creativity to bring the best ideas to life.
17. Photoshop plugins
Photoshop is an industry-leading photo-editing software for designers worldwide. While the software already has many editing features, additional Photoshop plugins can help designers and photographers enhance and modify photos.
You can develop free and premium Photoshop plugins to help designers add varied textures and filters to the already powerful software.
18. Typography designing
In the design world, clean and artistic design makes a significant difference. Typography is a critical part of making your creatives stand out.
Whether you want to make your videos pop with eye-catching text or enhance the aesthetic appeal of your content, typography makes your design unique. A strategic typography design can help you improve the brand's visual identity.
19. 3D elements and icons designing
Most people confuse animations with 3D elements and icons. While animations can enhance storytelling, 3D elements and icons are more suitable for landing pages and mobile applications.
The latter helps users navigate the site better and amplifies their experience. By designing 3D elements and icons, you can communicate and guide users efficiently while maintaining functionality.
20. Mock-up designs
A mock-up is a static design of what a web page or application should look like and how the experience will be. It allows designers to test how different visual elements will look together.
Creating mock-up designs can help stakeholders test a new feature before pushing the website live.
21. UI/UX tool kit
User experience has become the most powerful element for online businesses. With a good UI/UX design, you can attract customers and gently nudge them to complete a purchase. But designing such an experience requires the best UI/UX tools.
A UI/UX tool kit is a collection of resources, features, and tools that help designers improve the workflow and create user-friendly websites faster. By creating this tool kit, you can help brands worldwide boost their online appeal.
22. Lightroom presets
Lightroom presets help make images look more professional even if you do not have any idea about photoshop or photo editing.
A lot of people opt for this option when they want their social media posts to look a lot more professional and enticing. Presets also help in maintaining a cohesive feed on social media platforms.
23. Brushes
Online brush kits are an excellent option for designers who like to experiment. You can install brush presets in designing software like Photoshop and Illustrator to help designers add unique effects to their creatives.
From creating sophisticated to edgy designs, these brushes come in handy.
Educational Products: If you are a teacher or an educator or even a subject matter expert in a particular field, then creating educational digital content is for you.
24. Ebooks
Choose your field of expertise and research to find out what people are interested in learning in that field. You also need to see how many people have already approached that topic.
However, when it comes to learning, there is always a gap that you can make use of. Once you have found that gap, you can put your skills, experience, and expertise to create an ebook that adds value to your readers.
25. Courses
A longer form of teaching material, unlike ebooks. Courses can be created and sold on the basis of download or subscription. Over the lockdown, everyone has realized the power of e-learning.
The option of creating and selling digital courses is not relevant to educational content alone. You can create courses on art, music, dance, cooking, embroidery, and much more.
26. How-Tos
How-Tos are a more creative e-learning material that captures people's attention and keeps them hooked. 'How-to' guides aim at providing quick and precise information that aims at solving one particular problem at hand.
Like this article that talks about How to sell digital products online! Or this other article on our blog that talks about how to make money online.
27. Coaching packages
Like online courses, coaching packages educate learners about a specific subject. But coaching packages are more comprehensive, offering learners live support and a feedback system for better performance.
These coaching packages also provide learners support at premium prices to help them reach their full potential. You can create impactful learning sessions and resources with in-depth materials and expert support.
28. Educational games
We live in a world surrounded by technology, so games are a fun way to learn. Web-based games offer a treasure trove of learning opportunities to students.
These educational games have a variety of content areas and skill levels that increases curiosity and thirst for knowledge. You can design an educational game for students to help them collaborate and work in teams.
29. Paid newsletters
Paid newsletters are e-mail campaigns that educate and inform subscribers about exclusive industry trends, expert advice, case studies, and learning materials. These paid campaigns are indispensable for building a brand's credibility.
You can scale your e-mail list and send monthly or weekly newsletters to your subscribers. When running a small business or an enterprise, paid newsletters are a cost-effective and engaging medium to connect with your customers.
30. Masterclass
If you are an expert in a subject matter, you can host masterclasses to educate learners. The difference between a course and a masterclass is that the latter is at a premium price point. The target audiences are also different.
People looking to enroll in a masterclass are already business owners or professionals who know about the topic and want more insights and exposure to industry trends.
Business and Marketing Products: Running a business is never an easy task and business owners always look out for all the help they can get. Be in form of templates or tools, a sound business, and marketing product is always appreciated!
31. Research papers
Research papers are essential from a marketing perspective. From product development to promotional activities, research helps make critical business decisions. You can create research papers by studying primary and secondary data to find relevant trends that help businesses work on a product idea.
32. Journals and calendars
Online journals and calendars help people keep track of their thoughts, ideas, and inspirations on the go. They are also a valuable strategic tool for small businesses as they can mark meeting dates or appointments and prepare for them.
A weekly or monthly online journal and calendar tool streamlines your essential business activities and reminds you of them to ensure that you don't miss any crucial tasks.
33. Content creation tools
Every content marketer needs tools for research and editing. They ensure that marketers stay on top of their content creation strategy and make their stories more appealing. These online tools help perform multiple tasks, ranging from topic research to grammar correction.
With the correct arsenal, businesses gain insights and accelerate their content creation process. Some popular content tools are Grammarly, Hemmingway Editor, Google Trends, etc.
34. Project management tools
Today, project management tools are not just limited to the software development industry. These tools help businesses of every size and industry manage complex projects seamlessly.
The biggest benefit of using these tools is that it lets your team collaborate and help them manage their tasks in a detailed way. Some applications also provide managers with insights into the project's progress to ensure that the team stays on track.
35. Analytical tools
For digital marketers, analytical tools provide insights into how their online campaigns perform against their competitors. These tools help them improve the campaign performance and set a proper budget for a better ROI.
Online marketing analytical tools are helpful for businesses to stay ahead of their competitors. You can develop analytical tools that provide accurate reporting and help streamline digital marketing campaigns for better engagement.
36. Order management system
The competitive e-commerce space has made business owners more agile about engaging their customers. And one of the best ways to engage customers is through timely delivery and enhanced after-sales service.
With an order management system, you can receive, track and fulfill orders on time to provide your customers with the best service. An order management system lets you streamline your orders efficiently and without hassle.
37. Self-assessment tools
Self-assessment tools are best for employee training. They help identify weaknesses, strengths, and personality traits that affect their work. Self-assessment tools like the MBTI model, DISC, etc. can help you gain better insights into an employee's traits and professional skills.
You can design a self-assessment tool that benefits the employee and employer to accelerate their workflow.
Creative Products: If you are more of a creative person, then these digital product ideas may appeal to you.
38. Music/Songs
Create and sell music, background scores, songs, and more on platforms like Spotify, Amazon prime music, Shazam, etc.
You do not need to be as good as Beyonce or Jay Zee, but if you have the talent and the passion, then you should go for it!
39. Sound effects
Did you know that stuff like ringtones, notification tones, and similar sound effects can be sold?
Especially sound effects that are meditative or zen are being preferred by the millennials a lot more than music by popular artists.
40. Stock photos/videos
If you are a photographer or a videographer, this option may be for you. There are multiple platforms where you can sell your photos and videos.
There is an increased use for stock photos and videos. So it is about time that you made the most of this opportunity.
41. Printables
Creating printable digital art, graphic art, planners and calendars, etc. can provide you with the best passive income possible.
People look for such printables for interior decoration and to add some creative elements to their space.
42. Digital art
Digital art is scanned or drawn on a tablet or mobile device. From digital paintings to sketching, you can use digital art across multiple creatives like games, advertisements, or branding activities to engage customers.
You can design digital art on design software for businesses to help them create artwork for their brand. With multiple plugins and explosive design tools, artists can develop immersive artworks that let companies promote their products innovatively.
43. Photography workshops
For beginners, photography can be a difficult skill to master. The correct angle, using the right features of the camera, and having proper editing skills are imperative for photographers when they are shooting or working on a project.
You can host online photography workshops to kick-start your journey. From helping amateurs to businesses keen on opening a Youtube channel, workshops provide valuable lessons to help them get started.
Subscription-Based Products: You can create digital products that can be sold for a recurring fee like a monthly subscription or a yearly subscription. Here are some product ideas that you can create a subscription for.
44. Podcasts
The most popular subscription-based digital product that I am sure most of you have heard of. It is pre-recorded voice content that people create to target a specific audience with their experience or expertise.
Once your podcast channel picks off, you will have thousands of subscribers willing to pay a monthly subscription to listen to your podcast episodes.
45. Podcast editing
As mentioned above, podcasts are a valuable tool to help businesses connect with their customers. If you think long-form content doesn't work for your target audience, you can create a podcast that educates them about a particular topic.
But most podcasts are not engaging. Loud music, improper editing, and wrong sequencing can put off listeners. You can help businesses edit podcasts professionally and create valuable audio pieces that engage the audiences.
46. Fitness training
With more and more people gravitating towards a healthy and fit lifestyle, providing fitness training through online videos can be a really profitable business.
You can charge a subscription cost that is monthly, quarter yearly, or yearly, depending on the kind of services you offer.
47. Nutrition coach
Nutrition closely follows fitness when it comes to a healthy lifestyle. The option and availability of different kinds of food often confuse people, leading them into making unhealthy choices.
People hardly eat for nutritional reasons anymore. So if people are making a conscious decision to change their eating habits and improve their lifestyle, then they would be happy to pay for nutrition coaching online.
48. Mental health coach
Another lifestyle-based service that you can offer online is mental health coaching. Our generation calls itself advanced in so many factors, but when it comes to physical, mental, and emotional health, a lot of us suffer.
Hence, if you are a certified psychiatrist or psychologist, providing mental health services online could be a win-win situation for both your client and you.
49. Video content creation
With youtube rolling out a monthly subscription option for video content creators on youtube, it is the right time to create and sell video-based content online.
Again, there is no specific topic or field when it comes to video content creation. It can be educational or entertainment or anything in between.
50. Video editing
85% of social media users want more video content from brands. But most brands fail to create entertaining videos for their target audience. The secret behind creating high-quality videos is quality editing.
Turning raw footage into professional and engaging videos can make a difference to your target audience. With monthly video editing services for businesses, you can help enterprises make the best use of their footage.
51. Voice-overs
Voice-overs are a production technique where a voice is recorded and used in videos, advertisements, and marketing as a narrative.
By developing text-to-speech software, you can edit the audio levels in the recordings and improvise the momentum, tone, and pitch as well as other voice factors to keep the listener interested. For creative projects, voice-overs are a vital storytelling element.
52. Video streaming
The pandemic has increased the demand for content consumption. Video streaming is a method of viewing videos without downloading them. This service lets subscribers enjoy videos and binge them at any time of the day.
You can start a video streaming service and provide audiences with weekly or monthly content to satisfy their entertainment quotient.
53. Cloud solutions
The usage of cloud solutions has skyrocketed in recent years. Studies state that 94% of businesses have improved security after migrating to the cloud. Most people even confuse the cloud with SaaS products.
Cloud solutions can help test software products faster and even perform big data analytics. You can develop cloud solutions for enterprises to cut infrastructure costs and scale their operations.
54. Wellness trackers
The pandemic has increased the demand for content consumption. Video streaming is a method of viewing videos without downloading them. This service lets subscribers enjoy videos and binge them at any time of the day.
You can start a video streaming service and provide audiences with weekly or monthly content to satisfy their entertainment quotient.
55. Meal plans
You can prepare meal plans for your subscribers based on their body proportion, taste preferences and fitness goals. For instance, if anyone wants to lose weight, you can design a meal plan that reduces their calorie intake healthily.
Similarly, those trying to stay active can have meals rich in protein and fiber. These meal plans also help users analyze how much they eat and what affects their bodies for better nutrition.
Writing Products: Writing is a very elite skill that very few possess. From writing fiction to self-help books or instructional books, if you have the skill of story-telling, then you can turn it into a profitable business idea!
56. Fiction and self-help ebooks
If you are interested in writing, it is the best way to generate revenue. They are easy to format and edit, and anyone can publish their story independently without the help of a publishing company nowadays.
You can pick and start writing in a genre that interests you. With platforms like Kindle, you can create and publish your ebooks directly to engage the audience and create revenue.
57. Book covers
The first thing anyone will notice when picking up a book to read is the cover. The more attractive and arresting the book cover, the faster readers notice it.
If designing is your forte, you can help budding writers design book covers that capture the story's essence. You can use captivating fonts, creative animations, contrasting colors, and more to make the book cover stand out.
58. Comics
Most people assume that comics are only for kids, but many adults also read them. With comics, readers can explore fantasy worlds and meet compelling characters.
You can draw comic characters and use them across graphic novels, illustrations, newspapers, and the comics themselves. Drawing visually appealing comics is an excellent way to generate revenue and establish your mettle as an artist.
59. Audiobooks
Like e-books, audiobooks are popular among readers who want to consume information on the go. People who struggle to find a work-life balance do not have the time to read between their busy schedules. But audiobooks make that simple.
You can use a voice recorder, save it and add interactive sounds to make it more interesting. From fiction to non-fiction, audiobooks offer listeners a new dimension by giving stories a voice.
60. Blog posts
Blog posts matter for readers who want an in-depth opinion or explanation about a topic. They are also a great way to increase traffic on your site and attract customers by providing them value. You can create blogs for businesses or start your blogging site on WordPress.
61. Cookbooks
Recipes have been swapped and shared for centuries. The best thing is that you can combine recipes in a cookbook and make them accessible on the internet.
Today, cookbooks also have videos, images, and snippets of information to make the cooking experience more enjoyable for everyone.
You can put together a cookbook that, in addition to providing recipes and instruction, offers a story and narration to keep things engaging.
62. Video script writing
Creating and editing videos is not a random process; it requires thoughtful planning. Especially when you are telling a story, whether it is about promoting a product or introducing the viewers to a new concept, video script writing is vital.
You can create video scripts for businesses or content creators to ensure that they upload decently produced videos and hook the audience till the end of the video.
63. Digital marketing plan
Digital marketing has become one of the most critical elements of any company's marketing plan. But there is no one-size-fits-all solution when it comes to digital marketing.
If you have the knowledge and expertise of what works in the online world, you can help companies draft a customized digital marketing plan that suits their needs and helps them achieve their business objectives.
So there you go.
60+ digital product ideas that you can research or workaround to find out what suits you the best.
How To Sell Digital Products?

Now that I have shared all the details about digital products, their advantages and disadvantages, and some really cool product ideas, let us get straight into the business.
Would you like to listen while you read the article? Then play the video linked below.
Starting any business would require an amount of research, planning, and strategizing. This is relevant for creating and selling digital products, too.
Here is how to go about creating and selling your digital products.
Find your niche
Based on your talent and skill set, finding your niche should not be a tough job.
What kind of digital product you can create, what instruments are required in creating it, how much time and money is required, and many more of such questions can be easily answered once you lock in on your niche.
Choosing a niche also helps you to identify and lock in on your ideal customer persona. Who you are selling to matters as much as what you are selling.
That said, once you decide your niche or your field of expertise, think of who your audience is and how to reach out to them with your digital product.
Study the trends
By now, you would have a basic idea of what kind of digital product you can create. However, will this product garner attention from people? Will people be willing to pay for your product? How many people are actually looking for the kind of product that you are planning to create?
Studying the consumer trends in your selected niche will help you answer some of these questions and more.
Depending on your research, you can find out what people are looking for in your niche. It may be a problem that needs a solution or it may be a skill that people want to learn. Finding that will give you an edge over other businesses selling digital products in the same niche.
Study the competition
The next thing you need to study is your competitors.
There are hardly any businesses out there that do not have any competition at all. It is a whole another thing if you are the pioneer in the digital product that you are creating. Then, you would enter the market with no one to compete with.
However, with thousands of people creating and selling digital products every day, this is a very rare occurrence.
So, it is only smart to study the kind of competition you would have to face in your niche.
Create the digital product
Once you have funneled down to a product idea, it is time to pull your sleeves up and start creating the digital product.
This is the stage that requires all of your efforts and legwork.
You can not create a subpar product and expect it to sell. You will have to put all of your expertise and skills to work to create a digital product that stands apart from the rest.
So, do not hesitate to push your limits. If you need to learn a skill in order to create a digital product, go ahead and learn it.
You can also create a basic version of the product because when it comes to some digital products, they can be updated as and when required.
Follow a pricing strategy
As I have mentioned above, with digital products, you will most often have to compete with people offering the same product for free.
That does not mean that you price your products cheap, because it will bring down the value of your product and your reputation.
Study the market and see how your competitors have priced their products, how much sales they have made, etc.
The idea here is to price your product the same as your competitors or a little lower, if possible, in order to make your product look more appealing.
Distribute your digital product
Once you have created your digital product and decided on its pricing, the next step is to distribute your product as much as possible. Make it accessible to a bulk of people.
There are multiple online platforms where you can sell your digital products. My advice would be to search for at least 5 such platforms relevant to your product and upload your product there.
Spread the word on social media platforms and direct the traffic to your digital product.
Do not aim for sale in the very beginning. Instead, aim to create a buzz for your product and spread awareness among people on how your product will make a difference in their life.
Create an online store
We would suggest that you have one legit online store, where you can upload a catalog of all your digital products.
This store will be all yours where you can direct all the traffic to. When people see that your products are sold through an online store, they will be more willing to buy from you. It adds credibility to you as a seller as well as your products.
Moreover, this need not be a very complicated task either. Start by choosing the right eCommerce platform and everything will fall into place automatically.
Opening an online store will not take over 30 seconds if you choose Dukaan.
Watch this video to learn more:
Summary

In this article, we have explained all about digital products, what they are, how to create and sell them online, and how to start your own digital products business on Dukaan.
We have also briefed about the advantages and disadvantages of selling digital products online. It is important that your business decisions are based on gathering all the relevant information.
There are also 60+ digital product ideas listed under 8 major categories so that you have a better understanding of the kind of digital products you can create and sell online.
Following this, we have coined a step-by-step guide that helps you through the entire process of ideating, researching, creating, pricing, and running the digital product business.
Finally finishing the article with some of the most common questions asked about selling digital products online.