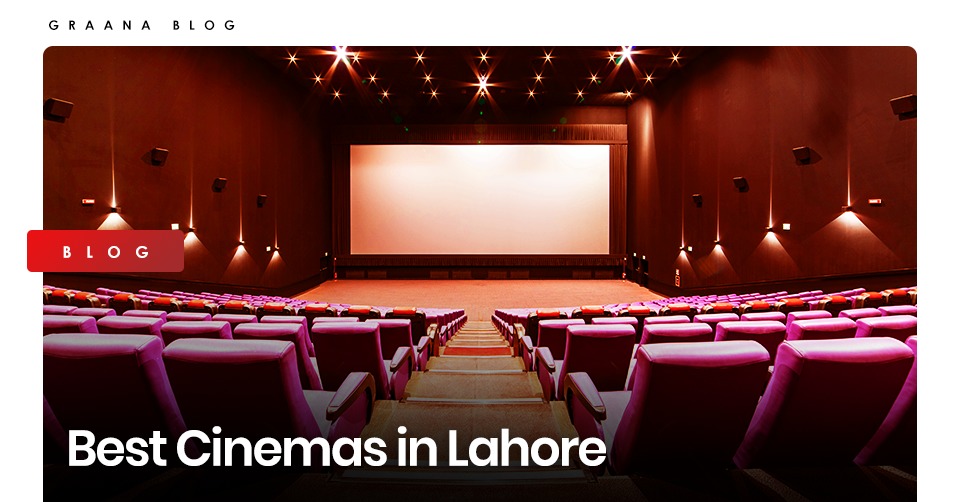 Cinemas in Lahore have played a vital role in reviving the country's entertainment industry, along with serving as a launchpad for many well-known Pakistani film actors.
The city is famous for being an energetic and entertaining hub for all activities. The entertainment sector's powerful influence has tremendously impacted Lahore's culture, and as a result, the city is paved with cinema enthusiasts.
People here have a variety of options when it comes to seeing movies on a big screen, including numerous new and modern cinemas in Lahore.
Graana.com— Pakistan's smartest property portal, has gathered a list of the best cinemas in Lahore that you can choose from to enjoy the perfect movie time with your friends and family.
Top 10 Cinemas in Lahore to Enjoy the Latest Movies
Several state-of-the-art movie theatres have opened in Lahore as a result of the resurgence of Pakistan's film industry in the twenty-first century.
Let's look at ten of the best cinemas in Lahore where you can have a really special and delightful experience watching movies in 2D and 3D digital multiplexes.
| | | | | | |
| --- | --- | --- | --- | --- | --- |
| No. | Cinema | Location | Rating | Price Range | Contact Information |
| 1 | CineStar Cinema IMAX Theatre Township | Plot # 13 – 2 / Civic Center Township CineStar Cinema, 2 Ali Rd, Township Twp Commercial Area | 4.6 | $$$ | 0323 5157460 |
| 2 | CUE Cinemas | 57 Main Boulevard Gulberg, Main Gulberg | 4.6 | $$ | 0330 0565656 |
| 3 | CineGold Plex | Sector F Bahria Town، Mohlanwal | 4.5 | $$$ | (042) 35467190 |
| 4 | Cinepax Packages Mall | Packages Mall, Walton Road, Walton Railway Officers Colony | 4.4 | $$$ | (042) 111 246 372 |
| 5 | Universal Cinemas | Emporium Mall, Abdul Haque Rd,  Johar Town | 4.4 | $$ | 0316 6668888 |
| 6 | Cinepax Fortress | 2nd Floor, Fortress Square Shopping Mall، Saddar Town | 4.3 | $$ | N/A |
| 7 | Imperial Cinemas | Imperial Mall، Barki Rd, Paragon City | 4.2 | $$ | 0304 1112214 |
| 8 | Cinepax Amanah Mall | Amanah Mall, G.E.C.H.S. Phase 2 Muhammadpura | 4.2 | $$ | (042) 35131682 |
| 9 | PAF Cinema | Sarfaraz Rafiqui Rd, Lahore Cantt | 4.2 | $$ | (042) 36688880 |
| 10 | Cinepax Lake City | Lake City Mall | 4.2 | $$ | 0310 4360025 |
CineStar Cinema IMAX Theatre Township
Launched in 2014, CineStar is the first IMAX in the country and one of the top 3D movie theatres in Pakistan. 
The cinema is based in Township, Lahore. Currently, the acquired rights of the cinema have been signed to Pepsi Pakistan. Since its launch, CineStar IMAX has made waves for its impeccable HD display and 3D movie display that movie fanatics love.
If you're looking for a premium cinema experience and you're a little flexible on your budget, CineStar is your next stop for watching your favourite movies.  
Socia media Website: CineStar Cinema IMAX
CUE Cinemas
Cue Cinemas, a boutique movie theatre chain that made its debut on Boulevard 57's Level 1 back in 2017. The multiplex offers Pakistani moviegoers the most thrilling VIP experience with the best class in visual and audio quality.
Cue Cinemas is an ideal go-to site for you to enjoy the latest movies, whether you're looking for Hollywood, Bollywood, or Lollywood hits. Along with the great screening, you'll love the ambience and overall experience. 
Website: CUE Cinemas
CineGold Plex
Lahore's CineGold Plex is a cutting-edge theatre that offers visitors an excellent movie-going experience. 
It is located in Bahria Town Lahore. The newest Hollywood and Pakistani films are screened in the theatre's 2D and 3D digital theatres. 
Furthermore, CineGold Plex enables you to experience your favourite films in the most exhilarating manner, thanks to its cutting-edge speaker and projection technologies. 
The website of this movie theatre, which is operated by Bahria Town, is updated frequently, giving you the most recent details regarding movie showings and online tickets.
Social media Website: Raiha CineGold Plex
Cinepax Packages Mall
The newest movies are presented here in digital 2D and 3D theatres, with the latter offering a genuinely immersive experience. 
Modern surround sound technology is available in the theatre. However, the Packages Mall franchise is one of the best ones that are not only easily accessible but offer a comfortable and timely experience for all movie fanatics who are looking for a fun movie experience. 
Social media Website: Cinepax – Packages Mall
Universal Cinemas
For a variety of reasons, Universal Cinemas is regarded as one of the best cinemas in Lahore.
It offers large movie theatres, 2D and 3D multiplexes, and plush seating. Additionally, having a variety of restaurants nearby will allow you to satisfy your appetite for snacks immediately following an exhilarating movie experience. 
You can easily check in with their website for movie slots and schedules with ticket prices.
Social media Website: Universal Cinemas
Cinepax Fortress
Cinepax Fortress is one of Lahore's best movie theatres. The best in elegance, entertainment – everything that movie lovers seek out here. 
There are several Cinepax locations in Lahore, and each one is furnished with the standard amenities found in most contemporary digital theatres.
Enjoy the latest movies with comfortable, air-conditioned rooms and the best snacks at Cinepax Fortress. The best part about it being in the mall is that you can enjoy shopping afterwards or before hitting the movies. 
Social media website: Cinepax Fortress 
Imperial Cinemas
Another fantastic entertainment choice in Lahore is Imperial Cinemas. This theatre is renowned for its ambience and facilities, providing an ultra-comfortable experience to visitors. 
Imperial Cinemas offer roomy theatres, a cosy seating area, and an area with complete air conditioning. It is ideal for families that are looking for an affordable movie spot to bring the family.
Both online and at the counter, tickets are available for purchase. You can look up the schedule and pricing online and book your tickets beforehand. 
Social media Website: Imperial Cinemas
Cinepax Amanah Mall
Cinepax Amanah Mall is the next theatre on the list of best cinemas in Lahore. It is Pakistan's most well-known network of theatres.
You can purchase tickets online in addition to the main counter. You should not miss out on  Cinepax Cinema's gold theatre choice. The seating room is completely air-conditioned, with plush armchairs that recline all the way, and of course, a huge selection of munchies.
Cinepax Amanah Mall offers everything, from cutting-edge visual technology to outstanding sound quality.
Social media Website: Cinepax – Amanah Mall
PAF Cinema
PAF Cinema is one of the top cinemas in Lahore, setting a new standard for digital movie viewing. 
This cinema combines the most modern cinematic features and state-of-the-art seating arrangements to provide you with a distinctive moviegoing experience. 
At this cinema, you can enjoy the ideal setting for a family movie night with both 2D and 3D formats. 
Social media Website: PAF Cinema
Cinepax Lake City
Cinepax Lake City is another one of the top cinema additions in Lahore. With the latest movies queued for premiering, Lahoris can now enjoy the full range of Hollywood and Lollywood movies in a great environment. 
At Cinepax Lake City, you can enjoy the latest movies shown in 2D and 3D digital cinemas. Surround yourself with high-quality sound and the latest features and enjoy the full movie experience. 
Social media Website: Cinepax Lake City
These are some of the most well-known and upscale movie theatres in Lahore, and you should definitely check them out. For more blogs like this, visit Graana Blog.
---