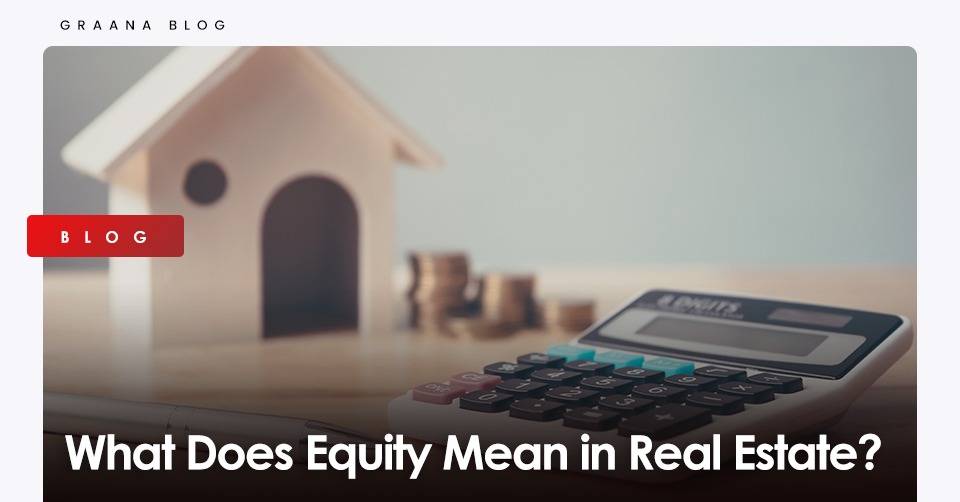 What Does Equity Mean in Real Estate?
The difference between the market value of the property and the amount you owe to the lender is your home equity. This can change over time due to the repayment of the loan and fluctuation in the market value of the property. To explain it further in detail, Graana.com, Pakistan's smartest property portal, gives an overview on what equity means in real estate and how you can build it over time.
What Does Equity Mean in Real Estate?
To put it simply, equity in real estate is the amount you will receive after selling a property. Let's say the market value of your home is $500,000, and you owe $400,000 in debt to the lender. After clearing the debt and selling the property at a fair market price, the home equity will be $100,000.  
How Does Equity in Real Estate Work?
In order to calculate the equity of your house, you need to take the current value and subtract the amount you owe on the mortgage. You need to take other closing costs into account as well when calculating the home equity.
For instance, if your home sells for $300,000 and your mortgage is $150,000 then your equity is $150,000. At the time of selling the property, you need to pay the commission and other closing costs like escrow fees, title charges, tax prorations etc. as well.
If these things cost you around $5000 then subtract this from the home equity. So, your net equity will be $145,000. 
How to Build Equity in Real Estate?
As a homeowner, there are two ways you can build your home equity: by increasing the value of your home or by paying the amount of debt you owe on the property. Here's how to do it.
Making Improvements in Your House
Even simple changes can increase the equity of your property, like renovating your house or making changes to the exterior. 
For instance, if you spend $30,000 to update the exterior design elements of your house, there's a chance that its market value might increase by $15,000. This will only happen if you haven't taken out a home equity loan for making the improvements.
Make Your Monthly Mortgage Payments
In order to build some equity, you have to pay off the debt you owe against the property. As most mortgage payments go towards settling loans, paying more than the required minimum amount is best.
Make a Larger Down Payment
The higher the upfront payment, the smaller your loan balance will be. This will increase your home equity. 
Why Is It Important for Investors to Have Equity?
Equity is often viewed by real estate investors as 'free' money that comes as a result of their investment strategy and typical real estate market cycles. There are several reasons why having home equity is important:
It is a type of secured loan that presents less risk to lenders and lower interest rates for borrowers.

Equity can be converted into cash and used to pay for maintenance or regular upgrades, which can be used in raising the rental value of a property. 

Investors can withdraw the funds and use them as a down payment to invest in another property.
What Causes a Loss in Home Equity?
Your home equity may also decrease due to a drop in local home values due to local economic circumstances, neighbourhood changes, and the aging or deterioration of nearby properties, among other factors. Basically, if houses in your area are selling for less, your equity will also suffer.
Here are some other factors that can affect your home equity.
Increasing the Size of Your Loan
If you refinance your mortgage or get a home equity loan from the lender, you will probably lose home equity.
Condition of Your Home
As the condition of your house deteriorates, its value will decrease, consequently causing the home equity to decrease as well.
Changes in the Market
The value of your home may be affected by general changes in the local real estate market and economy. If you're concerned about losing your home equity, you should speak with a local real estate agent for professional consultation. 
They can look at comparable sales to determine the fair market value of your property and make recommendations on how to increase its equity.
An equity investment is an effective strategy in real estate. Building more home equity will get better returns on your investment once you decide to sell the property. Allowing your home to lose equity may result in a loss of money that will have an effect on your property's ROI.