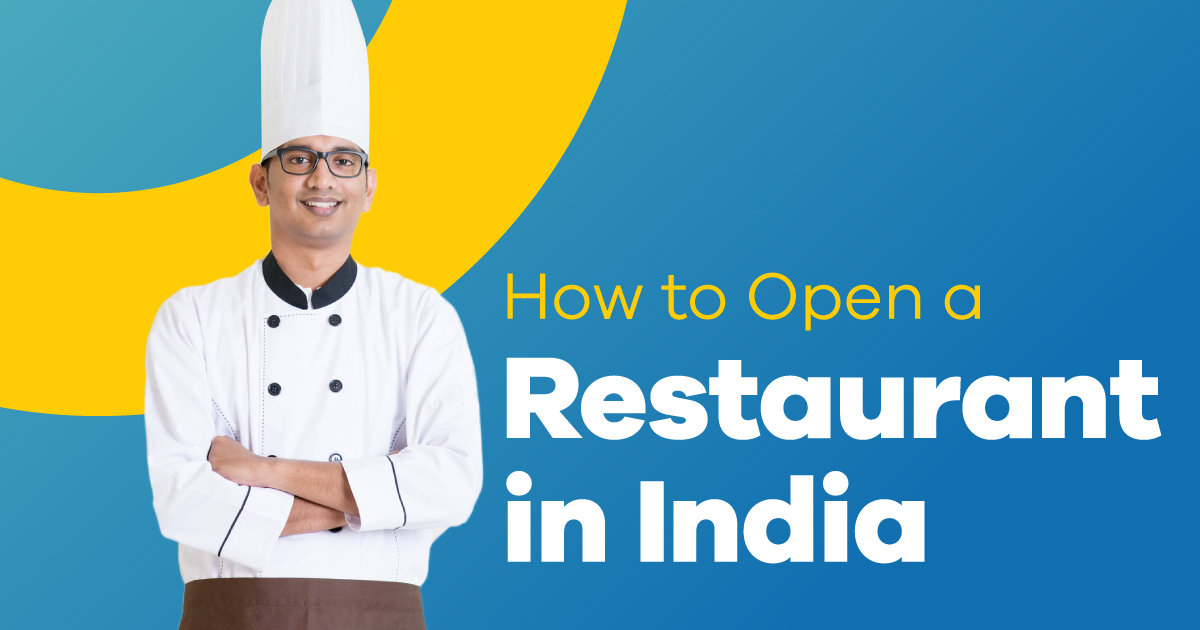 So you want to open a restaurant, but not sure where to start. Worry not. Here's your guide on how to open a restaurant in India, easily.
Before the pandemic, the restaurant business was one of the best go-to options for Indian entrepreneurs and business owners. From roadside stalls to Michelin star restaurants, Indian business owners served the food-loving population and made fortunes for themselves. As a result, the restaurant business became one of the biggest service sectors in India, dwarfing the film industry by 20 times.
Now things have changed for the worse. People stopped eating out. Experts predict the revenue will plunge by as much as 40-50%. Starting a restaurant business in the middle of a pandemic sounds like a bad idea.
But all hopes are not lost.
Business owners have already started to find new ways to stay profitable. Restaurants are now focusing on online sales and takeaways. According to yelp, in the last quarter(Q4) of 2020, the number of restaurants opened has surpassed 2019 Q4.
In other words, the pandemic shifted the basic rules of the restaurant business. Just adopt the change and you can stay profitable.
Wondering how to adopt these changes and start your restaurant business in India? Well, this guide is for you.
How to Open a Restaurant in India

1. Decide on the type of the restaurant

Before you secure funds, talk to advisors (or even lift your fingers), you should ask " What would be the service style of my restaurant? ". The answer will affect all the subsequent steps as well as your business itself.
Depending on your vision and fundings you can go for any of the following types:
Casual dining restaurants
Fine Dining restaurants.
Cafes.
Bakeries.
Food carts/ tracks.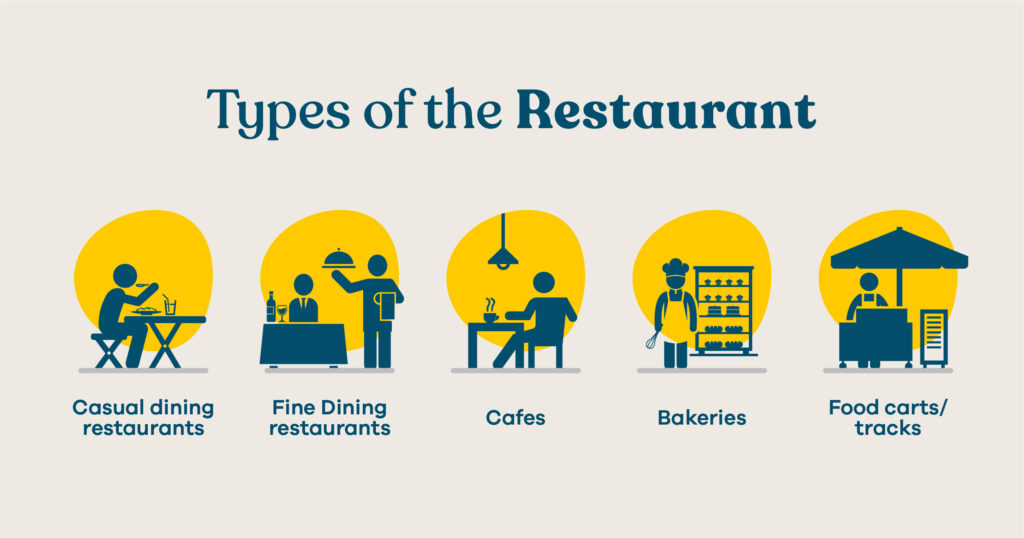 Next comes the concept. Local, heritage food, continental , chef's special – successful restaurant businesses tend to take inspiration from local food pallets and preferences. Even popular culture, art and sports can be sources of inspiration.
Once you decide on your service style and concept, think about interior design and menu. Your service style, concept, menu and design- all four should be congruent. For example, there should not be any old movie posters on the wall in a very traditional South Indian dining restaurant. However, that poster can easily fit in if you have a Bollywood themed cafe.
Also to achieve growth during Covid-19, your interior design plans should take practises like social distancing into account. That means on-premise customer journey should involve a minimum number of face-to-face interactions. The sitting arrangement also must allow at least 2 meters of the distance between the tables.
However, you can almost totally skip this crucial stage if you start a dark kitchen. Dark kitchens are online-only restaurants with no establishment. This is basically a fancy term for some passionate cooks preparing meals in a kitchen and selling online.
Opening a dark kitchen is a nice option as the set up cost is way too low and people now prefer to order online.
2. Evaluate the cost

Like any business, the restaurant business involves some cost. Before you jumpstart your business, having a good idea of both operational and set up costs is a good idea.
Irrespective of the type of your business you have to bear costs like:
Food cost: This is no brainer. You need ingredients to prepare food. Ideally, your food cost should be in a ballpark of 30% of your item price. Connect with some well-reputed suppliers to lower the cost and ensure a constant supply of food materials.
Labour cost: You need to pay your workforce to run a business, right? Well, labour cost makes up a huge chunk of your total expenses. The rule of the thumbs here, more skilled or specialized teams would cost you more. Consider your offerings before hiring. If you are running a fine dining restaurant, you need chefs with years of experience. If it's a street-side restaurant, you still need competent staff but may not be the cream of the crop. More on hiring staff will be discussed later in this article.
Rent: When you are renting a place, calculate your operational cost including rent. The closer you are to a busy part of the city, the higher the rent will be.
Equipment: Purchasing the right equipment and regular maintenance swells up your total cost.
Licenses and legal permissions: To run a business in India you need Govt permission and licenses (trade license and FSSAI ). These are not free and renewals
Marketing: The restaurant business is quite competitive and customer loyalty isn't easy to earn. You need a decent marketing budget to stay ahead of competitors.
3. Get funding

Starting your restaurant business is a costly affair. According to some real owners, the setup cost of a decent size restaurant can go anywhere from 15 lakh to 1.6 crores depending on the location, menu and other factors.
To collect a hefty sum like that, use any of the following(or try multiple at once) methods:
Self-funding: If you can invest out of your pocket then you are in luck. You just skipped one of the biggest hurdles without much headache. For the most, this isn't the case. There are other ways to collect the funds thankfully.
Loan: Many banks offer loans to future business owners and entrepreneurs. The process involves a lot of paperwork and they do look for collateral.
Funding from investors: Investors occasionally fund restaurant businesses. When you have a track record of running successful businesses, it's easier to get their money. However, investors are really cautious about their investments. Expect a lot of questions and a certain extent of loss of freedom if you walk on this path.
Crowdfunding: Crowdfunding platforms are great if you have a great story. Many restaurants with interesting themes or stories(example) successfully collected lakhs of money from platforms like Kickstarter, Impactguru and Crowdfunder.
4. Licenses required to open a restaurant in India

To run your business smoothly and legally you need to have licenses and pay taxes. Yes, it's a lot of paperwork. But you can get your licenses easily if you know where and how to apply.
FSSAI License
For any kind of restaurant business in India, including dark kitchens, the FSSAI license should be the first license to obtain. Having a FSSAI license means your business meets Govt's food safety standards.
There are three types of FSSAI licenses:
FSSAI registration: For very small food businesses with less than 12 Lakh turnover annually.
State registration: For small restaurants to midsize restaurants with annual turnover between 12 lakh to 20 crores.
Central License: For large restaurants and food chains with more than 20 crores annual
You can apply for it on the Foscos portal with Form A or Form B along with other self attested documents.
Health/Trade License
You can get a health/trade license from local municipal authorities or the health department. It would cost you around INR 500- 50000 depending on your state rule and other factors. Usually, you have to wait for a maximum of 60 days after the form submission. Municipal corporations can shut down restaurants if you don't have/renew your license. In other words, don't forget to renew your license every year.
Eating House License
According to Indian law, any place that offers food and beverages for public consumption is an eating house. Since restaurant businesses of all sizes are eating houses by definition, they must have an eating house license.
How can you get it? – Start by registering yourself on the official website of the state police. Submit your documents next. At the last stage, you have to visit the Additional Commissioner of police for the verification of your application.
Fire Department NOC
A NOC ( no-objection certificate) from the fire department is a must for any food business. This ensures said food business doesn't cut corners on the matters of fire safety.
This certificate costs nothing.
All you need to do is register on the state fire department website and submit documents. Once you set up your fire security measures, the dept will provide NOC after inspection.
GST
Like all businesses (with a turnover of more than 20 lakhs) you need to obtain GST registration as per the rules of the Govt of India.
You can easily register your restaurant for GST online. Usually, it gets sanctioned within 5-7 days without much paperwork.
Apart from these licenses, depending on your business, you may want to apply for other licenses like a liquor license, lift clearance, music licence etc.
5. Hire your staff

The restaurant business is a part of the service industry. Like any other service-based business, your success depends on your staff and customer service.
However, the grim reality is 41% of restaurant owners in India struggle to hire the right candidates. Fortunately, you can make it easier for yourself with proper planning:
Start your hiring by having a clear idea about which roles you want to hire for. Most businesses should hire for these roles:
Restaurant manager: Your restaurant manager will oversee daily operations, resolve conflicts and ensure your business operates smoothly. This person will be the most important individual. The ideal candidate should have at least some experience of managing restaurant staff.
Cooks/chefs: In your business, food is the star of the show, period. And your chefs/ cooks are the ones who make your customers fall in love with your menu. A good cook, like an artist, adds his/her own twist to the recipe and makes your items lip-smacking good. Be it a high-end restaurant or a food stall, your chefs/cooks should be passionate, competent and good team players.
Serving/delivery staff: Your customers will have the most interactions with your serving/ delivery staff. You need someone who can work under pressure, courteous and professional.
How to hire?
There are several ways you can attract the right candidates. For the starter, good old newspaper ads with detailed job descriptions work well.
You also have social media. Feel free to post your requirements on food lovers groups and job seekers communities. Be upfront about your expectations and job benefits. You can even run a social media campaign.
Another great way to spot great candidates is through referral. If you know someone who is working in this business, ask for referrals. There is always an ex-colleague or friend who can take up the mantle.
Sometimes hiring an agency works wonders. They can find well-matched talents from their wide network and send them for interviews.
6. Work on your menu

Your main product is your food. It can make or break your business. That's why you should carefully design your menu.
Start by considering your customer's preferences. Are they in love with local cuisine? Then introduce popular dishes and add a local twist to popular foreign dishes.
Are your customers open to experimenting with exotic food? Give lesser-known international dishes a chance.
Also, there is a huge scope for unleashing your creative soul. Talk to your cooks and come up with fusion dishes. Experiment with food presentation.
In a nutshell, finalize your menu by combining both customer preference and creativity.
7. Take care of your delivery process

A great food delivery service was always a crucial component of a restaurant business success. However, after the covid-19 outbreak customer preference has swung towards online delivery even further. No wonder companies like Zomato and Swiggy experienced massive growth in 2020 even after almost a year-long lockdown.
If you want to succeed in this "new normal" you need to upgrade your whole delivery system.
Plan your delivery strategy: A robust delivery process starts from a well-thought plan. Which items you want to deliver is the first thing you want to figure out. Some food items may get spoiled or start smelling bad relatively faster. Those should be taken off from the delivery menu.
The area you want to cover is also important. Too far away and you will run into the risk of making zero profit. Say yes only if the price covers all of your expenses and earn you at least some profit.
Hire your delivery team: Getting your own delivery team is a great option. You will have total control over who is delivering your food, how and when. Unlike other delivery services where you have to pay based on your sales, you pay your team a fixed salary.
Hiring a delivery team is pretty straightforward. Put advertisements on paper and post your requirements on social media. Don't forget to do a background check before handing out appointment letters though.
Partner with delivery services: Most restaurant businesses can not afford a decent sized delivery team, at least at the beginning. Teaming up with a delivery service provider can work for them pretty well.
Swiggy and Zomato are the most well-known options out there. However, in our opinion, there is a big downside. Both of these companies charge up to 25% on every sale you make. Deductions of a large amount like that per sale do more harm than good , especially in these hard times. Even FRAHI had to appeal to both Swiggy and Zomato to cut their commission.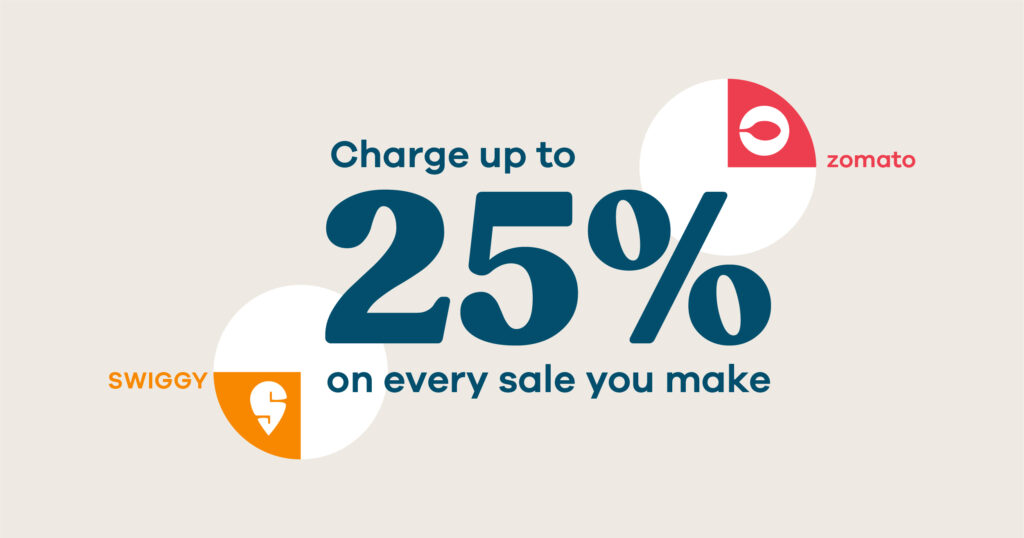 There are better ways available if you use the Dukaan app. Dukaan connects you with reliable delivery services like Dunzo and Dukaan Delivery.
8. Marketing

The barrier of entry in the restaurant business is low. Anyone can start his/her business anywhere. This makes the restaurant business very competitive.
It's crucial to stay on your customers radars. And you need a solid online marketing strategy, more than ever, to accomplish that. No matter even if you are located in a metro city or tier 2 & 3 cities.
Why?
Because people are less likely to go out right now. And more importantly, India has 622M internet users and 77% of them are from tier 2 cities.
Your online marketing starts from having an online presence. You can hire developers and build a site for your business. However, it comes with a hefty price tag and you need to find competent developers first.
Alternatively, you can take an easier route- use the Dukaan app. With Dukaan, you can set up a website where your users can place orders, track orders and pay using secured payment gateways. And you can do it all by yourself. No prior technical knowledge is required.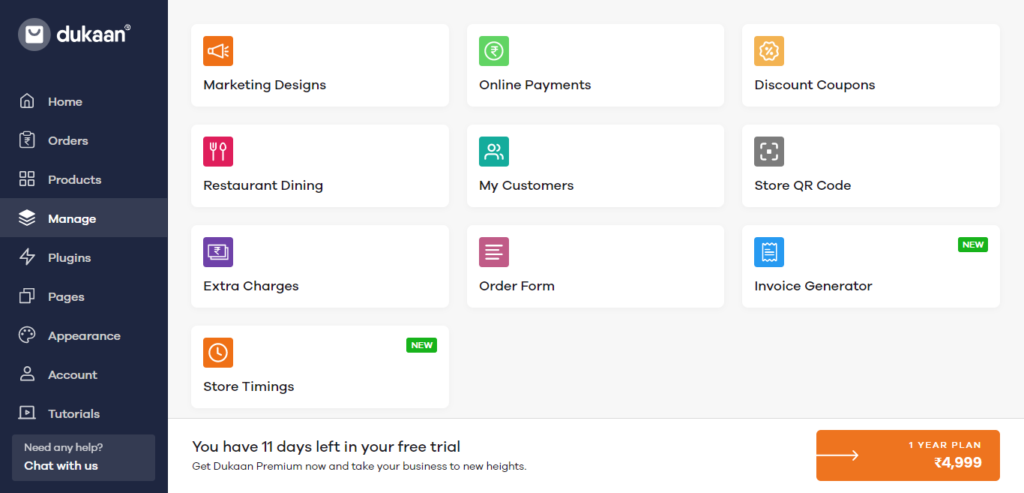 Once you set up your website, start marketing your business.
Social Media Marketing: Social media is a great place to start your marketing. These platforms allow you to spot your potential customers and then target them through advertisement.
Creating a business page on your social media of choice is the first step. Just add your bio, fill up your business location and other details and start posting cool photos of food or maybe your restaurant. Be constant with your posts. Then you can move on to SMM advertisements for better reach and more sales.
Facebook and Instagram are the two best platforms for marketing restaurants. We have a solid guide on how to do a great job with your Facebook ads. Once you have a grip on the basics of social media marketing, you can plan creative campaigns with specific goals/ occasions in your mind.
Google Adwords: Google can be a great online traffic source for your business. First, you want to optimize your pages and product descriptions based on your targeted keywords. This is basic SEO 101.
Next comes Google Adwords.
In case you don't know how Adwords results look, here is an example. All search results with the prefix "ad" are Adwords results.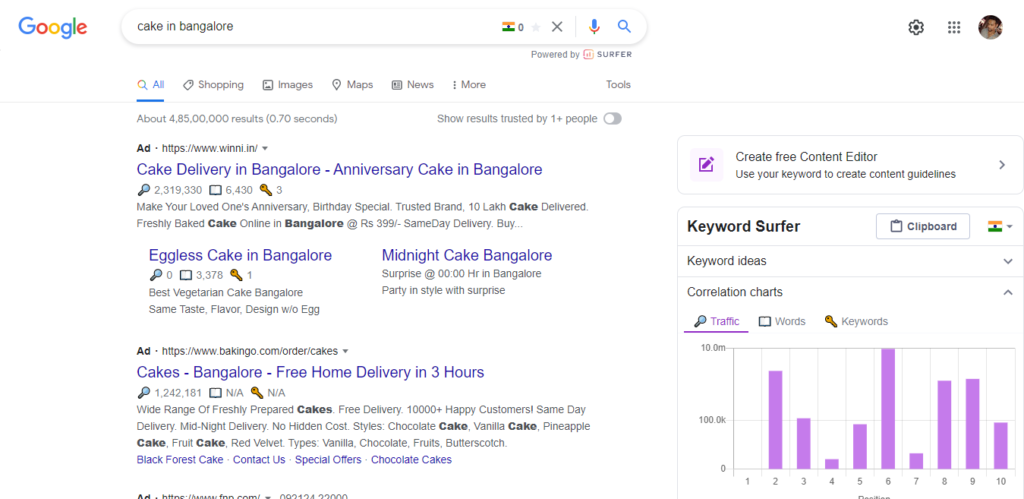 To start your Adwords campaign, list several keywords that your customers may use to find and order food. Then start an adword campaign based on those keywords. Your business will be on the top of the search results.
Usually, you get a great ROI from Adwords. The reason is, if your customers find you by using a high purchase intent keyword ( ex: biryani centres in Kolkata) you will make some sales.
Influencer marketing: There are some influencers with large audiences. Their followers engage with the influencers regularly and trust their opinion. What if you could get some of them to promote your restaurant before their audience? Well, this type of marketing has a name: influencer marketing.
According to 71% of marketers the quality of traffic from influencer marketing is better than other sources.
The concept of influencers marketing is easy. Just find some influencers who are popular among your targeted customers. Then hire them to upload sponsored posts and videos.
Apart from these marketing channels, you can utilize giveaways, webinars and traditional methods like flyers.
Key Elements of a Successful Restaurant

The success of your restaurant depends on doing a few things well.
1. Food

The biggest driver of restaurant business success is a menu that makes customers' mouths water. Tasty foods with a unique touch, presentation and hygiene- these are things that keep your customers hooked.
2. Customer service

Nothing converts one time visitors into regulars better than great customer service. After a positive experience, customers even spread the word sometimes.
Therefore, you want to focus on offering amazing customer service. Your staff play a vital role here. Courteous and professional service staffs are no less than assets.
3. Marketing

A well-planned marketing strategy separates your business from others. When you run creative ads, customers take a note and remember your business every time they want to order anything.
4. Pricing

No one likes to pay for poor services. At the same time, if the price is too good to be true, skepticism lurks in the customer's mind. Successful businesses walk the fine line by striking a balance. Their customers feel that they got what they paid for.
5. Decor

The ambience of your restaurant has a direct effect on your customer experience. More so, if you are running a themed restaurant or cafe. By just maintaining your establishment spotless and well organized you can win some major customer experience points.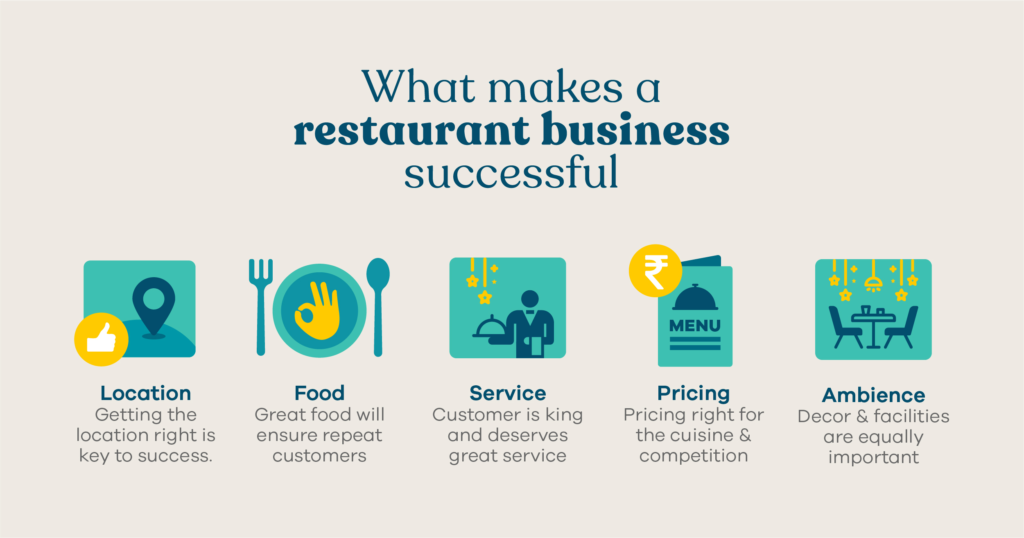 Conclusion

There you have it, a complete guide on how to open a restaurant business in India. The restaurant business was always one of the most profitable ones. Due to the covid-19, things have changed a lot. But that doesn't mean you can't be profitable. Just mind the new changes, pace with new reality and you will be successful.