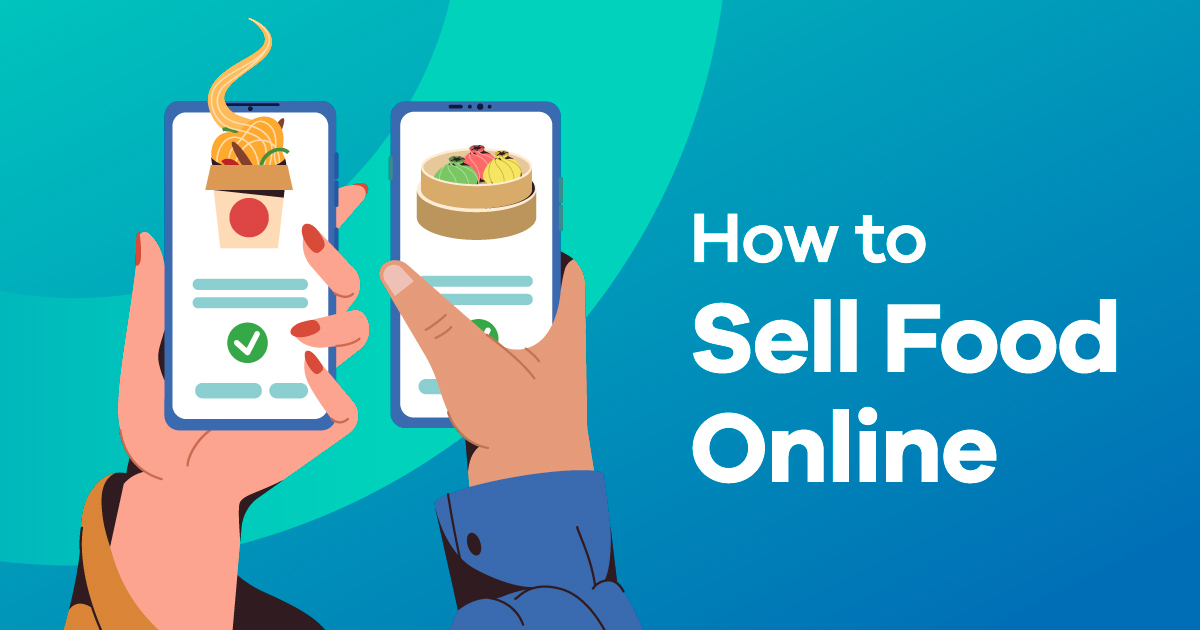 This detailed blog will guide you on how to sell food online by covering all the important steps of launching a food business, from sourcing to labeling to marketing.
The value of the global food market is predicted to be a staggering $12.24 trillion in 2021. According to Statista, the American food and beverage eCommerce sector generated 34.2 billion dollars in revenue in 2021. This represents an increase from 2020 of about 8.2 billion dollars. And this amount will increase to 47.6 billion US dollars by 2025.
The number of smartphone users has increased, which has boosted global sales of food and beverage (F&B) products online. Due to the growing popularity of smartphones, which are primarily used for shopping online, there will be a rise in consumers purchasing food and beverages online. Isn't it time you had a share of the action?
Well, you can now! It's now simpler than ever to sell food online, thanks to international marketplaces and eCommerce platforms.
We'll guide you through everything, from understanding international food laws to selecting the best platform for your business to advertise your goods. By the time you finish reading, you'll be able to put everything you've learned into practice and open your exclusive online store, in addition to having a thorough understanding of how to sell food online.
Let's move on to the main course and learn how to turn your dream into a reality now that the entrée is over.
The Rise of Ordering Food Online

COVID-19 has changed the way customers make purchases, and as consumers have gotten accustomed to the ease of online shopping, its influence is anticipated to last for a long time.
In a Gallup poll, 72% of consumers said they preferred the online food option because they didn't want to leave the comfort of their homes, while 41% said they simply wanted to stay indoors because of the uncomfortable weather.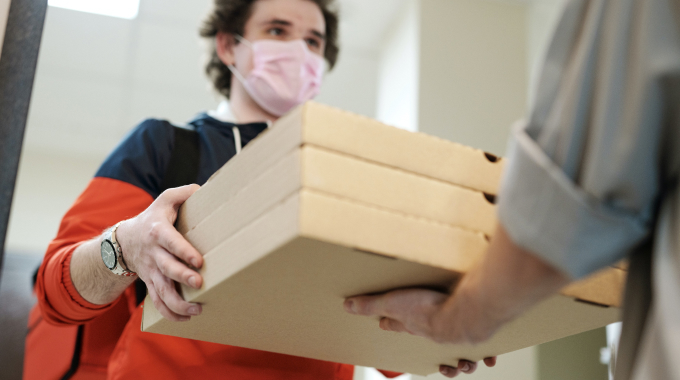 Manufacturers and wholesalers should be conscious of these disruptive tendencies in a customer-driven sector and take advantage of them by obtaining a faster time to market for their goods.
In addition to offering fantastic bargains and discounts, online food stores are increasing choice and convenience for customers by enabling them to place orders with just a single tap on their smartphone.
As a result, the food delivery industry is quickly catching up in markets in the Middle East, America, Asia, and Europe. Busy work schedules and the high-income levels of individuals who rarely have time to prepare their meals at home are the key factors driving the US food delivery sector.
7 Easy Steps to Sell Food Online (+6 Marketing Tips)

1. Identify your target audience and decide what food to sell online

If you're intending to sell food online, try to choose a niche because it will help you build a solid clientele. You must take your target audience into account when determining your niche. Food is a tremendously diverse market, and assuming that every individual is your customer will not help you please them. We have curated a list of some food-based businesses that you could start.
Therefore, before moving further, you must choose your target audience. For example, the food list you will offer for the younger crowd is unquestionably different from the list for children. Therefore, you must pick which categories of clients you will accept.
Then you can research popular food trends like plant-based diets, vegan goods, and artisanal food items. Several niche choices include:
Customized desserts and exotic meals
Fair-trade, natural, and organic foods
Food prepared to meet dietary requirements (gluten-free or dairy-free)
Artisanal, small-batch, and fine foods.
Religious and ethical foods (vegetarian, vegan, kosher, and halal)
After determining your target market, you must decide exactly what you would like to sell. You might either sell food that you make yourself or act as an aggregator and get it from different suppliers. The former enables you to manage every part of the business, from the cost of production to your profit margins, while the latter enables you to sell a greater variety of food goods.
If you're just starting off selling food products online, it can be preferable to concentrate on products that don't demand significant investment. Look into simple, first-time food enterprises that need little startup capital, equipment, little shipping, and no permits. Consider:
Candies
Packaged foods
Pickled and canned goods
Dried plants
Kits for baking ingredients
Seeds
Raw materials (flour, etc.)
Curated food items
Tea and coffee
2. Know your local laws and license requirements

Before you can seriously consider launching an online food business, you must be aware of the regulations in place. Your clients will be in danger if you make a mistake with anything related to the food you are selling (including your package or ingredient list). If you don't adhere to the proper regulations, you could also face significant fines.
No matter if you want to cook in your house or in a commercial establishment, you must get familiar with the rules that apply in your area. Anyone in the US who intends to sell food online must abide by the "Cottage Food Laws" It means that you need to understand proper food storage techniques and safeguard your food from any harmful contaminants like pets.
You must conduct supply chain research if you choose to outsource the handling of your food and sell it online through a provider in order to ensure that your ingredients are of top-notch quality.
You will also require:
An official business license
Permits and zoning approval from your government.
Kitchen inspections should be performed once a year.
To maintain food safety, hold frequent training sessions for proper food handling.
Your chosen state must provide a business license. The SBA website has a form for this.
Learn about the rules and restrictions your area has in place for the management and sale of food. We advise reading through the Cottage Food Laws website thoroughly to obtain more information relevant to your state.
3. Find a supplier

You'll need a dependable source whether you're creating food items from scratch or picking products to market to your audience. In the food industry, picking the right supplier is crucial. Making the wrong decision could damage your brand and give your customers food poisoning and other illnesses.
When planning to sell food from home, be careful to exercise due diligence. Spend time reading through customer reviews before choosing a supplier and making your purchase decisions. Look for clearly established supply chains and a plethora of details about the origins of your products from your suppliers.
If you're searching for a supplier with certain credentials (such as ingredients from sustainably derived sources), get in touch and request extra information if you can't locate proof of those facts online. Any reliable supplier ought to be able to give you the details you need to feel at peace.
Make sure your vendors can provide you with goods that have a respectable shelf life so you don't send out food that is about to expire. By properly organizing your inventory, you can also improve the chances of keeping your food fresh.
When you look for a supplier, bear the following in mind:
Costs of manufacturing
Grade of the raw materials
Delivery and shipping times
References and testimonials from former clients
Communication and material accessibility
4. Price your food products

There is no set method for determining food product prices. Calculating the cost per item by taking into account ingredient prices, manufacturing expenses, cost of labor, and manufacturing is the only method to ensure that your pricing is accurate.
Equipment for cooking, storage rental, insurance, license fees, and personnel compensation are additional costs to take into account. To ensure that your company at least breaks even, each of these needs to be taken into account.
You also need to decide your profit margin and add it to the above costs so that your business can generate some revenue. Generally, a 10% margin is regarded as average, and a 20% margin as high. However, different industries have different optimal net profit margins.
Alternatively, look into your rivals' pricing strategies. It's a good idea to keep your prices in the same ballpark since this could aid in spreading the word and building your brand.
5. Branding, packaging, and labeling

Food eCommerce is particularly difficult because the most crucial factor in making buying decisions—taste—is not there. People cannot sample your product, and therefore, branding becomes essential.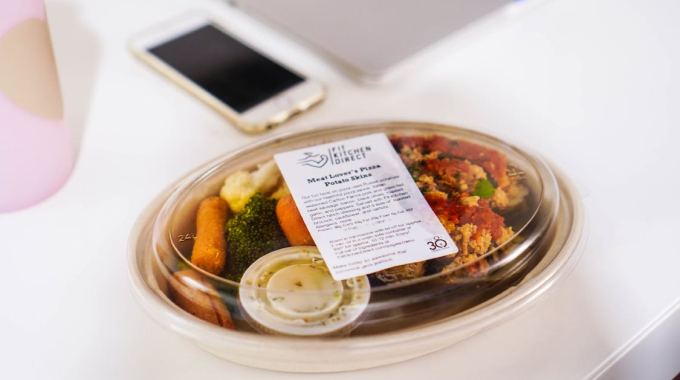 For branding purposes, a brand name should be chosen first. Your customers can comprehend the purpose of your brand with a name that complements it! Consequently, your company's name has a big impact. The proper name not only engages with customers but also enhances the productivity of your business.
Before engaging in any business promotion, you must choose an appropriate company name. Remember, your branding should be a reflection of the services you offer and the target audience.
When you wish to sell food products online, you need to justify your excellence and the reasons why buyers should choose your product. These duties can be performed easily and swiftly with the right branding. Additionally, branding can increase consumer recognition of your company by creating a visually appealing logo that serves as its interpretation.
Brand colors are also important as a strategy for effectively displaying your business. Since a customer will first notice your brand's color when they interact with it, the color of your company can make an impression on them. You can also convey your feelings and emotions to your target audience by using the color of your brand.
Any business needs to have strong branding, but when starting an online food business, the packaging is especially crucial. Putting plenty of time and money into strong, long-lasting, and product-appropriate packaging is worthwhile.
Customers are more likely to adore the finished product if they like what they find on your website. Because it is so important, consider getting professional and experienced designers to design the packaging for your food products.
They can help you choose the right color scheme, typeface, shape, and material, making sure that everything works together to create a package that looks good and serves its purpose.
Aside from the aesthetics of your package, each nation has specific rules on labeling, which may include country of origin, nutritional data, allergen warnings, and best-before dates. The FDA food ingredient and packaging guidelines illustrate the type of details you must provide to aid customers in making informed decisions regarding their purchases.
6. Prepare content for your online store

Similar to branding, the aesthetics of your store play a crucial role in persuading customers to purchase food items without first tasting them. Here are the many content types you ought to create for your online food store.
Product images
Initial impressions matter and your product photos are a customer's first point of interaction with your food. You have the option of DIY-ing your picture sessions or hiring a photographer with expertise in properly styling and photographing food.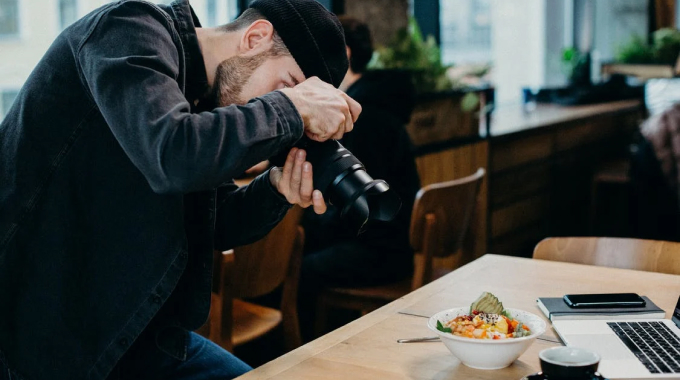 To capture the texture and accurate colors, photograph the product and its packaging in-close detail, but also try lifestyle photography that offers to serve and pairing suggestions. This can assist in getting your food off of your store and into a customer's shopping cart.
Product descriptions
Detail-rich product descriptions that expressly explain the flavor and the texture of the food you offer are necessary as well as effective in turning your online store visitors into customers. Leave no room for uncertainty. Keep in mind that a skeptical customer does not make a purchase.
Basic pages
You should include the following fundamental pages on your eCommerce website:
Homepage: It is the very first page that potential buyers who are searching for your website will see. Make sure it's clean, simple to use, and accurately reflects your branding.
About Us page: This page should explain the background of your brand's origins, its core principles, and what makes it unique and special.
Contact us page: Include your address, cell phone number, and email address. Or add a contact form to your website to make it simpler for clients to contact you.
FAQs: Customers frequently have inquiries about shipping details, postage costs, and specifics of the commodities you sell. These inquiries are answered on this page.
Structure product pages
Your eCommerce store's product pages are its beating heart. Customers will learn what you sell there before deciding whether to make a purchase or simply exit the store.
Product pages that convert well contain excellent images, thorough descriptions, call-to-action (CTA) icons, and clear pricing and delivery details.
7. Create your online store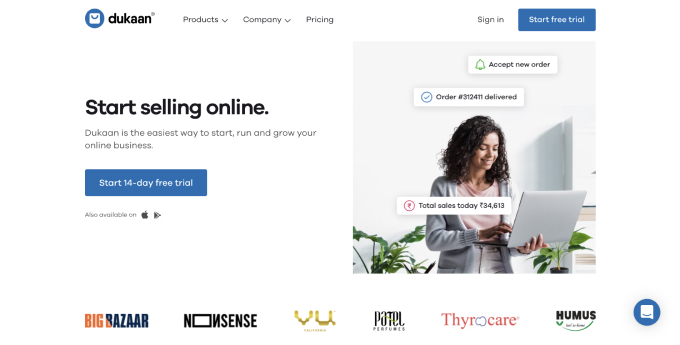 An online presence is necessary for all small businesses. Once you have an internet store, selling food online is simpler. This is crucial to both attracting customers and streamlining the work you'll be doing as an entrepreneur.
While blogs, webinars, and social media may help you draw clients from all over the internet, the core of your online food business will remain your website. You won't have to stay competitive with any other sellers once the customers start coming, unlike with a marketplace.
Use Dukaan, and create something that will appeal to your target market. You can use it to easily construct your very own online store without any technical knowledge.
Dukaan makes it surprisingly easy to launch an online food store in a couple of minutes. Given that the majority of customers now make purchases via their smartphones, it is a simple and mobile-friendly software solution.
The best part about Dukaan is that the arduous coding work has already been done for you. You may easily add features, manage online payments, and change the look and feel of your online business.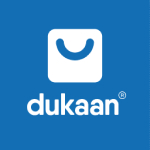 Launch, scale and manage your online business with just $11.99 on Dukaan. Annual plans start at $99.99 only.
Suggested themes for online food business:
8. Market your food business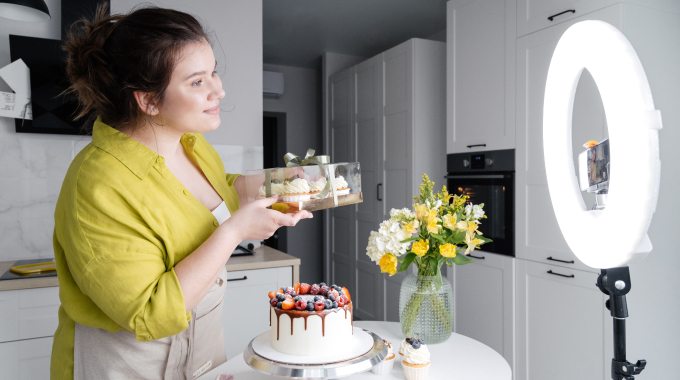 Once your store and brand have been established, it's time to market your business. A multi-channel marketing strategy will produce the best outcomes for the majority of firms. Here are some practical suggestions for promoting your internet food store:
Word of mouth
Tell your family and friends to tell others about your business and the goods you sell.
Social Media
Social media marketing has huge potential for marketing your business. You can advertise your goods and services when you start a food business using a variety of social media sites, including Facebook, Twitter, and Instagram.
Twitter acts as every food entrepreneur's closest friend and is essential for building brand exposure. Additionally, you can advertise your food products on Facebook and Instagram, which can increase customer interaction with your brand.
These social networks not only boost the legitimacy of your company but also guarantee a stronger connection with the target audience.
Special events
Hold photo and food review competitions, plan a culinary class, or take part in different food festivals to get your business noticed by the masses.
SEO
Your web pages should be optimized to rank highly on search engine result pages (SERP). Following SEO best practices will greatly improve the organic traffic for your online store.
Maintain a regular blog, conduct keyword research, collect backlinks, and enhance the functionality of the website.
Pay-per-click ads
You only get paid in this advertising approach when people click on your ads. The most well-known ad platform is Google Ads, which can show your ads on the websites of its partners and the Google Display Network.
Influencer Marketing
Influencer marketing is a useful strategy for promoting your food products. Similar to Instagram, YouTube, and Snapchat, this procedure is a form of social media marketing.
Using this tactic, you may advertise your company on social media, through reviews, or through food bloggers. Additionally, you may use the assistance of food bloggers to market your food products, which will be very beneficial for your company.
Conclusion

There is always room for new firms in the food market. With rising competition and increasing demand, it's a good idea to learn how to sell online and capitalize on eCommerce.
Follow the steps outlined above to witness your food business thrive. You'll create a profitable food company in no time if you have the appropriate information and do not shy away from working hard.
FAQs

Which food items can I sell to generate money online?
You can sell any food or beverage that is allowed to be sold in the area where you reside. This generally encompasses all food products that may be shipped and packaged safely. Many people have established successful home-based enterprises selling baked goods and cookies online. There is no cap on cash compensation as long as your kitchen has had a professional inspection, you've filled out the necessary papers, and you have the required equipment.
What are some of the top-selling food products on the internet?
Here are some of the meals and beverages that sell well all year in the United States:
1. Bread
2. Fresh produce like berries, fruits, vegetables, etc.
3. Baked snacks (cupcakes, brownies, cookies, etc.)
4. Soft drinks and beverages.
5. Chips
6. Pizzas and Doughnuts
How should food products be priced?
The main aspects of implementing the price strategy are market analysis and comparison. Before setting a price, you should examine the market price of specific foods or commodities. You must also observe consumer preferences in order to determine how much they are prepared to pay for a particular food item. When it comes to supplying high-quality products, however, you must set premium costs. If you want to target price-conscious customers, on the other hand, you must set low and reasonable prices.
What are the advantages of having an online food store?
First and foremost, you have complete control over the presentation and marketing of your product. Using eCommerce website builders like Dukaan can also be quite beneficial because they make website store construction affordable for everyone.
Is it crucial to properly package and label the foods we sell online?
Yes, accurate product labeling is even more crucial for an online food store. In fact, all food products sold in the US are required to include labels that list all of the components used in their production. Additionally, you must state whether the product contains any particular food allergies, such as peanuts, mushrooms, or soybeans.
From a business perspective, the way your food goods are packaged and labeled influences how your customers see you. This is essential for a new online firm with a limited marketing budget.