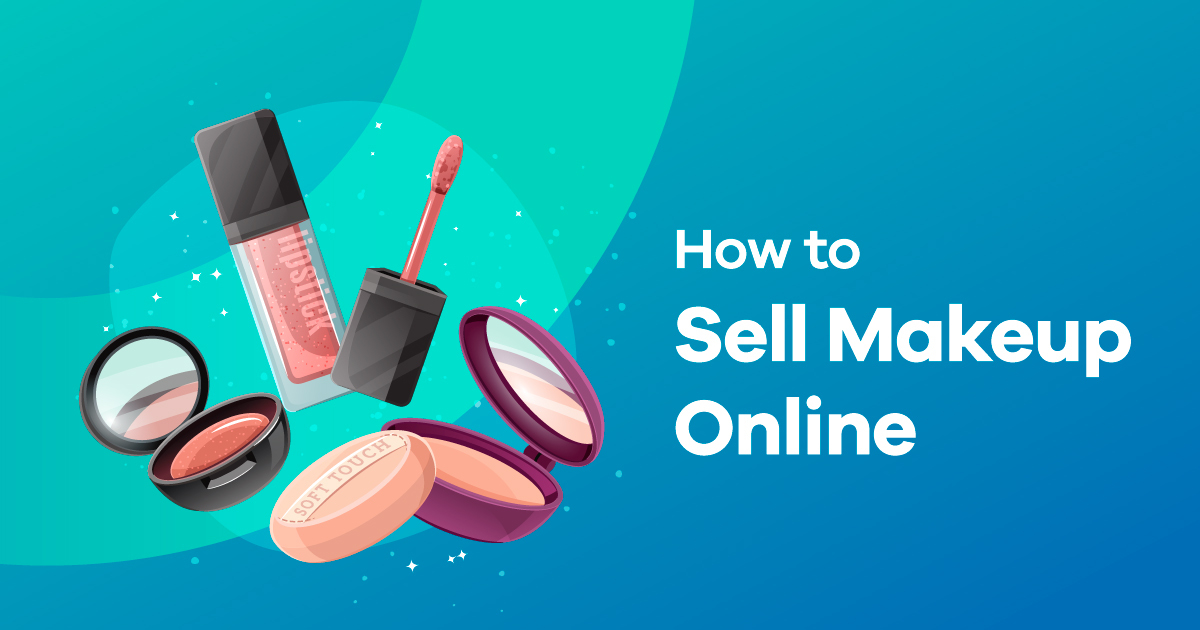 This comprehensive guide explains how to sell makeup online as well as how to build an online makeup business from the ground up.
The makeup industry has been rapidly expanding since 2021. Previously, individuals preferred to buy makeup from physical stores. However, they are increasingly becoming receptive to the idea of ordering it from home and having it delivered to their door.
With the ease with which anybody can now create an eCommerce store, the eCommerce makeup business is becoming more popular than physical establishments that sell makeup. Entrepreneurs, therefore, are becoming more interested in selling makeup online rather than renting out shop premises, which have high overhead costs.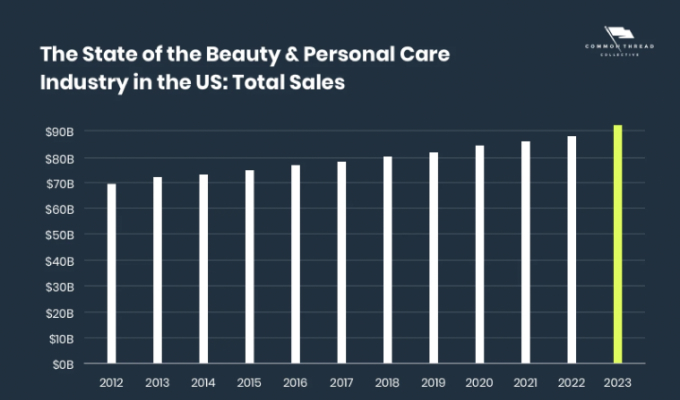 The beauty industry has been democratized over the last decade and is no longer dominated by a few large corporations. Nowadays, anyone with a basic understanding of makeup can sell it online. Whether it's a BB lotion, lipstick, a new eye palette, or a new concealer shade, you can sell it online.
If you love makeup and want to boost your income, you can start selling makeup online. Many new professionals who sell cosmetics online have high-profit margins. First and foremost, you must understand how to sell makeup online.
How to Sell Makeup Online in 2022

1. Find a niche

The cosmetics industry is already vast, and the US market is predicted to increase at a rate of 3.5% each year. While this implies you have a potentially huge audience, it also implies that you'll need to find a way to distinguish yourself from the masses of other people selling makeup products online.
Don't strive to impress every customer, but select a particular niche to target. If you cast too wide a net, your products will fail to strike a personalized chord with anyone.
There are over 700 cosmetic brands on the market. If you want to compete in this industry, you must have something distinctive to offer. Research current beauty market trends and identify your target demographic.
Choose a product category and extensively review the products in it as well as the technologies utilized to solve consumer concerns. Here are some important cosmetics business trends to consider while choosing a niche:
Vegan and cruelty-free cosmetics
Cosmetics with color
Chemical free cosmetics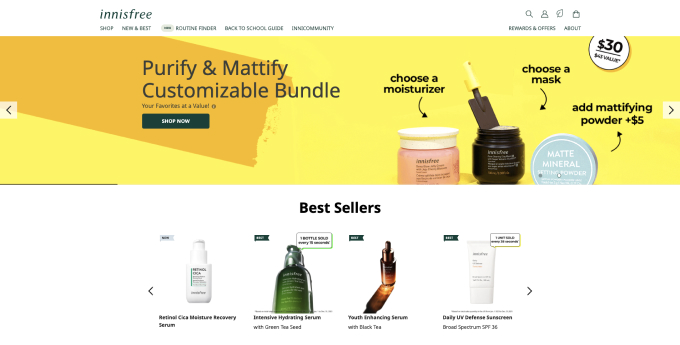 2. Do competitor research

Along with identifying your niche, you must assess your competition. You must ensure that your makeup products, prices, and quality of service are superior to those of competing online makeup retailers. If you want to boost sales and revenue, you must persuade customers that your brand is superior to others.
Address the following questions:
Who are your major competitors?
What do your competitors excel at?
What are they bad at?
What aspects of your online store, products, and marketing techniques can you improve to increase market share?
What blunders did your competitors make, and how will you avert them?
Competitor research can aid you in boosting your brand's market position. It will help you generate more prospects, conversions, sales, and profit in the long term.
3. Decide on your business model

There are numerous ways to sell makeup goods when it comes to launching an internet business in the cosmetics industry. You should decide on a business model that meets or exceeds your budget and resources. Let's take a look at the different types of makeup businesses you can launch.
You can start your own makeup brand by creating one-of-a-kind makeup products and selling them online. Lip balms and facial oils are simple to make. While you will be manufacturing the makeup products yourself, you must adhere to FDA rules for air control, ventilation, and surfaces. You'll need to set up a production unit as well if you want to create your products on a larger scale.
Another option for starting an online cosmetics business is to buy products wholesale from popular makeup companies and sell them online after adjusting your profit margin. You can sell products from local businesses or organic or natural products.
4. Get a supplier

There are two primary methods for finding a supplier. The first alternative is to collaborate with a manufacturer to create your own makeup products. This entails looking for makeup manufacturers, either locally or internationally, who will collaborate with you to develop a unique line of products.
This alternative is an excellent choice because you retain the branding advantage of designating your products as "original."
The second possibility is to resell makeup from other brands. You can avoid the task of manufacturing makeup products by reselling them. However, you will need to contact vendors and find a supplier who gives the lowest prices and takes charge of shipment and customer service. In this manner, you won't have to pay any money upfront to buy stock in bulk.
This method is known as drop shipping, and it has recently acquired popularity as an effective way to earn money with low overhead. You can start selling makeup online as a drop shipper and eventually extend to various methods of inventory management as your business grows.
5. Branding, packaging, and labeling

According to 70% of respondents in a survey, consistent branding is critical when interacting with customers. Your makeup products' branding and labeling should be professional. You must use a distinctive brand name, logo, packaging, and labeling for your products.
Working with so many dynamic aspects may appear intimidating, but the idea is to pick one element, modify it thoroughly, and then simply sync up the other components to the same tone. This saves time while also ensuring that your branding is consistent.
Brand name – Make sure that you come up with a relatable, unique, and appealing brand name.
Logos – Create a visually appealing logo and incorporate your colors into it for brand consistency.
Imagery – Begin with the imagery and colors associated with your brand. Colors are more significant than you believe. You may also utilize color psychology to match your brand's colors to the preferences of potential purchasers in your niche.
To some extent, the packaging of a makeup product also creates a competitive advantage. If you use low-cost packaging, you will wind up spending more in the long term. Cheap packaging increases the likelihood of product damage during transportation and does not appeal to people from all walks of life.
Packaging is important not just for safely shipping your products, but also for providing your customers with an enjoyable unwrapping experience. Make your packaging engaging and stylish, and include your brand logo and graphics to improve customer experiences.
Labeling entails keeping track of your country's or state's legal obligations. They would expect you to include information such as safety and allergy recommendations, ingredient lists, statements or claims made on packaging, etc.
6. Decide where to sell makeup online

The issue of selling cosmetics online is finding an audience and building trust in your brand so that people will buy your items without being able to try them.
The following are the best options for selling makeup products online:
Social media
You can set up Facebook or Instagram shops to sell makeup directly to your customers on social media. Instagram has a sizable influencer community.
One of your business prospects is to work with influencers who might review makeup products and promote them to their audiences. Choose influencers who share your brand's values.
For example, if you sell organic makeup, find influencers who support the same beauty philosophy.
Marketplaces
The most successful marketplaces, such as eBay and Amazon, provide millions of buyers with a diverse choice of product categories, including makeup.
Joining a marketplace network can be an effective way to reach a large audience at the outset of a business.
Online store
Creating an online store allows your company to develop a brand image and maintain strong communication with clients. With complete control over all business operations, you may implement personalization on your website, create a distinctive brand design, provide consumers with specialized support, and arrange a personalized experience to win over the choosy crowd.
When it comes to selling makeup online, the most popular option is to do so through your eCommerce or online store.
With Dukaan, you may start selling your makeup goods online right away. Dukaan will aid you in developing your online store without the need for any coding, making it the easiest way to get started.
Dukaan provides features such as safe payment options, a pleasant user experience, customer care, shipping, and marketing tools, in addition to building a visually appealing store for you.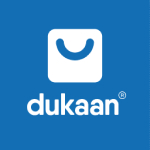 Launch, scale and manage your online business with just $9.99 on Dukaan. Annual plans start at $99.99 only.
7. Ship your makeup

Once you've completed your inventory and online store, it's time to work out how to ship your cosmetics to customers. When broken down into steps, shipping can be quite simple.
Set the source address: The address from which you ship products is critical since it impacts how tax is calculated. In most circumstances, the source address will be your residential address or the address of the workshop or office area from which you operate.
Consider the destinations: Shipping charges vary based on whether you're shipping local, nationwide, or overseas. To specify geographical limits, you can define "shipping zones" with various rates based on postal code, state, or nation.
Make sure customers are aware of their options: Customers should be informed of shipping prices before proceeding to the checkout process; some last surprises can be inconvenient! You can provide three major shipping options: precise shipping (charging the actual cost it takes to ship with carriers), flat rate shipping (simpler, predetermined pricing that you'd apply to all orders within the US), and free delivery (you can apply this to all products or offer it as a perk for purchases above a certain amount).
Choose a courier: Use dependable and experienced courier services to guarantee that your makeup products reach your customers in perfect condition.
8. Market your makeup business

Now that you understand how to sell makeup online from home, you must understand how to market it effectively. Here are some marketing strategies to consider.
Make use of personal recommendations
Consumers have learned to tune out traditional marketing channels and instead rely on the recommendations of family, friends, and influencers.
Leveraging your customers' networks is an excellent marketing strategy for increasing brand awareness and obtaining profitable business referrals.
Give your customers incentives to share your goods on their social media profiles. This allows you to tap into their network of family and friends, amplifying your promotional efforts and generating new business through personal endorsements.
Influencer marketing
Around 63% of customers trust influencer messaging more than brand messages. Therefore, influencer marketing is a great avenue for a digital brand since customers will be offered your products by an individual they already trust.
The first step in starting with influencer marketing is deciding which platform(s) to market on. There are various options, ranging from Pinterest and Facebook to Twitter, but given that 83% of makeup businesses work with Instagram influencers specifically, we recommend the photo-sharing platform as the best place to begin.
Request product reviews from experts
Another strategy for marketing your makeup brand is to have industry experts review your products. Many gurus or experts run their YouTube channels and other accounts on social media with a large following.
You can request them to add your makeup products to their list of ratings and reviews. This would allow your products to easily reach their huge number of followers.
Hold giveaways
Giving something away as a "thank you" to customers can go a long way. Whether it's a free sample or merch, research shows that free add-ons encourage repeat sales. It will most likely make your customers happy because, let's face it, who doesn't like something for free?
Keep up to date on the current developments in the cosmetics eCommerce industry so that you may adjust your marketing strategy accordingly.
Social media
Since social media is the simplest approach to increasing word-of-mouth advertising, most firms are actively utilizing it. Currently, at least 96% of cosmetics companies have a social media presence. The ability to interact with your audience is the fundamental benefit of having a social media presence.
In order to build a following, you can start by following well-known users and pages in your specific niche and engaging with them. You can also pin, tweet, publish, and share relatable original or user-generated content to promote your brand on social media platforms.
Conclusion

We hope you were inspired by this post to begin your own makeup business. You now understand that selling makeup online is not as tough as you once thought. The makeup industry offers a lot of space for new niche markets and innovation.
Trends in the cosmetics sector are constantly changing, and the potential for individuals to sell makeup online is practically limitless. And when you have a website builder like Dukaan at your disposal that does not require much money or effort, selling makeup online becomes a pleasurable experience.
FAQs

How can I launch a home-based makeup business?
Starting a home-based makeup business is simple. To get started, you will need a laptop, an internet service, an eCommerce store or online store, quality makeup products, and effective marketing techniques. It's also crucial to establish your online business as a legal entity to avoid fines and legal action. Find brands and providers of makeup that let you buy in bulk and sell it on your online store or manufacture your own makeup products. Also, make sure that you establish a distinctive brand identity to retain and attract customers.
What are the advantages of manufacturing my own makeup products?
If you're interested in the cosmetics manufacturing process, this choice will be worthwhile for you. The majority of your time will be spent playing with formulas and verifying them until you discover the right one. If you can do so, this model is excellent for branding and your peace of mind because you'll know exactly what's in each product!
Is it better to utilize an online marketplace or a website builder?
If you only need to get rid of a few unused makeup products, then online marketplaces are the way to go. However, you'll need a website builder if you want to keep selling makeup online and even turn it into a business.
What is the difference between a drug and a cosmetic?
A drug is defined as a product "designed to influence a person's body function or to treat or prevent disease" by the FDA. Whereas a cosmetic is defined as a product meant for uses such as "cleaning the body, making an individual more appealing, or modifying a person's appearance." Drugs and cosmetics are regulated differently. If you're selling things like moisturizers and lipstick, you may rest easy knowing you're in the "cosmetics" category!
How can makeup be sold on social media?
1. Engage with your audience.
2. Publish User-generated content in abundance.
3. Share straightforward video tutorials.
4. Conduct giveaways and contests.
5. Use a gentle and relatable tone of voice.
6. Share relatable memes.