Nowadays every Tom, Dick and Harry on the planet has a shop on Instagram, but merely having a storefront does not guarantee sales. This article will discuss the tricks you need to how to sell on Instagram and get those orders rolling in.
You have to live under a rock not to know that Instagram is the place to skyrocket your online business growth! Everyday millions of users explore their Instagram feed out of boredom, and many impulsively buy the products they like left and right.
If this isn't indicator enough that you should sell on Instagram, there can't be a bigger sign.
Just think about it: A study reports that out of over 1 billion people that use Instagram, 44% of the world's total Instagram users shop the products they stumble across on a weekly basis.
Imagine the sales you could make if even half of the Instagram users with a purchase intention reached your website. We'll leave it upto you to do the math.
Why Should You Sell On Instagram?

First things first, why shouldn't you? After all, the more places your store can show up, the merrier. As a small or budding business owner, setting up your store on as many platforms as possible is vital to creating brand awareness.
The answer to this question is pretty straightforward. The number of people who use Instagram is reason enough why one should use Instagram to sell their products and services.
But that's not all.
These three reasons will convince you that every entrepreneur should use Instagram to sell.
Reason 1: That's where your target audience is
Instagram is the 4th most used social media network worldwide. And that's the biggest reason you should have an Instagram store: To showcase your products to its active user base of over 1 billion.
In terms of exposure, it is a figure that a physical store owner can't even dream of.
Even if this volume does not come with the intent of purchasing, getting people familiar with your brand is more than great.
Take a look at how fast Instagram's user base has grown over the past 8 years. And this is just expected to increase multifold in the future.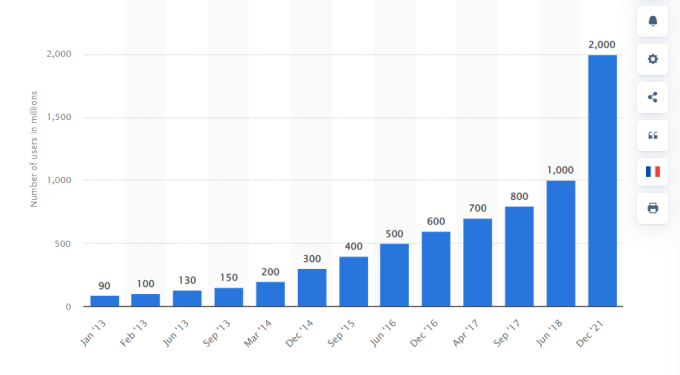 Reason 2: Its algorithm pushes similar products to customers
Have you ever thought about why your feed is filled with products similar to those you searched for or bought?
That's because it pushes similar content to the one you interact with. This means that if someone likes a reel about scrunchies, they'll receive ten more recommendations like it.
Instagram has gained steady momentum in the past few years as a platform for selling since it ceased to be just a "photo-sharing app".
With the introduction of various media formats like stories, reels etc., its algorithm has undergone massive overhauls.
Every business owner knows these are great odds for your store's discovery.
Reason 3: Sell with minimum bearable investment
Nothing in the world beats the feeling of getting something for "free". And that's how much it costs to create a store on Instagram.
To run your business on Instagram, you do not need to invest any additional money (apart from what you might want to spend to promote it). Plus, you also get the benefits of Instagram shopping, shoppable posts and much more.
Thus, entrepreneurs create a storefront for their business on Instagram as an addition to their own eCommerce store. More on that front later.
Benefits Of Selling On Instagram

Instagram has become a popular marketplace for sellers to showcase their products and create brand awareness. Especially with the launch of Instagram shopping, your customers get a seamless and interactive shopping experience in the comfort of a known platform.
Need more reasons to convince yourself to sell on Instagram? Here are some facts and figures that support this claim.
1. It is a user-friendly platform. Since the user is already accustomed to how to use the platform, there's no learning curve involved.
2. Instagram business accounts witness an average growth of 1.69% in followers each month.
3. You can engage with your audience directly. You can reach out to them via DMs and comments to deepen the connection with your current and future customers.
4. You don't need a business license to sell on Instagram. All you need is to follow their terms and conditions, and you are good to go!
5. Instagram pulls audiences that are interested in a variety of niches. With the intended demographic already there, it allows you to target a specific niche you want to cater to.
6. Its algorithm promotes product discovery by promoting your feed, stories, and videos to people who browse similar content, increasing the likelihood of people purchasing your products.
7. It is an incredibly efficient discovery tool. 50% of people (1 in every 2 people) use Instagram to discover new brands and products.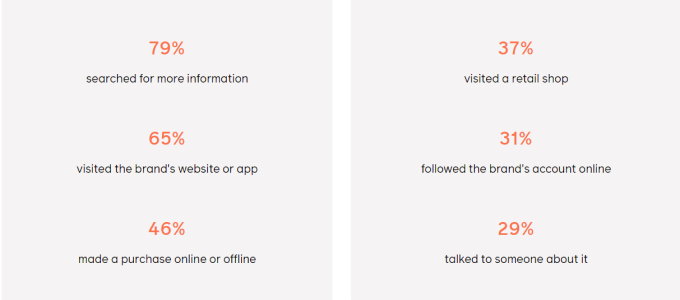 How To Sell On Instagram?

Using social media for socializing alone is a thing of the past. People utilize social media to run their businesses: including promoting their content, advertising services, and selling products.
Instagram launched "business profiles" in 2016, revolutionising how people sell their products on the platform. This change came with a bunch of extra features that made doing business on Instagram a cakewalk.
You can sell on Instagram using a business account. It enables you to monitor how your business is doing and even set up Instagram and live shopping.
Not well-versed with the above?
Let's brush up on what an Instagram business profile is before we understand why you need one and its benefits.
What is an Instagram business profile, and why create it?
As clearly indicated by the name, Instagram business profiles are created to promote and showcase products, goods or services.
Not only does a business profile look way different than a personal profile, but it also unlocks a set of additional business tools that are absolutely integral to running a business on Instagram.
Things you can do with an Instagram business account
Insights.
Sponsored posts.
Instagram ads.
Branded content.
Instant replies.
Scheduled posts.
"Swipe up" feature and story links.
Instagram shopping.
Running a business on Instagram without switching to a business account is like bringing a knife to a gunfight. In an already highly competitive platform, you will already be miles behind if you do not have a business Instagram account.
Here's why you need an Instagram business profile:
1. It gives a more branded and professional look.
Looking at the bigger picture, business profiles have inherent functionalities that make running a business feasible. You get the option of mentioning your business's niche, providing its physical address and a contact button.
2. You can include CTAs (in the form of contact information) for your audience to get in touch with you.
Want your audience to take a specific action after stumbling on your profile? Include relevant data for them in the buttons for your Instagram account.
3. You can access profile analytics.
This is probably the most significant advantage of having a business account on Instagram. You get access to your account's insights and performance and growth.
Although these insights aren't the most detailed, they will definitely give you a basic understanding of how your content is doing.
4. You can create Instagram ad campaigns.
If your Instagram business profile is linked with your Facebook page, you can create and run ad campaigns using its ad manager. The benefit of Instagram ad campaigns is that it helps you target your key audience through strategic targeting.
Instagram ad campaigns help you generate leads, increase conversions and cross the 10,000 followers threshold quicker. (We'll discuss its importance later)
5. Create shoppable posts in your feed.
Another exclusive perk available to an Instagram business account is the ability to tag products in posts. It's as close to turning your feed into an online shop as it can get. (although we would still emphasize having your own store)
Statistically speaking, 46% of people report buying a product after seeing it on Instagram.
What are the benefits of having an Instagram business profile:
Keep your target group informed about your products.
Connect with your existing audience and establish a personal connection with your loyal clientele.
Build brand awareness and credibility.
Promote the value of your product along with its use case. Showcase how your product affects someone's life versus just its feasibility.
Establish partnerships with influencers and creators.
Get a chance to connect with a bigger demographic.
Now that all of us are on the same page, let's proceed to how to actually sell on Instagram:
Want to know the best way to sell on Instagram using your business account: the answer is Instagram shopping.
What Is Instagram Shopping?

Instagram shopping allows you to create an immersive storefront on the app and sell without leaving the app for checkout. (available selectively and only in a few locations at the moment)
With Instagram shopping, your customers can browse products, explore the brand's curated collections and purchase the products they like. It is set up in a way that promotes the customers to either make a purchase upon discovering the product or browse the collection it is from for similar products.
Wondering what makes Instagram shopping great? Here's the rundown on what it offers:
1. You can add the link to your own storefront in the bio. Your clients will then be redirected to a landing page of your choice.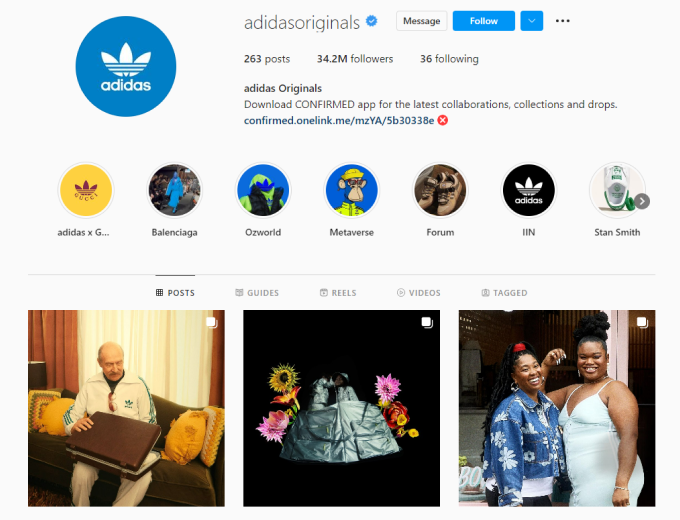 Like in the case of Adidas, not only they have created a store but also given a link to the app that they want people to visit.
2. You can input a CTA that prompts the customer to visit your store. The limitation here is that this feature is only visible on mobile devices.
3. You can create collections for your business. Curate collections for new arrivals, trending, fresh on discount, best selling products and more.
This helps make your store's navigation easy for your customers as they can just go for what they are interested in rather than scrolling through the entire store.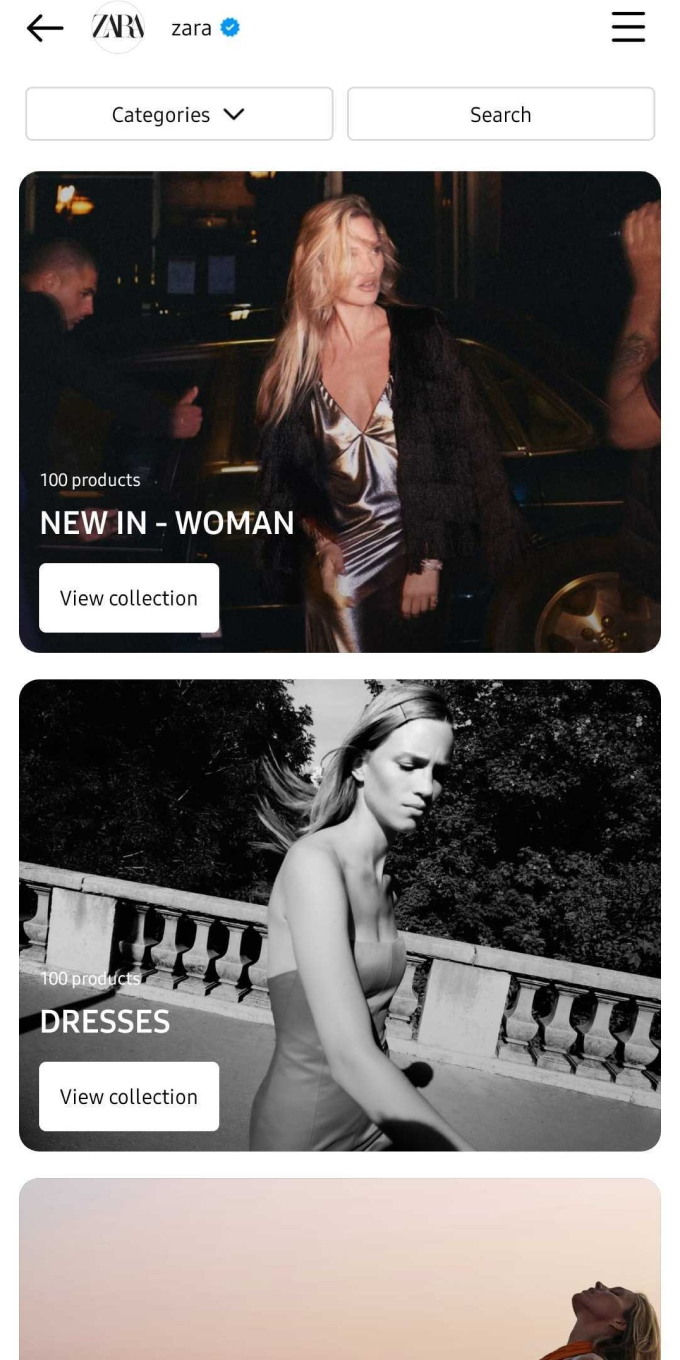 4. Instagram shopping lets you create single product pages. Basically, this page contains product images, its description, a CTA button and a section of similar recommended products.
You also get the option of sharing or saving the page for later.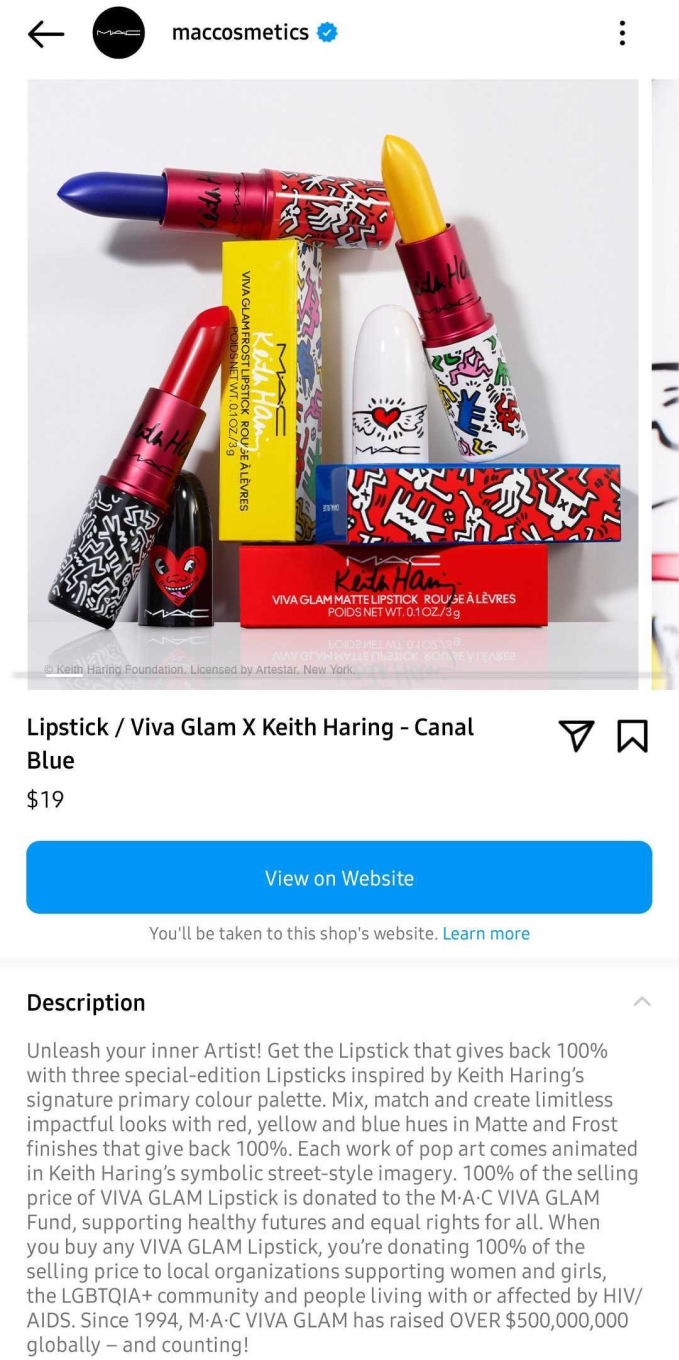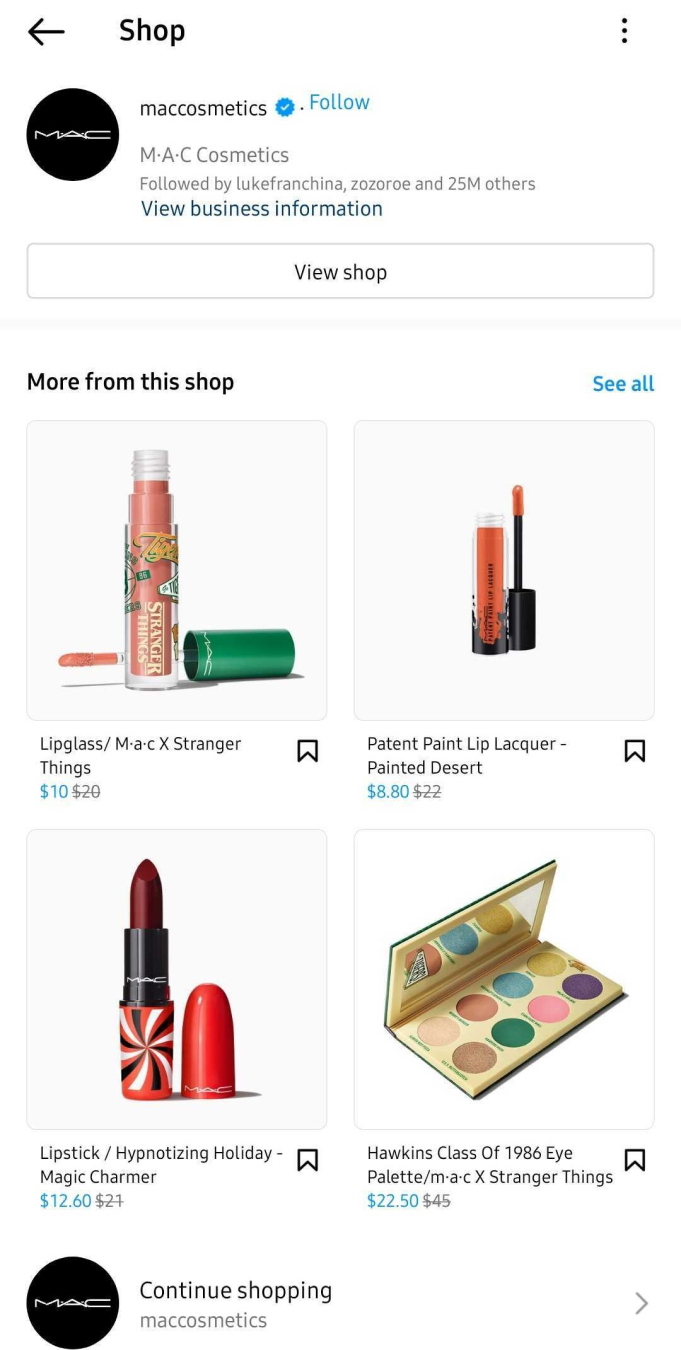 5. You can tag your products on your feed so that your customers can look at the details and shop them directly from your feed.
You can also tag products on the stories and reels you post and live sessions you host on your profile.
6. To increase the reach of your shoppable posts, you can run ads on Instagram using product tags. You can also run ads on existing products to boost their sales.
7. Using Instagram shopping, your brand can get featured on the "shop" tab on its homepage. (selectively available geographically)
Here are all the benefits of having an Instagram shopping account in one glance: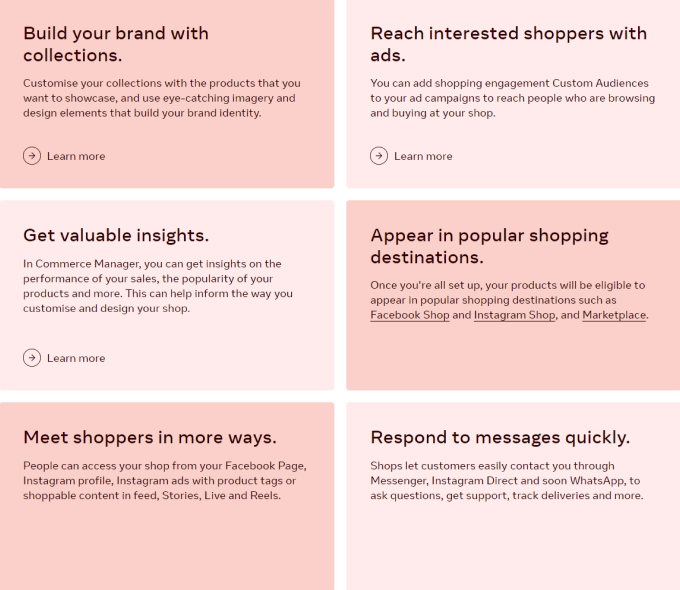 How To Set Up Instagram Shopping?

Setting up Instagram shopping is easy, but it comes with a lot of prerequisites. Let us walk you through the process:
Step 1: Check if your business fulfills the "Commerce Eligibility Requirements". To set up a store and sell on Instagram, you must ensure that your business complies with their commerce policies, terms of use, community guidelines etc.
Step 2: You require your website's domain to set up a store on Instagram. It should also contain the product listing that you want to sell on Instagram. In other words, you need your own store/website to sell using Instagram shopping.
This brings us to another important point: People always ask if they can sell on Instagram without a website. You can't set up Instagram shopping without a store of your own. (And in all honesty, we wouldn't recommend selling without one either)
Remember when we said that most business owners use Instagram shopping as a secondary storefront to their own eCommerce store. This is the reason why. It becomes easier to integrate your eCommerce store to fulfill these criteria becomes easier than buying everything separately and syncing. (Might we add, expensive as well.)
Keep in mind
Your business should be located in a supported marketplace for Instagram shopping to be fruitful for you. (Not all geographical locations are included in this)
Only a business or creator account can be used to set up Instagram shopping.
Once you have made this switch, you need to connect it to your Facebook page.
Step 3: Next up, you need to upload your product catalogue.
This can be done in two ways: either manually into Facebook business manager or by integrating a pre-existing product catalogue from your eCommerce store.
Let's take a look at both the ways: Facebook business catalogue manager and syncing existing product catalogue from eCommerce store.
Method 1: Facebook business catalogue manager
Go to Commerce Manager Get started → Create a catalogue Select eCommerce → Next → Upload product info Assign to Business Manager account Give name to catalogue → Create Open catalogue → Items → Add item
Now is the part where you manually add each item, upload its image, and give its description and other details.
Method 2: Integrate an existing product catalogue from your eCommerce store
Go to Commerce Manager Catlogue tab → Data sources Select add items → Use partner platform → Next
Now is the stage where you select the platform of choice, among the likes of Shopify, BigCommerce, ChannelAdvisor etc., by following the steps given in the chosen platform.
Step 4: Submit your account for review.
Following the steps given in the platform, submit your Instagram shopping store for review. Generally, it takes a couple of days for your store to be approved.
Step 5: Turn on Instagram Shopping
Once your account gets approved, all that is left is to connect it to the product catalogue to start selling.
Under your profile settings, you'll find the business option, followed by shopping. Select the catalogue you want to list and you are all set!
How To Increase Engagement On Instagram?

Instagram already brings footfall that physical store owners can only dream about. But your competition is with other stores that are selling on Instagram.
Thinking of ways to leave them behind? Ditch the "trial and error" method and follow the time-tested tips we are listing below:
1. Post about your products routinely.
The attention span of people is like that of a goldfish these days. If your products are out of their sight, it's not long before they will be out of their mind.
By periodically posting about your products, people will become habitual of seeing them on their feed.
2. Showcase "behind the scenes or making of" process of your products in various stages.
Who said your feed could only feature finished products? Give your audience a sneak peek of the hard work and passion that goes behind creating your products.
Affinity about your products = Increased sales.
3. Display the varieties in your products.
People demand and expect different things from your products. Exhibit the complete range that your products come in: different colors, shapes, sizes etc.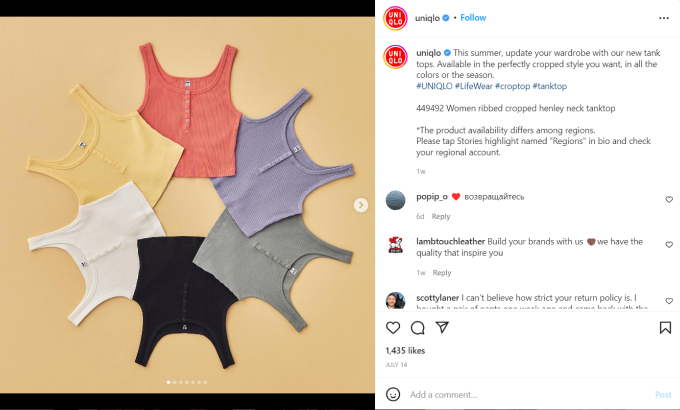 4. Tag influencers and bloggers who use your products.
There's no denying that creators run the show on Instagram. Have someone "Insta" famous or popular using your products? Tag them and highlight them on your profile. Pique their audience's curiosity about what you sell, and watch your conversions soar.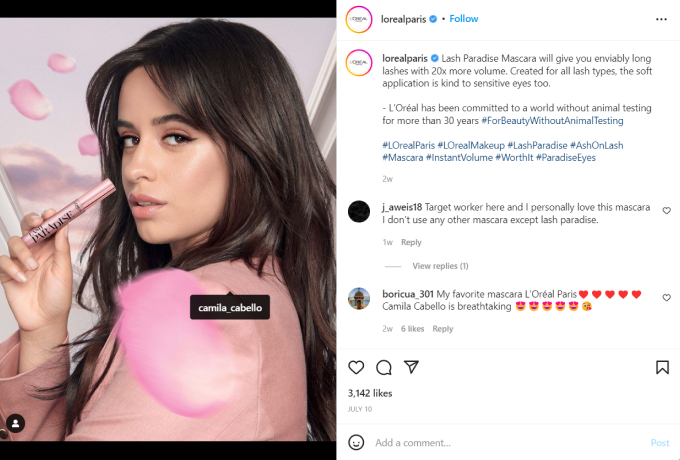 5. Create "limited offer" or "flash sale" events.
Creating a sense of urgency in the minds of your audiences prompts them to place an order (especially the impulsive buying kind).
6. Always include a CTA in your post.
Remind your audiences to take the appropriate action when they see your post, whether it be "tap to shop" or "copy discount code". After all, what's all the strategic posting for if it doesn't give you the desired results.
7. Experiment with different post formats.
Have your fun with different post formats like stories, carousels, videos etc. when promoting your products over Instagram. The idea is to keep your customers constantly engaged with your products.
Take a look at how NYX cosmetics choose to showcase their new range in meme format. This did two things: advertised their goods in a trending format and also informed people about the diversity in their range.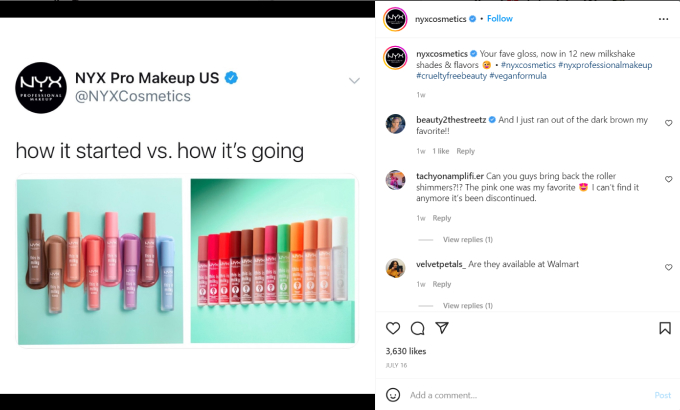 8. Share photos of your customers using your products.
Nothing brings more validation than real-life people appreciating and flaunting your goods. Make sure you repost, share and tag when people upload photos of themselves using your products.
9. Stage and shoot your products.
Beauty isn't in the eyes of the beholder always. Sometimes it needs a nudge by creative styling.
What we mean is that you can make your products look enticing and stand out among the crowd. Club multiple products together, use funky backgrounds and loud styling props to bring out the character in what you are offering.
10. Create tutorials on the best use of your products.
Want to make your units move quicker? Create a guide on the multiple ways people can style or use your products. This will make people see more value in your product and prompt them to place an order.
What Are The Problems Selling On Instagram?

There are a lot of loopholes with selling on Instagram. While we have already covered some aspects so far, let's list down the major ones that can act as a roadblock:
1. Instagram business does not give detailed analytics. It simply gives an overview of how your store is performing.
Moreover, they are platform-dependent. At the moment, it is only available for mobile users.
2. Only accounts above 10,000 followers gain swipe access. This "premium" feature that Instagram offers aids in boosting sales. But it's obvious that any budding business will take considerable time to reach this status in terms of followers.
3. The majority of the selling depends on the images posted and the product descriptions. Bad product descriptions can ruin your sales.
At the same time, the platform does not provide any business tools that can help the sellers with product descriptions and images.
4. "Checkout" is only available at specific locations. One of the biggest reasons people leave their cart abandoned is because they don't want to switch pages while placing an order.
Having this feature available selectively defeats the purpose of selling "conveniently".
5. Selling on Instagram without a website is not feasible. Even if you don't want to sell using your own eCommerce platform, you still will have to purchase your own domain name and create an online store for the product catalogue.
6. If your business isn't situated in an available market, you may be unable to tag posts. Needless to say, this directly impacts your sales and overall turnover.
As evident by the pointers mentioned above, Instagram shopping is not without its own set of incompetencies.
Instagram is a great platform to sell, but only if you have no future plans of upscaling your business.
We're making this bold statement for a reason.
The biggest problem with selling on Instagram is that the platform does not help you maintain a client base and track your store's growth.
Instagram's shopping experience may help you find customers and engage with them, but the platform still lacks the business tools needed to run, manage and grow an eCommerce business.
If you are an entrepreneur with dreams of taking your business to the next level, you need to manage your business using your own store.
Dukaan is the best platform to launch your online store! Create a fully-functioning store in under 30 seconds with multiple payment gateways, email marketing tools, marketing and design elements, customizable themes, integrated plugins and much more.
Still confused about the benefits of selling using your own eCommerce store over Instagram shopping?
Here's a quick glimpse of the benefits of selling with Dukaan:
Sell using your own domain name. This helps in creating brand value.
It comes equipped with tools and plugins that are needed to manage and grow your business, at no extra cost.
Tools like product description generator, background remover, image enhancer etc., help make your products look more attractive in your store.
Additionally, Dukaan also has plugins in the domains of analytics, marketing, customer support etc., that help manage your store end-to-end.
You get detailed analytics and a complete overview of your store's progress on the platform's dashboard.
The platform is highly intuitive. Since it does not have any learning curve, you can start selling right away!
Parting Words

We hope this article has helped you find the best solution for launching and running your own store.
While Instagram shopping is a great place to showcase your brand, its limitations make it incompetent to be the primary storefront for your business. The best part is the fact that Dukaan, as an eCommerce platform offers a list of benefits that a well-established platform like Instagram is missing.
If you ask our opinion, here's what we will suggest: Add your Dukaan-powered eCommerce store's link in the bio of your Instagram business profile and gain the benefits of both.
And if you want to know more clarity on how to start your own online store, we have the perfect video for you.
FAQs

1. Is selling on Instagram profitable?
Selling on Instagram is surely a profitable solution as you can get started for free, without any setup costs.
But in the long term, it is not a holistic solution for growing your business. Most of its eCommerce functionalities are more suited for well-established brands.
2. Does it cost to sell on Instagram?
Yes, it does. Instagram charges a fixed fee of 5% per shipment. Furthermore, a flat fee of 40 cents is levied on shipments of $8 or less.
3. Do I need a website to sell on Instagram?
You do not need a website to sell on Instagram. But you do need your own domain and landing page to manage your orders. Thus, we suggest you start selling with an eCommerce platform to cut through all the hassle.
4. How to sell products on Instagram?
You need an Instagram business account to sell products. You can either sell directly on the platform or integrate your eCommerce store with your business account for maximized profits. For more information, watch this video.
5. How to sell art on Instagram?
To sell art on Instagram, all you need is a business/ creator account, a solid marketing strategy and an online store to manage your incoming orders efficiently.
Remember to fully leverage hashtags to increase your account's visibility. You can also check out this article for more details.
6. How to sell jewellery on Instagram?
Jewellery is one of the best-performing, yet over-saturated niches on Instagram in 2022. Because of the high competition, we recommend you get creative with your product images and how you market your store.
Play around with various content formats like stories and reels to bring in new customers.
7. How to sell used stuff on Instagram?
Selling used products on Instagram can be done in three simple steps: curate the collection, sanitize your products and list them on your Instagram business account.
If you also have Instagram shopping enabled, you can run offers and discounts to lure customers. Find more information about the same here.
8. How to sell directly on Instagram?
To sell directly on Instagram, you need a business account. Next, you can either set up Instagram shopping or sell using your eCommerce store, based on your goals for your business.
Additionally, you will need to market your store organically/through ads to increase its visibility.