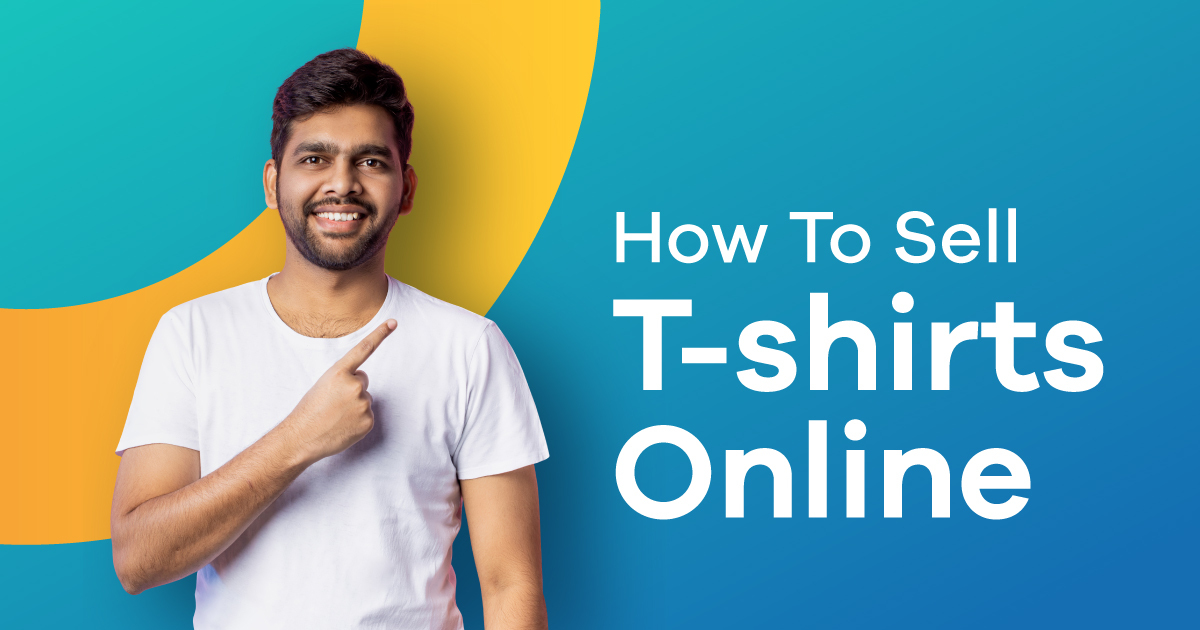 Hey there fellow entrepreneur, welcome to the ultimate guide on how to sell t-shirts online.
Is there any other piece of clothing that is as versatile as a t-shirt? We don't think so.
Associated with qualities like affordable, casual, staple, sassy, cute, and a lot of other such attributes, t-shirts have evolved to be used as statement clothing items to showcase our personalities.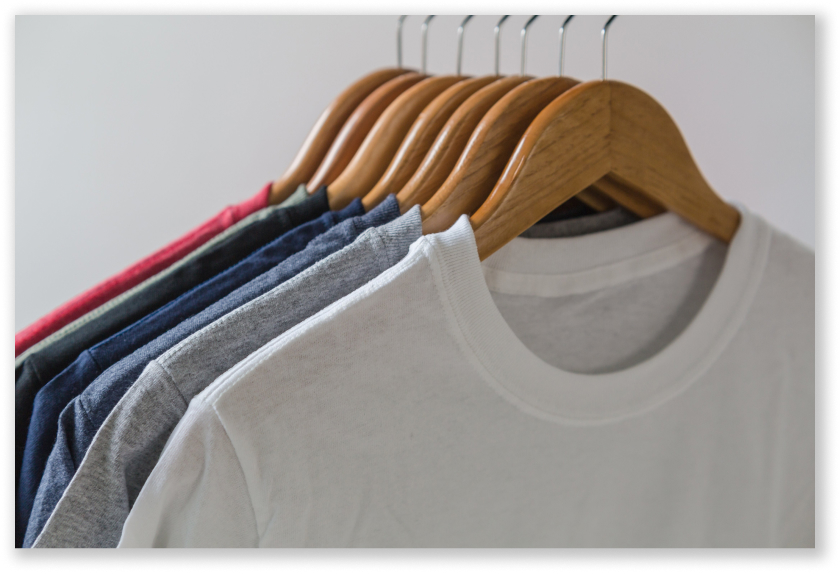 If people want to wear their heart on their sleeve, quite literally, t-shirts are one of the best options to do so. They suit everyone, from the most extroverted people to those introverts who would rather let their attire speak for themselves (and avoid social contact!).
Suitable for all ages, genders, and ethnicities, t-shirts remain to be one of the most in-demand clothing items at all times.
The popularity of t-shirts among today's youth is no secret, in fact, over 2 billion t-shirts are sold worldwide every year!
And that makes it a highly competitive market.
How To Sell T-shirts Online

This inexpensive idea to start an online business is not only popular, but also has huge market potential.
Statista forecasted that the revenue in the t-shirts segment will increase by 3.90%, by 2026.
In 2021, the t-shirt market revenue was around $38,700 million.
This makes the online t-shirt business pretty lucrative. If you want a piece of this revenue pie, keep reading to find out how to sell t-shirts online.
1. Do Your Research

Research, research, research.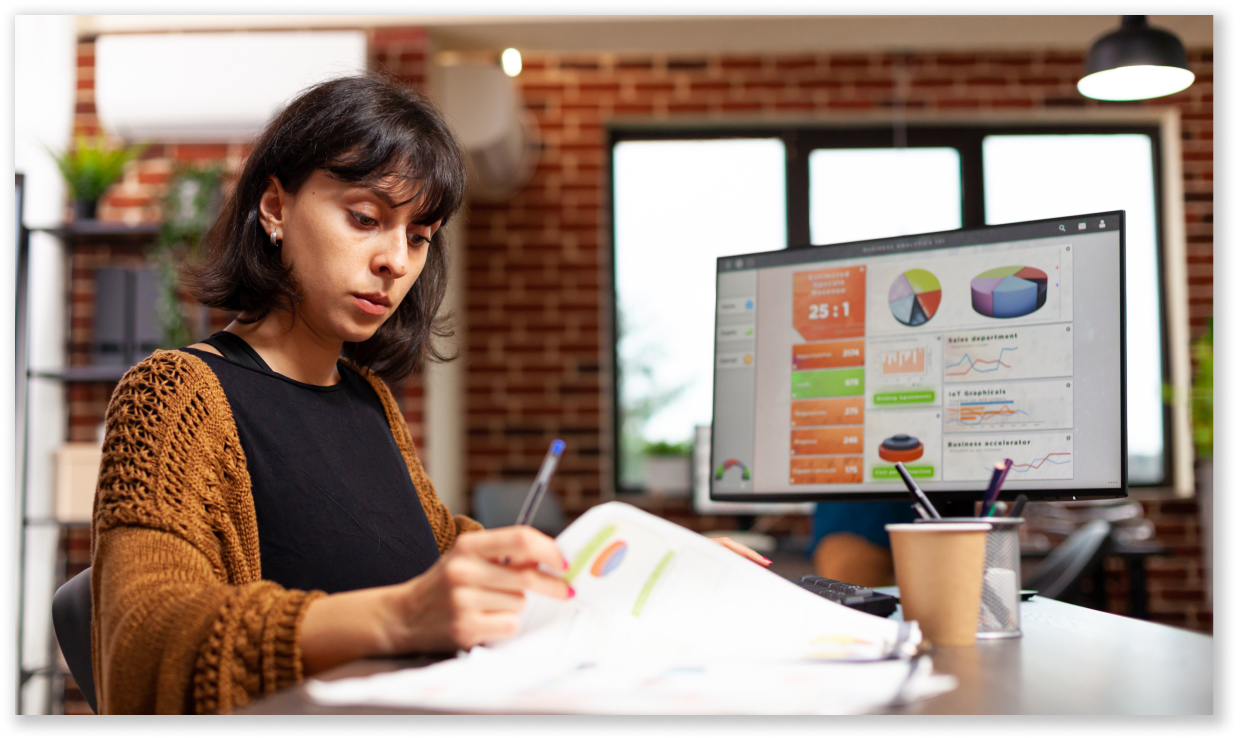 Yes, we're aware of the times you have had to read this, but the fact remains that it is extremely necessary.
Before you start anything, you need to be well prepared. Research helps you with that.
After all, you wouldn't want to put in so much effort without knowing what you're doing, right?
So buckle up, and start researching every aspect of your t-shirt business.
Here's a list of things to include in your research.
Target market
First, you need to search your target market. This will help you decide what kind of products you want to sell.
For this, you can categorise your target market by age, location, occupation, generation, or any other manner that you feel captures your intended target customers best.
For example, if you choose Gen Z and millennials, you'll have a pool of people from the ages of approximately 10 to 50.
You can further categorise them in age groups, and choose to target people from say 16 to 35, because that is the generation that wears t-shirts and has buying power.
This is your target market. Now you can move on to the next step.
Ideal customer
Now that you have your target audience in mind, you'll think you can move on to the product, but no.
You need to find out who your ideal customer is.
And why do you need to do that?
Because your target market is still full a lot of people who might not like the idea that you have for your product.
📌  For example, out of your target market, there might be 16 years-old who wouldn't like your Pink Floyd t-shirts, but on the other hand, the people between 30-35 would be more likely to buy them.
If you know your ideal customers, you can market your products better.
Like, you will put your efforts into promoting K-drama for the younger girls and Pink Floyd for the older people.
Competition
Next comes your competition. When you know your customers and market, the next logical step is to study the competition that you will face when you enter the market.

There are always some big players in the game, for every product and business out there.
You cannot compete against them if you play by their strengths.
So what can you do?
Recognise your own strengths and play by them.
When you study your competition, you get to know their strengths and weaknesses, their successes and failures, and all the reasons for these.
One of the most important lessons to learn from this research is to not repeat your competitor's mistakes.
Another, is to find the unique qualities that will get you customers.
When you do your own SWOT analysis, you can compare yourself with them, see where you can do better and use that as an edge to capture your share of the market.
2. Find Your Niche

What exactly is a niche?
You must have already read all the definitions there are on the internet. I'll explain with an example.
Building on our existing example, if you decide to sell to people between the ages of 16-35, your audience is still too large. Now, when you bring it down to people who like Marvel, for instance, is your niche.
Needless to say, finding your niche is one of the most essential and initial steps in any business.
Your niche helps you define your business and connect deeply with your customers.
To find your niche, you can:
Use Google Trends
Google trends is more useful to businessmen than can be explained in words. It is free too!
For every new idea that you have for your t-shirt designs, you can search in Google trends to see if there is a demand for it or if people are searching for that product or not.
Whenever there's a trend, people go crazy for products related to that trend. T-shirts are no stranger to this.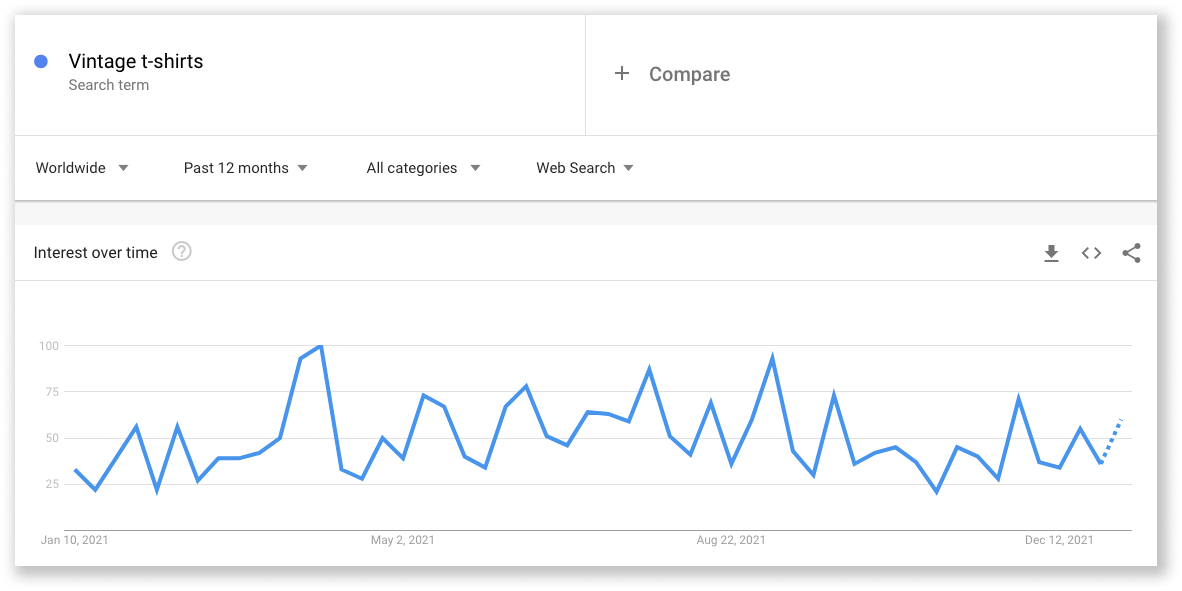 You can hop on the latest trends and make sure that those trends are worth investing in, or not
Use social media
The answer to the question "where do all these new trends come from?", is social media.
Platforms like Instagram are leading the way for this.
So, obviously, when you want to go find a trending topic, social media is one of the first places to look.
To do this, you can search for the trending sounds, filters, or hashtags on Instagram, Twitter, and join Facebook groups related to the niche you are interested in.
See what you and your customers are interested in
You are starting your own business. Why not do it on your own terms?
You can create designs that you like. Print quotes that you like.
Show your individuality through your products!
And it is even better if you can find common interests between your customers and yourself.
That is the sweet spot, which will make you so loved and popular among your customers.
Top t-shirt niches
There are a lot of trends and niches out there, so we compiled a list of a few for you.
Let's have a look at the top 11 t-shirt niches, which are already popular among customers.
Cartoons
Travel
Movies' characters and dialogues
Pets
Jokes
Wordplay (puns)
Caricature
Feminist quotes
Sassy one-liners
Hobbies
Lifestyle
3. Decide Your Business Model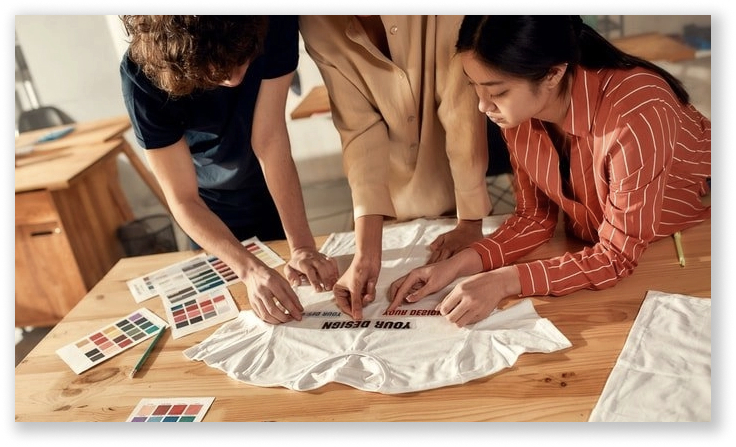 By business model, we basically mean what kind of business would you like to run –
🚚. Dropshipping – Where you don't maintain inventory, source goods from suppliers for cheap and sell at a marked up price.
🎨. Designing – Where you design the t-shirts and their prints. You can also print those designs yourselves or get them done from someplace else. This model might need you to get some permits for certain copyrighted designs and brands.
🏭. Manufacturing – Where you simply manufacture t-shirts in bulk. Here, you can become a wholesaler to other designers, printers, and sellers.
🔃  Reselling – Where you stock up products from manufacturers and suppliers, and resell them directly to your customers. All of these businesses have their own benefits and shortcomings, so make sure you have thought things through before choosing one business model.
How much would it cost to run a t-shirt business online?
Well, it's natural to have this question. So, let's find an answer for it.
Unfortunately, there is no specific amount that we can give you, for opening your online t-shirt store, but you can get an idea of how much to invest based on your choice of business model.
For example,
In a dropshipping model, you'd require the least amount of capital because you don't need to worry about inventory, rent, warehousing or even delivery services.
All your major costs will be incurred in opening your store, finding suppliers and marketing for your business.
For a designing business though, you'll need to acquire a set of skills; either learn them yourself or hire a designer.
Apart from that, you'll need to subscribe to paid plans of designing tools, buy necessary equipment and even a printing machine if you decide to print your own design.
Apart from this, the obvious costs of operations will fall on you as well.
In the case of a manufacturing business, you might need the most investment out of all these models.
For this business, you'll need to set up a manufacturing unit and incur all the costs that come with it. You'll have to buy the machinery, hire a team of workers to carry out daily operations and rent a warehouse.
Apart from that, you'll need to set up an online store and promote your goods too.
Now comes the reselling business model.
This requires you to have a little storage space for your inventory, and find reliable suppliers as the main operations costs.
Some of these costs have to be borne, but the good news is that we can help you with the rest of it.
With the excellent set of tools and facilities provided by
Dukaan Plus
(for resellers), you can set up your online storefront with the least amount of effort and save a fortune at the same time.
So, you don't have to worry about the running of your online t-shirt business, just focus on your products and the growth of your business.
4. Design Your T-shirts

If you decided on a designing business, you can now go on to creating your own awesome t-shirt designs!
How? Let us tell you.
Do you remember all the research we made you do? That will come in handy now.
You already have your topics and inspiration ready, just put that to use and get working on the designs that you think your customers will want.
If you want immediate inspiration on how to create a new design, visit Pinterest or Google images and you'll be set.
Now, to design your t-shirts yourself, you can use Canva or Photoshop, or you can get a graphic designer to do it for you.
You can hire them on a freelance basis, or employ them to exclusively design for your business.
Another thing that you can do is collaborate with brands and partner up with them exclusively to sell their merchandise.
This will give you an edge over your competitors, and get some cool, unique designs in your shop!
📌  Tip – Don't forget to be original and make a statement with your unique style!
5. Source Your Products

Regardless of your business model, you will need some type of raw material or inventory.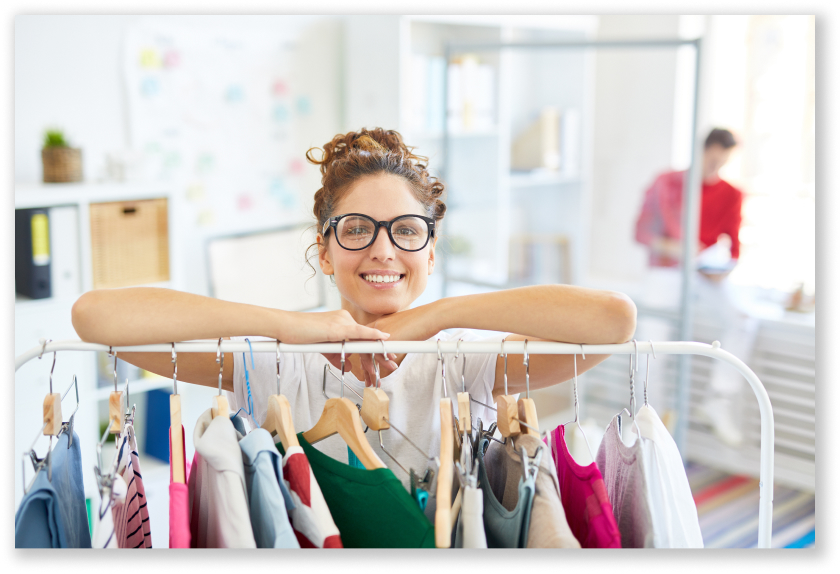 Now is the time to source your products, and if you want to design your own t-shirts, the equipment needed to do that.
These may range from plain t-shirts to print your designs on, and platform subscriptions to Canva/Photoshop, to printing equipment, etc.
There are many things to consider when sourcing your products – one of the important ones being your suppliers. We have always said that reliable suppliers equal good products and in turn, happy customers.
You should also keep in mind that people look for different things in their t-shirts, but the thing that stands universally true is comfort.
Your material should be comfortable, breathable, and if you can manage to source sustainable materials, you get brownie points!
6. Set Up Your Store

Now comes the fun part; the part where you actually build the foundation of your success.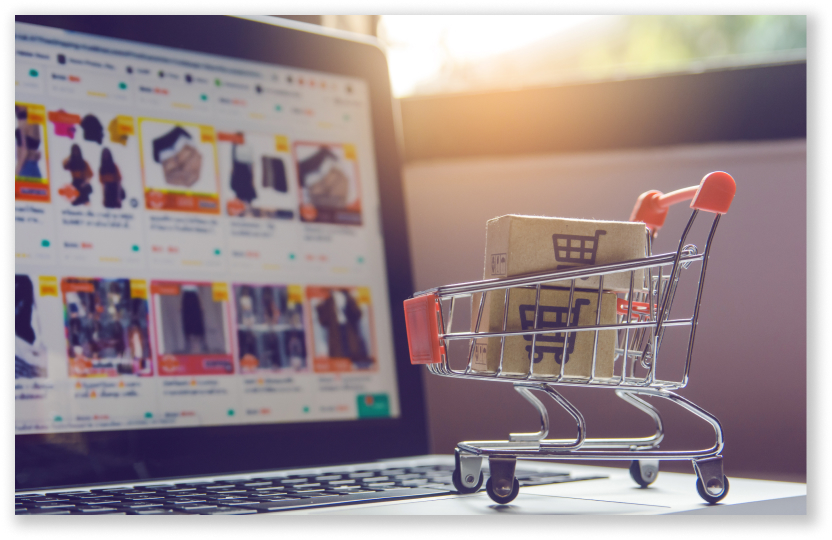 When you look in the market, there are a ton of options available, which make your online t-shirt business a reality.
But you need to be very thorough in your research, and very careful in your selection of the online platform, on which you decide to build your online store.
Here's a list of comparisons between the top eCommerce platforms, which will help you choose the best one for your business.
The criteria for choosing your eCommerce platform varies according to your needs, technical knowledge and budget mainly.
If you have pretty good knowledge about the technical aspect of setting up an online store, like coding and navigating complicated websites like WordPress, etc., you can choose platforms like Shopify & Bigcommerce.
But it never hurts to take the easy way, right? Why work hard when you can work smart.
Although being a new business, it'll be a smarter choice to dip your toe first with safe and easy platforms before jumping into the deep end of the eCommerce pool.
Platforms like Dukaan understand the needs of a new entrepreneur and have made it super easy for you to create your very own t-shirt store in a matter of minutes!
If you need more inspiration, look at this store built with Dukaan – Rarer Apparel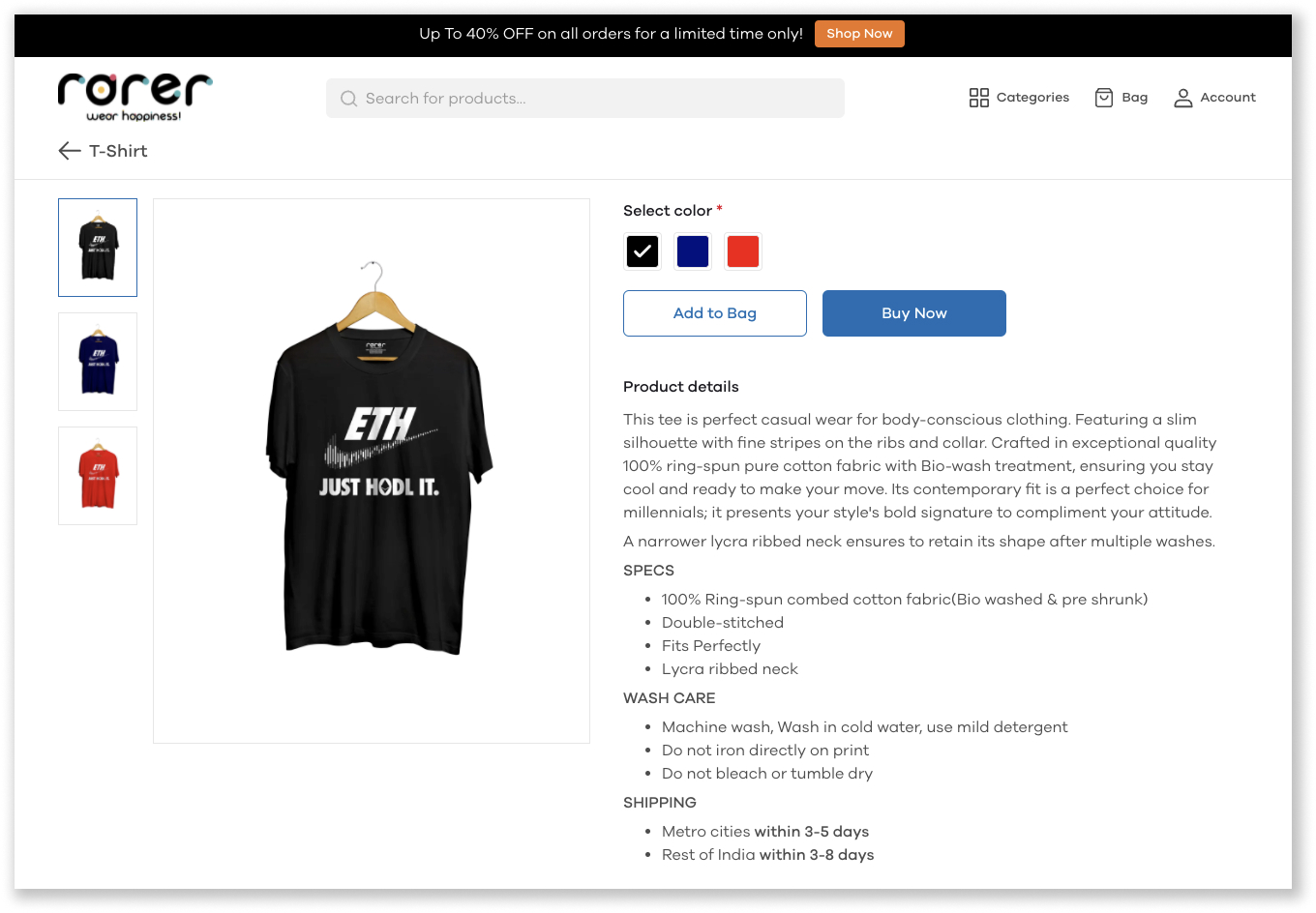 This website will make you copy their style, designs, vibe, and everything else!
You can also start a store as cool as theirs with Dukaan!
7. Plan Your Marketing Strategy

You have chosen your platform, your store is set up and running, your products are all ready to be introduced in the market. Now what?
The next logical step is to plan a marketing strategy that will help you reach potential customers and start selling.
Marketing is the process that bridges the gap between your products' existence and the demand.
You have your store. It sells the products that customers want, but they don't know about it. How will they buy from you if they don't even know you're there?
This is exactly what marketing and promotions help you do. They help you become visible to the customers so that as and when the need for your product arises, the customer thinks of you.
Even when there's no need, marketing is the tool that helps you create a need for your products.
Your strategy will depend on some factors, like your customers, products, location, etc.
Based on these factors, you can choose the type of marketing you'll perform and the channels that you'll use to do it.
You can use SEO, social media, paid advertising, SMS marketing, and other such ways to grab your customers' attention.
Platforms like Dukaan give you extremely helpful marketing tools & plugins that you can use to boost your business.
For example, in your online t-shirt store, you will need to distinguish different hues of the same colour, design patterns and other such little details of your inventory.
Dukaan's product upload feature lets you add as many colours as you need, as many sizes as you need, and also up to 8 product pictures, so that you can showcase your products properly.
And we understand just how competitive the t-shirt business is, so to provide you with an SEO plugin as well, which helps you be visible to your customers when they search for your product. We also have a product description generator that churns out original, catchy, and apt descriptions for your products.
The list of features is too long for this article, and best experienced first-hand, so go try them out today.
How to Sustain Your Business and Tackle Competition

Once you have your business up and running, the next thing you need to do is stay updated about the competition and how you can stay one step ahead.
The key to sustaining your business and staying competitive, is to build a relatable and reliable brand that serves your target audience exactly what you promised them.
Your quality of products and services affect the success of your business directly, but the whole customer experience is what makes them loyal to your brand.
Your business should grow with the demands, needs and expectations of your customers, and that will keep you ahead of the competition.
With every business, there are some legal restrictions, permits, and processes that you should comply with.
The t-shirt business is no different.
Especially if you wish to design them.
Now, laws differ according to the country you live in, and you should always stay updated about the laws pertaining to your business in your country of operations.
For example, your original designs are protected from being copied, under intellectual property laws.
If you're aware of those and compliant with all the laws of your country, you can protect yourself from plagiarism and fraud.
Everything from registering your business, to your creations, helps you be safe and sustain your business in this heavily competitive business environment.
Conclusion

T-shirts are the staple garment of the apparel industry. Your online t-shirt business idea is a great way to earn handsomely, with minimum investment.
They're a great way to make a statement, express your individuality, and make an impression.
This is one of the safest and most effective ways to start your online business journey, too.
When you decide to start your own online t-shirt business, you can follow the steps mentioned in this article to begin in the most simple and effective way.
In just 7 steps, you can have a running t-shirt business for yourself!
To help your journey move along quicker, you can choose platforms like Dukaan, which provide you with a number of services and enable you to build your business in under 30 seconds!
If this guide helped you plan your business and motivated you to launch your online business, try Dukaan now!