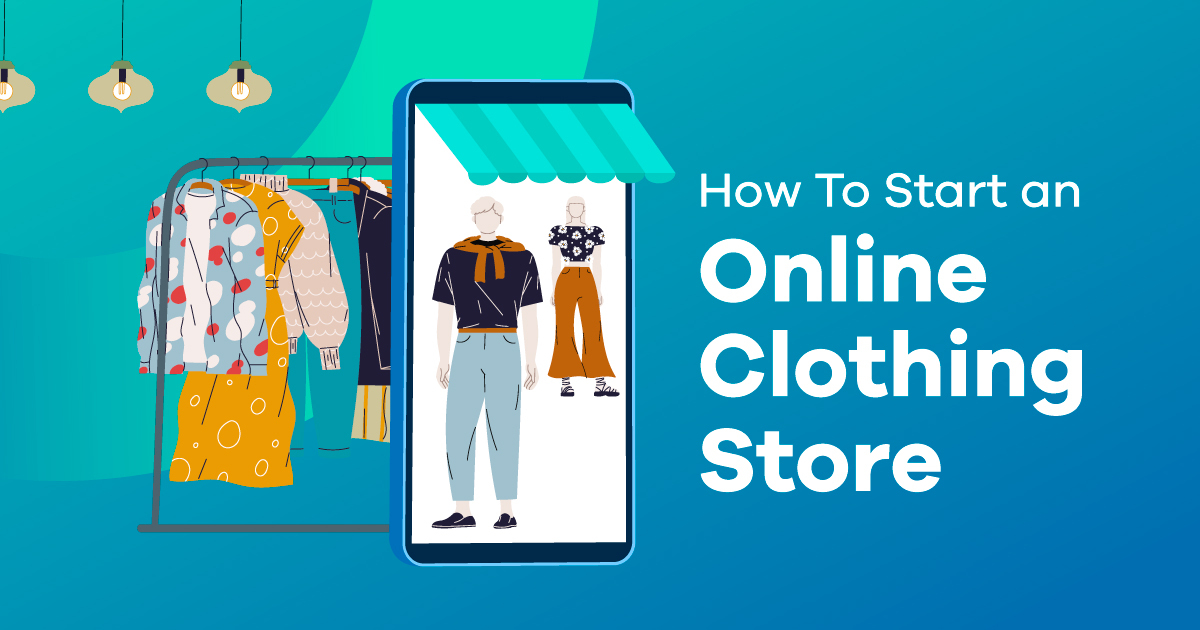 So you are here to learn about how to start an online clothing store. This article will give it to you straight with 7 easy steps to starting your own online clothing store.
Did you know: In 2020 alone, the online retail market has accounted for $4.28 trillion in sales. And the forecast suggests that the trend will continue upwards, leading to sales of over $5.4 trillion in 2022.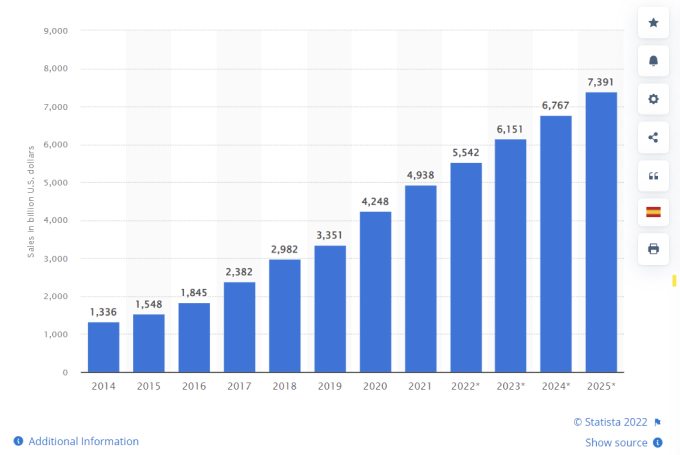 Are you wondering how this affects you?
Well, starting an online clothing store is a lot simpler than starting a traditional clothing store. The initial investment is just a fraction of setting up a brick-and-mortar store, and the reach is higher too!
It has become a new normal to shop online for clothes, jewelry, accessories, and just about anything. Such is the effect of eCommerce.
So if you were waiting for a sign to start an online clothing store, this article is it!
In this article, I will give you a detailed guide on how to start your online clothing store in 7 easy steps.
How to Start an Online Clothing Store in 2022

Do you want to create an online clothing store that is as functional and aesthetically pleasing as this one?
Here is a quick guide to getting started on your online clothing store in 7 easy steps.
1. Choose an eCommerce platform
An eCommerce platform is an application that helps sellers to set up a fully functioning online store for their business.
Creating an online store needs an eCommerce platform that suits all your business needs. With a fully functioning store, you can easily add products, delete them, manage orders, manage inventory, and much more.
Here are a few factors that can help you choose the right eCommerce platform for your online clothing store.
Ease of Use
Setting up a store online is not as tough as starting your business in a brick-and-mortar store. You do not even need any technical or coding skills to start your online store these days.
With almost every platform offering a free trial, you can surely take the time out to navigate through a few platforms and find the one that is the easiest to use.
Dukaan and Wix usually top the list when it comes to ease of use. You can create your online store on Dukaan in under a minute.
Wix, on the other hand, uses the easy drag-and-drop tool to build a completely unique and aesthetically pleasing store.
Pricing
When you are starting out, it is always the smartest thing to go for the budget-friendly options. The same applies while finding an eCommerce platform too.
Especially considering you may have to pay a recurring fee per month or per annum, starting with a low-budget platform will help you go a long way. You can start with the most basic plan they have and go up from there.
From a pricing point of view, Dukaan is one of the best options, as the priced plans start at just $9.99 per month.
Scalability
When you are choosing an eCommerce platform and setting up your online store, it should be based on a long-term plan for your business. You do not plan just for the present but for the future of your business, too.
Having a clear view of the future goals for your business will help you choose an eCommerce platform that is scalable accordingly.
For example, Wix is a very affordable platform. However, it does not have a lot of room to scale up your business. Here are a few Wix alternatives for your reference.
Additional features
Small businesses have a lot on their plate to deal with. Hence, finding an eCommerce platform packed with a lot of useful features will be of huge help to you, especially in the beginning.
Some features are essential for running an eCommerce business, like a shopping cart, payment gateway, SSL certificate, etc.
Dukaan has a lot of free tools like product description generator, terms and conditions generator, invoice generator, slogan maker, etc. that immensely help the store owners on our platform.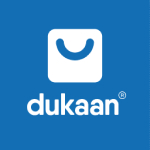 Launch, scale and manage your online business with just $9.99 on Dukaan. Annual plans start at $99.99 only.
2. Finalize the branding elements of your business
Now that you have chosen your eCommerce platform, you should work on branding elements of your business like the store name, logo, about us page, contact page, etc.
People think that branding is something that they can eventually get to. However, we are here to tell you that branding is one of the first things you should strategize while starting your business. This simple guide on how to build a brand can help you get started.
Simple things like colors, names, logos, etc. will go on to become the identity of your business. It will be your guiding line while choosing the theme, designing your storefront, etc.
Domain Name
We are sure you have thought of a name for your business, but if you have not yet decided on it, do it right away. When choosing your business name, see to it that it is unique and reflects your business.
Most of the leading fashion brands, like Louis Vuitton, Gucci, etc. are named after their founders. Hermes is a clothing brand that is named after the Greek god of commerce, Hermes.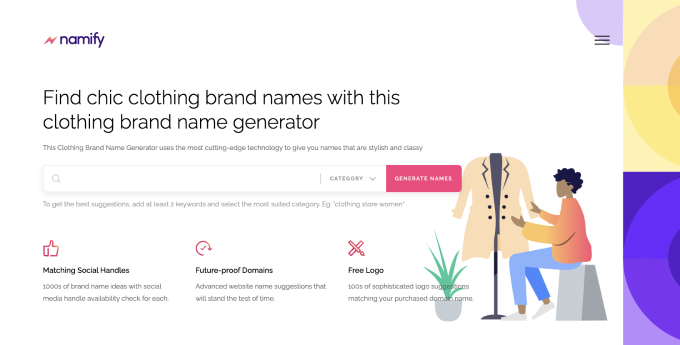 You can take inspiration from your favorite clothing brands, or your competitors. Even better, you can try a free tool like Namify to come up with a name for your brand.
Once you have zeroed in on the brand name, you can find an available domain name around the brand name and connect your store to it.
Did you know ?
Dukaan offers a custom domain to every online store on the platform. Even better, connecting your online store with the domain name is really simple and takes less than an hour for activation.
Brand colors
The next step to personalizing your store is choosing your brand color. A lot goes into choosing the right set of colors for your brand.
First and foremost, each color has a different psychological impact on the viewers. While shades of red increase the appetite in people, shades of blue, on the other hand, has a very calming effect.
The colors you choose for your brand must reflect your business. It should reflect fashion, elegance, class, etc.
Secondly, the colors must also blend well with each other. Whether you are choosing complementary colors or contrasting colors, they must go well together.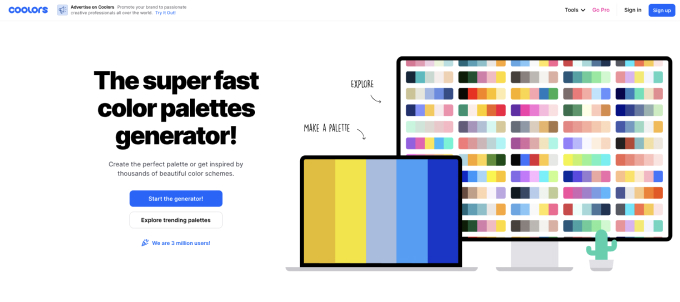 You can use Coolors to help you find the perfect color palette for your brand. This is a tool that allows you to generate your own palette or choose from a range of trending color palettes.
Once your brand colors are finalized, you will be using these to represent your brand across all platforms.
Brand logo
A brand logo is a very necessary identity for your brand. It is all these simple visual cues that will capture your customer's attention and create a lasting impression on them.
When you are designing your logo, ensure only the brand colors are used, and the logo is unique. It should also represent your business.
You can either design the logo around the business name like Givenchy designed their logo around the letter 'G'.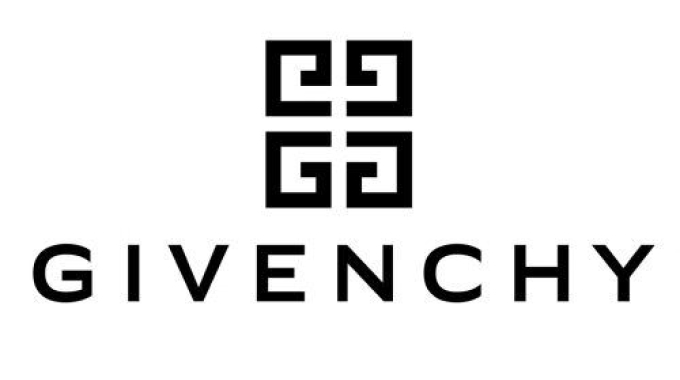 The logo can also be the visual representation of your brand name, like Puma used the animal in their logo over the years.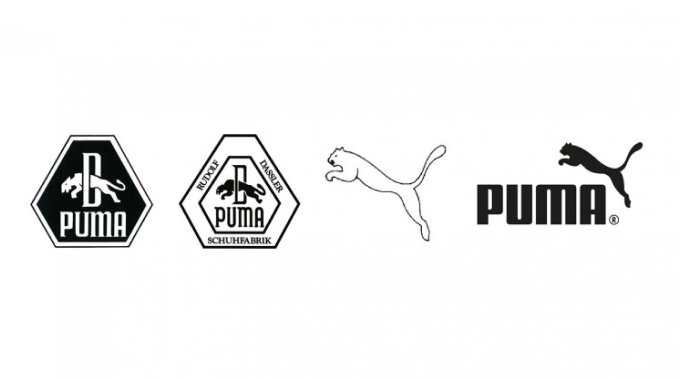 Your logo should be a good combination of your brand name and colors. You can use icons to add more context to your logo.
Brand voice/ Tone
Setting a voice or tone for your brand can be highly advantageous when it comes to connecting with your target audience in a better way.
It also helps you bring consistency in the representation of your brand across multiple platforms.
Your brand voice can be anything from rich and classy, to elegant and sassy, or humorous and witty. It can be a combination of tones, too.
Your tagline is the first place where you use your brand tone. To put it in better words, your tagline sets the tone of your brand. You can use power words to make your tagline catchier.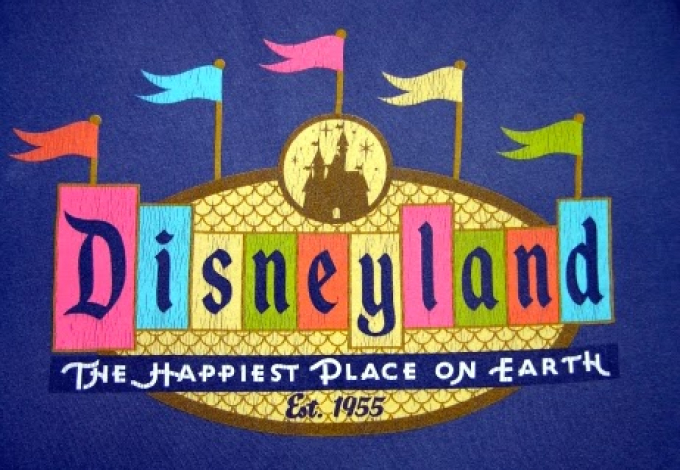 For example, Disneyland uses the tagline, "The happiest place on Earth." This is almost like a statement that may seem strong and bold. But it works well for the brand.
On the other hand, Mastercard uses the tagline, "There are some things money can't buy. For everything else, there's MasterCard." This tagline is witty, and relatable, and urges people to take action!
3. Create and customize your online store
If you have done the branding part right, then this step is very simple. All the variables are eliminated by choosing your brand colors, tone, name, etc.
Now you can take these as your base and personalize your online store to reflect your brand.
Choose themes that suit your business
This is one of the most important decisions you will make when creating your store. Your store, its design, and user-friendliness are as important as the product you are selling.
The storefront should catch the shopper's eyes immediately and make them stay. That does not just mean the aesthetics part of the store, the accessibility also matters.
If your store theme is clean, responsive, and easy to browse through, it can get shoppers browsing for a little longer and maybe eventually buying your product.
Customize your storefront and make it attractive
Once you have chosen a theme, spend some time customizing the theme based on all the branding elements, like color, logo, name, tagline, etc. Move the design elements around to create a unique look.
Making your online storefront look attractive and accessible makes a lot of difference. An online store with well-planned sections and tabs will make it easier for the buyer to navigate.
Some important tabs and pages like about us, contact us, search engine, shipping information details, return policy, terms, and conditions, checkout/ payment details, help center, etc. should be clear and easy to find.
Create policies for shipping, cancellation, return, refund, etc.
When it comes to your online store, you are your legal advisor, and you are your rescue. Of course, as the business grows, you can hire someone to do these legal activities for you.
However, when starting out, it is smart to create a few policies for shipping, cancellation, return and refund, etc. On Dukaan, you will find free tools to help you out with this!
4. Add products to your online store
Once the basics of your eCommerce website are taken care of, the next step is to add products to your store.
This is where your online store will actually start to look like a store. So what are the important factors that go into this step? Let us take a look at them-
Adding Products to the store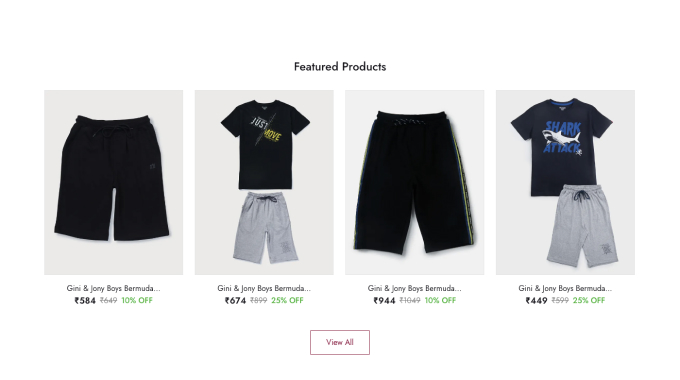 When your store-front is ready, it is time to fill up your store with your products. As mentioned above, start slow with just a few trending products in your niche. You can always add more products to your catalog.
Whether you are planning to use the dropshipping business model or a traditional business model, it is known only to you and not your customers. To them, you have the stock of any product if you add the picture in your store.
Hence, if you are adding a product picture to your online store, ensure that it is in stock.
Apart from this, clear and well-lit images of your products will go a long way. It is better if you can get pictures of a model in the clothes that you sell. It will increase the relatability and encourage customers to buy the clothes.
Providing accurate product descriptions
The next important part of adding products is providing accurate and complete information about the product in the description.
The product description must be detailed as well as SEO-friendly. It should contain details about the product, like the type, fabric, color, size information, variations/ customizations, etc.
Here are some helpful tips to write a solid product description:
Give a catchy and concise title
Give description in bullets
Stay honest with the description
Try to add every minute detail
Do not praise your products
Make it sound fashionable and trendy
Keep the length of the description consistent
Pricing your products smartly
Another important thing is pricing your products right. This needs a lot of market research. Find out how your competitors are pricing their products and decide on competitive pricing accordingly.
The pricing also depends on the kind of clothing you are selling. If you are selling fast fashion, there is a lot of competition out there and your prices also need to be competitive enough.
If you are selling one-of-a-kind clothing pieces using the made-to-fit business model, then you can decide the product pricing all on your own. Yes, you can start your own boutique to have better control over the products and pricing in your store.
However, if you are selling used clothes or thrift clothes, then the pricing will be anywhere between 30% to 70% of the original price of the product. Pricing it more than that may reduce the sales.
Here is a quick guide to get you started on starting your own online thrift store.
Create discounts, coupon codes, and promotions
Even if you have done everything right, in the beginning, getting sales may be a tough task. At such times, you can use the discounts and promotions strategy to attract the attention of your target customers.
You do not really need to run on a loss in order to create attractive discounts and promotions for your potential customers. You can be very smart about your discount strategy.
For example, you can tell your customers that they will receive a 20% discount on their next order at your store. You can offer free shipping over a certain order amount.
Creating seasonal offers and discounts is also a smart way to reel in the holiday shoppers. Create an attractive store banner and add it to your online store to grab the attention of your customers.
5. Integrate the required eCommerce features
Before you launch your store, there is another huge checkpoint, and that is to add all the necessary integrations.
Inventory management
Gone are the days when people had to manually track the inventory at every step of an order cycle. The hassles of creating, maintaining, and updating the inventory excel sheet simply take up too much time.
However, with your online store, you will have the choice to integrate an inventory management system into your store. Some platforms like Dukaan come with a built-in inventory management system.
In a few other eCommerce platforms like WooCommerce, you will have to download and install a plugin for your inventory management, some of these are paid plugins.
An inventory management system provides better visibility over your stock and helps have complete control over your inventory.
Payment gateways
If you are selling clothes online and expect your customers to buy from you, this will be impossible without a valid payment gateway. As an online store, you should at least have one payment gateway integrated.
A valid payment gateway increases the trust factor in your customers. When they are making an online purchase, they will be submitting their bank details and other sensitive information.
A payment gateway provides the guarantee that their data is safe and secure.
You can always offer COD (Cash on delivery) to your customers, however, there are a lot of risks involved in this and the RTO (return to origin) is also very high in COD orders.
The most common payment gateways integrated into online stores are Paypal, Stripe, Square, Amazon pay, etc.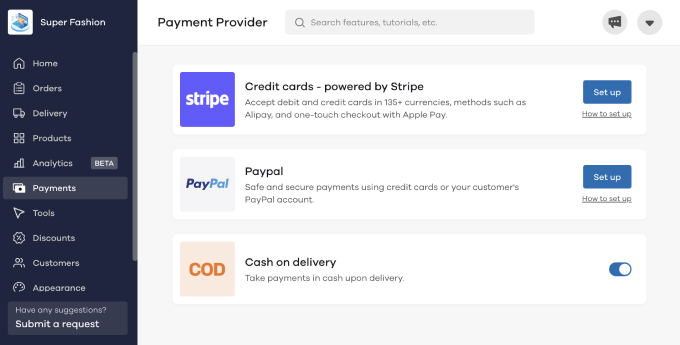 Shipping partners
Integrating your shipping and logistics partners is another important step. Of course, first, you need to tie up with trustworthy delivery companies. Once you have found your fit, you can see if this delivery partner can be integrated into your online store.
Most eCommerce platforms will have tie-ups with an array of logistics partners. You can find the one that suits you the best and integrate them with your store.
However, if your logistics partner is not included, then opt for the self-shipping option, and then you will be entirely responsible for getting your orders packed and shipped to your customers.
Live chat support and help desk
Most of the users that visit your online store are usually just browsing through. However, that does not mean that they are not your potential customers that can be converted.
With real-time chat support, you can interact with the people visiting your store, answer their queries, market your best sellers, and basically urge them into making a purchase.
The human connection makes a lot of difference when someone is shopping online. Your customers will feel important and valued when you acknowledge their presence.
You can also automate your chat support to greet every user who lands on your online store, answer a few frequently asked questions, etc.
Pop-up and Email marketing
The pop-up plugin will help you in a lot of ways. It will be a nice welcome to the people visiting your store. It can be customized to display discounts, promotions, and seasonal offers.
You can also use the pop-up to collect the email information of people, which you can use for email marketing.
That said, you can also automate your email marketing through a plugin. You can feed the emails collected through the pop-up into the email marketing plugin. This will be your directory, basically.
Once you have a template ready for the email blast, you can use this plugin to distribute the mail to everyone on the list.
You can also view some analytics related to email marketing, like how many have viewed the mail, how many have clicked on the link, etc.
6. Test run and launch your online store
At this point, most of your leg work is done, and it is time to go live with your store. Now, you are all set to go ahead with your new business.
Run a test order
Before going live with your store, it is mandatory to run a test order, just to see if everything works fine.
Create a dummy account or use your friend's account to get on to your online store, see if everything is in place, and also check how your storefront looks on different devices.
Also, find out if you can see all details about the product. Place an order for a product and see if your payment gateways are integrated correctly.
Approach your store as a customer and see if you are satisfied with how everything works. Only then, is your store ready for the launch!
Strategize the launch
This step is about getting people to know that you have a brand new online store set up and ready to launch.
Come up with fun and attractive things like privileged invites, discounts for the first few orders placed, freebies for orders above X amount, etc.
Integrate social media accounts
Ensure that you have a social media presence created for your brand and that it is integrated with your online clothing store.
You can easily share any and all news about your store directly on your social media handles.
Create a buzz
We all know how helpful these platforms can be when you want to get the word out about something.
Find that high school friend, or your college classmate, that distant cousin who talks a lot, your uncle who supports your every decision, and so on. Tell them the news about launching your store and ask them to share it around.
And what next?
It is to take your online store live!
7. Create awareness about your business
Creating a buzz is just the beginning of promoting your online store. You should have stronger strategies in place for promotions and marketing for your business once your store goes live.
Organic marketing
Organic marketing is the kind of marketing that you do not spend any money on. It is tougher and takes time, but is also the most effective and reliable way of getting quality leads for your business.
Have a strong content marketing strategy in place. Reach out to people with blogs, vlogs, useful fashion tips, etc.
Email marketing
Over the years, email marketing may seem like it has lost its luster. However, it ‌remains one of the most effective digital marketing techniques.
Building an email list of all your customers, potential customers, and anyone interested in your products can help you a lot in the future.
You can get directly into their inboxes with updates about your store and keep them coming back for more.
And as mentioned above, you can always download a plugin to automate the process.
Paid advertising
Google has its own paid advertising platform called Google Adwords, which you can use to market your store. Try running 'shopping ads' for your store, provided you have that kind of budget set aside.
Social Media platforms also have various paid ads that you may use to promote your business. Apart from the regular social media channels, there are a plethora of business tools out there to help you establish your brand online like a pro.
Be active on social media accounts
Sales are important for every business, but so is building a following for your brand. You can do this by being active on all the platforms.
You can create interesting content, show BTS of your business, get in on the trends, create contests and giveaways, etc.
Best Performing Online Clothing Stores On Dukaan

1. Gini & Jony
Niche: 'Young-Adults' fashion
Target market: Infants to 16 year old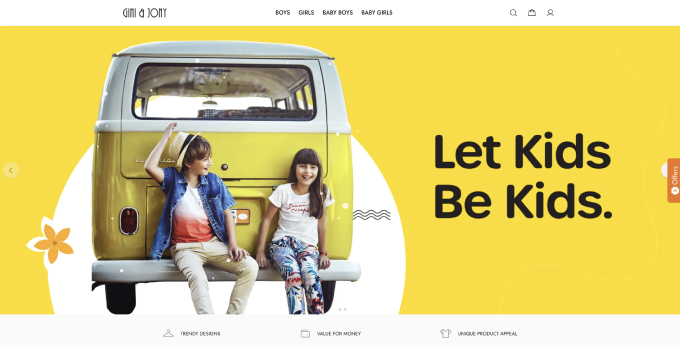 Gini & Jony is a kids' fashion wear brand that has been around for over 40 years. They have the most extensive range of fashionable clothing for children.
2. Farda Clothing
Niche: Street fashion
Target Market: early teens to late twenties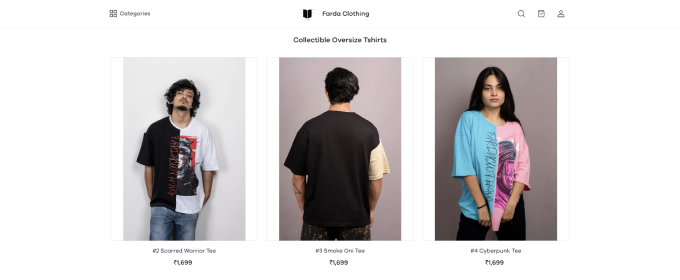 Farda clothing is the go-to brand for most eccentric street fashion. They also use elements of Indian culture in their textile and prints. They aim to represent the Indian heritage globally.
3. Your Attitude
Niche: Print-on-demand T-shirts
Target Market: Men and women between 18 to 40 years old.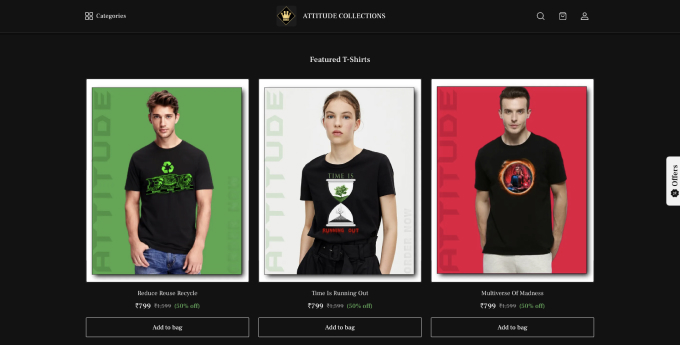 Your Attitude collection is a print-on-demand T-shirt store that sells a range of T-shirts with the quirkiest, sassiest and bold prints. You can also get a custom print on your choice of T-shirt.
FAQ's

1. How much does it cost to start an online clothing store?
You can start an online clothing store with the lowest investment, especially when compared to a traditional brick-and-mortar store.
Monthly subscriptions at Dukaan start at less than $9 per month. Squarespace subscriptions start at $18 per month and Wix at $23 per month.
2. What kind of clothes can I sell online?
You can sell any kind of clothing online, be it fast fashion or slow fashion, or thrifted outfits. If you have a passion for it, you can start a boutique where you can offer one-of-a-kind clothing to your customers.
3. Is it profitable to start an online clothing store?
Yes, it is very profitable to start an online clothing store today. Especially if you are selling something unique, and you have a marketing strategy in place, then your business will be profitable for sure.
4. Can I start an online clothing store for free?
Yes, you can start an online clothing store for free, on social media platforms. However, handling a business on social media can be very hectic and haphazard. It is always better to have an online store on an eCommerce platform.
5. What makes a clothing line successful?
The best way to make your clothing line successful is to create a clear brand identity for your clothing business and communicate it to your target audience. It will also help to come up with a consistent brand voice.
Conclusion

With the boom in the eCommerce industry, it is the right time to ride the wave. Start a successful online clothing store today.
In this article, I have taken you through 7 steps that will help you start a successful online clothing business.
Here is a quick recap:
1. Choose an eCommerce platform
2. Finalize the branding elements of your business
3. Create and customize your online store
4. Add products to your online store
5. Integrate the required eCommerce features
6. Test run and launch your online store
7. Create awareness about your business
We have also given you a little dose of inspiration from some of the online clothing stores on Dukaan that are doing so well for themselves.
On Dukaan, you can create your online clothing store, add products, design the layout and launch your store in a matter of minutes. You do not need any technical skills or design experience to create an attractive online clothing store with Dukaan.
Here is how you can get started: